First Wednesdays at Fort McHenry
The Fort McHenry Wetlands Avian Monitoring Project
Claudia Wilds, in her guide "Finding Birds in the National Capital Area", has described Fort McHenry as a "migrant trap." That's good news for birders! If you're interested in participating in a different kind of birding experience - come on over!
The Fort McHenry wetlands, which covers approximately ten acres, was created almost twenty years ago from the dredging of the Baltimore Harbor Tunnel. Presently, the National Aquarium and Fort McHenry's Park Service are conducting an environmental survey of the wetland at the fort. A request was made of the BBC to monitor the birds found at the fort's wetland.
The Baltimore Bird Club is sponsoring opportunities for you to assist in this survey by monitoring bird activity. Birders are invited to sit at the fort on the first Wednesday of every month from February through August at the Fort McHenry wetland overlook. The Wednesday counts will last from 9:30 until 12:00 noon. Participants will tally all birds that pass by, over or through the marsh. You may attend all or just a part of any of the "sits."
You will be recording: number of species, location of bird (the marsh is divided into numbered quads which are displayed on posts), behavior such as - circling, bathing, preening, courtship display, harassing, resting, feeding, vocalization, courtship displays. There will be someone present to assist you. Please bring a paper and pencil to be used as a tally sheet.
For a more detailed report concerning the fort and the people involved in the survey, see Chip Note's Dec/Jan issue: Birding at Fort McHenry Wetlands by Joy Wheeler.
Directions to Fort McHenry and dates of 'sits" may be found in this issue of Chip Notes in the Activities section (page 5.)
Questions? Contact either coordinator: Gail Frantz (410)833-7135, or Carol Schreter (410)664-5151.
Subsequent monitoring dates at Fort McHenry will be posted in Chip Notes.
Back to Table of Contents
---
Kirtland's Warbler
Mission Impossible?
By Steve Sanford
Most birders rightly suspect that combining activities with your non-birding family and one's own personal birding is a "Mission Impossible." But I defied the odds last summer - and won!

For some years, I had been contemplating taking a quick trip to Michigan to add the extremely localized Kirtland's Warbler to my life-list. In early 1999 I accepted an invitation to a family reunion in Milwaukee in late June, and I decided to combine this with a loop around Lake Michigan to seek Kirtland's Warbler. My parents, who are not birders, were planning to attend the reunion too. To my - uh - shall we say - 'surprise' - they said they'd also like to join me on my birding loop. I tried to subtly hint that they would be bored to death, that the Kirtland's Warbler territory is truly in the middle of nowhere (It really IS!), and that it would be a long hard drive. That last consideration only hardened their resolve because they knew they had to help me with that long hard drive.
So, the die was cast. We lined up flights in and out of Chicago and rented a car, a Buick Century, which was quite a pleasure to spend the trip in. We did a quick and painless pass along Lake Shore Drive in Chicago to see the city and elegant suburbs to the north. When we headed for the expressway north to Milwaukee, though, we tasted urban gridlock at it's worst. But we did make it to Milwaukee, and had a pleasant family reunion the next day.

We had allotted Sunday, Monday, and Tuesday (June 27-29) to complete the loop back to Chicago for our return flight on Wednesday. We spent most of the day Sunday driving around the top of Lake Michigan from Milwaukee. It was a long but pleasant drive with a few scenic stops along the lake. The habitat around northern Lake Michigan was boreal forest with lots of spruces, firs, and pines. On some quick stops in that area, I was amazed at the numbers of warblers, especially Black-throated Greens, and Nashvilles that were calling, but not showing themselves. If we had time to spare, I would certainly like to have checked them out more thoroughly. But we didn't have the time, even if my parents could put up with it. We crossed the Mackinac Bridge, which is almost a twin to the Chesapeake Bay Bridge, into northern Lower Michigan, and arrived in Grayling around dinnertime.
If you hate cities and suburbs, and like vast forests of scrubby pines, you'll love this area. Grayling is probably the largest town for a hundred miles around, but probably smaller than, say, Elkton or Hampstead. Who says you have to go west for wilderness!
So how do you find a Kirtland's Warbler? There are many dirt roads across the Kirtland's Warbler's nesting grounds, but entry into the forest is prohibited for the protection of the warblers. However, it IS permitted to drive these roads and bird from the roadside. Note, use of tapes to lure the warblers is quite correctly prohibited.
Conventional wisdom says that your only good chance of seeing Kirtland's Warbler is to go on a "tour" run by the US Forest Service out of Mio, or the Fish and Wildlife Service out of Grayling. I did some research, mainly via an inquiry to MDOsprey. I learned that the tours only go Tuesday through Sunday out of Mio, but everyday out of Grayling.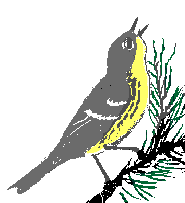 Monday morning, June 28, we gathered with about 20 other warbler-seekers at the Holiday Inn at Grayling. The U.S. Fish and Wildlife Service started us out with an excellent slide-show that was full of dry statistics interestingly presented. They showed how Kirtland's Warblers are extraordinarily particular about their breeding habitat. They need large stands of young Jack pines about 5-15 years old. They showed the extremely limited breeding territories of the Kirtland's Warbler, and how the government programs of controlled burnings of their Jack pine habitat had brought them back from near-extinction.
Then our FWS guide led us to an area about 10 miles NE of Grayling. We parked and walked a few hundred yards down a dirt road. Soon we heard a distant singing Kirtland's Warbler. Finally, someone found it and got it in his scope. He graciously allowed the rest of us to line up and look at it. The light was poor, but it clearly was a warbler with a dark back and yellow breast, and it was singing the distinctive Kirtland's Warbler song. A little later we found what was probably a different Kirtland's Warbler a little closer with its field marks more discernible.
Whew! Now I could relax, having done my duty and ticked off another good life-bird.
My parents kindly ceded the use of the car to me for the afternoon while they napped and did the Grayling shopping scene by the motel: K-Mart and Family Dollar. The FWS tour leader gave me directions to a slightly possible Black-backed Woodpecker site that was also in more Kirtland's habitat. I didn't find any Black-backs but the area provided me excellent views of two Black-billed Cuckoos, a deep-voiced Baltimore Oriole, Scarlet Tanager, and Rose-breasted Grosbeak. I also heard, perhaps for the first time, an Upland Sandpiper.
But what was really amazing was that over the next few hours, without really seeking them, I heard and saw 4 more Kirtland's Warblers, one of which was only at arm's length from me. It pranced about in branches right in front of me for about 5 minutes. So much for conventional wisdom!
For your reference, the area I was in was on or near one Turney Ranch Road south east of Kirtland Community College. I had picked up a "UniversalMAP" of the area that showed all the dirt roads and even marked the Kirtland's Warbler areas.
The next day we did a leisurely drive back to the Chicago area, with several stops along the shores of Lake Michigan. We found that Traverse City MI was an inland equivalent of Ocean City. We took a pleasant loop to the north through the Old Mission Peninsula whose tip is exactly halfway between the equator and the North Pole, and is one of the leading cherry-growing areas of the world. The last evening and morning at Portage Indiana, my parents thrilled to the sight of numerous trucks with up to 12 rows of wheels, which apparently aren't permitted in our area. "Thrilled," you ask? Well, you see, my father, in his "retirement," sells tires, primarily to trucking companies.
So, improbable as it might seem, birders and their non-birding families really can have a satisfying trip together.
Back to Table of Contents
---
Friends We Will Miss
Seeing birds is of paramount importance to us in the Baltimore Bird Club. Yet, if truth be told, it's the people we are seeing the birds with that really matters. Since the last Chip Notes we have lost two of these people who have meant so much to us on the trails of Cylburn and beyond: Elizabeth Fisher and Mitchell Gerber.
The very second time I visited Cylburn on a guided tour Elizabeth was the guide. (Andrew Simon was the guide on my first tour.) On my second tour I came as a chaperone to a high school class, the first time the guides had ever hosted a tour of children of that age. Elizabeth stretched their knowledge of biology up, almost to her level, with ease. I'm sure the students had not realized the marvelous possibilities of a walk in the woods.
Elizabeth had a way of stretching whatever knowledge of natural history we might have towards her educated knowledge of mosses, ferns, fungi, wildflowers, and her specialty, insects, whenever she lectured to us or led us through little known spots in Maryland. Under her tutelage we almost forgot about birds.
Mitchell Gerber did not forget about birds. For several years during his otherwise busy retirement he made it his business to keep Cylburn's feeders well enough stocked to attract the many birds we tour guides needed to excite our school visitors. Phyllis Gerber has been one of those guides and it was through her suggestion, I imagine, that Mitchell took on this duty. Paul Noell, birder extaordinaire himself, in a phone call to commiserate on our loss of Mitchell, related that in his estimation Mitchell was becoming pretty good at birding with the Lake Roland "regulars" as well.
We will miss Elizabeth and Mitchell, but our birding will continue to be infused with their spirits.
Joy Wheeler
Back to Table of Contents
---
Field Trip Reports
Compiled by Steve Sanford
October 24, 1999 - Cylburn Self-guided - Joe Lewandowski reports:
Nine birders ventured out to walk Cylburn and the birds were not cooperative. We walked the Circle Trail this time and continued to see the changes in the forest due to the earlier storm. Fourteen birds graced our list. Notables included a Phoebe, Turkey Vulture, White-throated Sparrow, Junco, and a Blue-gray Gnatcatcher. We did see an unidentifiable thrush and hawk, but these critters were too far away for a positive identification. However, Cylburn still held its charm for us and we all look forward to our next visit.
November 27, 19999 - Gail Frantz reports:
Jim Meyers led a Baltimore Bird Club walk this AM at Cromwell Valley. Observers had outstanding looks at: two cooperative Merlins throughout the morning (one of the Merlins caught a Junco, then carried the bird in close to the observers who were able to scope the bird for more than 20 minutes), a Bald Eagle flyover, Red-breasted nuthatch, a flock of Pine Siskins, and a roosting Great Horned Owl.
October 30, 1999 - Northampton Furnace Trail - 6 birders saw 37 species including Winter Wren and Rusty Blackbird on this trail on the west side of Loch Raven. The weather was "glorious" although very foggy at first. Leader: Joy Wheeler.
December 4, 1999 - 12 people joined the annual romp through Southern Maryland. Our first major stop was Battle Creek Cypress Swamp in southern Calvert Co. As often is the case there were a number of Winter Wrens, and they occasionally delighted us with their bubbly little song. A Hermit Thrush periodically issued a loud whistle in addition to it's expected "chuck" notes - a winter sound from that species.that was new to all of us. As we departed we had a close fly-over of a Pileated Woodpecker, and a soaring near-adult Bald Eagle.
At Point Lookout, the Scoters and Oldsquaw were thick and fairly close. Unlike most years, the most numerous species seemed to be Black Scoters, mainly off the causeway. We spotted several distant Gannets off the fishing pier at the limit of identifiability.
The weather was remarkable for December: approaching 70°, mostly sunny and windless. The price for this was that the mosquitoes were rather thick at Point Lookout.
We ended up at the Sea Breeze Restaurant in Sandgates, St Mary's Co., home of the nationally-famous Kelp Gull. The Kelp Gull unfortunately was not present for us, but we had a nice dinner, enjoying the luscious cream of crab soup, even if the crab cakes were a little disappointing.
The species count, 56, was also a little disappointing. This probably was because we skipped our normal stops at the Beauvue Ponds and Leonardtown. Also, some common species such as Mourning Dove, Pigeon, Red-bellied Woodpecker, and (God forbid!) House Sparrow evaded our conscious observation. Leader Steve Sanford.
Back to Table of Contents
---
Florida Whooping Cranes
and Swamp Hens
By Jim Peters
For those contemplating a Florida vacation this winter here are directions to two very good birding spots that will yield a variety of state specialties as well as Whooping Crane and Swamp Hen* (Florida's latest exotic).
Whooping Cranes and Central Florida Specialties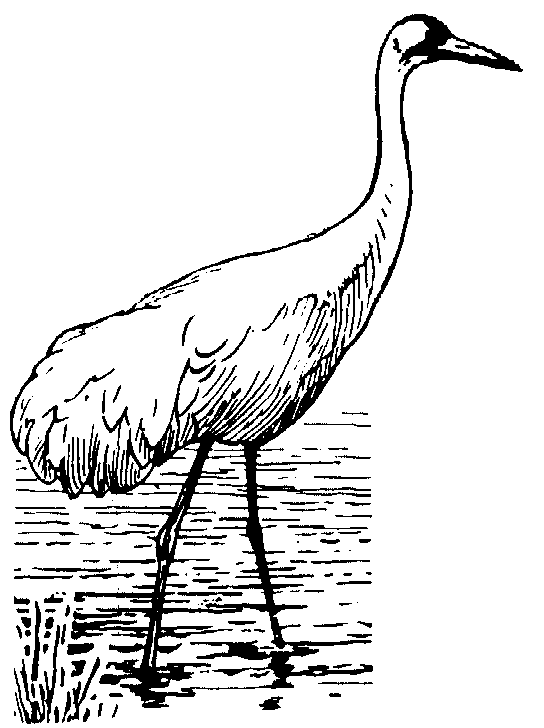 From I-95 exit 71 (Melbourne FL) proceed west on Rt. 192 approximately 24 miles to Holopaw FL and Rt. 441. Turn left (south) onto Rt. 441 and drive approximately 21 miles to Kenansville FL and Rt. 523. Turn right (west) onto Rt. 523 and drive approximately 10 to 12 miles to an intersecting dirt road on the left with a large sign for the Overstreet Ranch. Turn left onto this dirt road and begin birding. You should see flocks of Wild Turkey, Sandhill Crane, Woodstork, Caracara, both vultures, many hawks, Bald Eagle (nest in pines on the right near the ranch house) and Whooping Cranes from the Lake Jackson release site. Continue on the dirt road to its terminus at a boat ramp and public fishing camp on the shore of Lake Kissimmee. Here you will find Bald Eagle, Osprey, Snail Kites, both ibises, herons, and egrets, Limpkins, some shorebirds, and if your luck holds, a few Boat-tailed Grackles and other passerines.
Swamp Hen* and South Florida Specialties
From Florida Turnpike exit 49 proceed west on Rt. 820 (Hollywood/Pembroke Blvd.) past the I-75 interchange to 178th Street (a distance of approximately 12 miles). Turn right at 178th Street through the entrance to Silver Lake Estates onto Silver Lake Blvd. Proceed 1 block and turn left onto NW 9th Street. Once on 9th Street an inlet of Silver Lake will be on your right. Proceed a short distance (2/10 mile) to the Boaters' Park on your right and park your car. Walk back along the marshy margin of Silver Lake to see both ibis, a variety of herons and egrets, and Moorhens (adults and immatures). There is another arm of Silver Lake on the opposite side of the road with the same Florida specialties as well as many Swamp Hens.
* The Eurasian Purple Gallinule Porphyrio porphyrio
Back to Table of Contents
---
Birds at Home


on MPT

By Lillian and Don Stokes

Hello Baltimore Bird Club. We have an exciting new half hour 13-part public TV birding series called Stokes Birds At Home that will bring the world of birding to viewers homes nationwide in winter through spring 2000. It will start airing in Maryland on all your public TV channels, Saturday at 10:30 am on January 15, 2000.

We are the hosts and creators of Stokes Birds at Home and our series is produced in association with Maryland Public Television. The series will cover how-to information on watching and attracting birds, birding tips, a mystery bird quiz, visiting birding hotspots all over the country (such as Alaska, and Bosque Del Apache in New Mexico, etc.) and feature "people and birds" stories about birders who are passionate about this hobby.

For more extensive information about this series visit the website

stokesbirdsathome.com

Back to Table of Contents
---
BBC Mail Order
The Baltimore Bird Club is now offering its merchandise for sale through its mail order section. The following items are available. All prices include shipping costs.
Baltimore Bird Club's Birding Site Guide - $12.00
Baltimore Bird Club T-Shirt - $18.00 (only XL left)
MOS Patch - $3.50
MOS Decal - $3.50
Please make your check or money order payable to "The Baltimore Bird Club" and send your order to: Joseph Lewandowski, 3021 Temple Gate, Baltimore, Maryland 21209.
Back to Table of Contents
---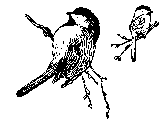 Back Yard Birding
by Gail Frantz
Baltimore County
Catonsville
Joel Martin didn't see his latest life bird in his back yard, but he experienced an owl sighting that he had on Port Mahan Road that probably strikes a familiar chord for us all. Sadly, the bird died a few days later from injuries that were suspected to be sustained from a collision with an automobile.
12/13: I just wanted to report that everything is OK with the world. (At least it was until I came to work this morning.) I saw the Snowy Owl yesterday! What a very, very special moment that was. Seeing that bird in a vast salt marsh (my favorite habitat) as the first rays of the sun touched it ... it's hard to describe, I'll never forget it...I've been meeting lots of great people and finding many new places to explore.
Phoenix
From Larry & Anne Brooks: On Saturday, Dec 4 I glanced out the kitchen window to see three Bluebirds investigating my Wren house. A pair of Chickadees, who tried to nest in it last spring but abandoned it for reasons unknown, too issue with these "trespassers". There was much fluttering and chirping until the Chickadees finally established their prior claim. Presumably the Bluebirds will check out one of several other (larger) birdhouses on the lot.
Old Hanover Road
Margaret Mays had a swirl of about fifteen Pine Siskins in her yard for a few days around the middle of October. She hasn't seen them since but is hoping they'll return when food is scarce later in the winter.
Hampton
Jim & Bobbi Mills report a new yard bird on Nov. 13: Standing in our yard, Jim saw a Yellow-bellied Sapsucker across the street from us. He was confident of the ID, as he has seen quite a few in the past. He saw it only once, around 9 AM, perched on a bare tree.
Glendale
On November 2, Ruth and Don Culbertson enjoyed a believe it or not moment in their yard when they observed: Two Bald Eagles flying over our neighborhood, Glendale at Loch Raven and Glendale Rd at one o'clock PM. The eagles circled around overhead in the sunlight then flew away to the Southwest on their way to Wherever."After living here for 40 years, these are the first Bald Eagles we've ever seen in our neighborhood. Not one, but TWO!"
Kingsville
Near the end of October, Evening Grosbeaks visited Bob Wood's yard.
Owings Mills
From Joe & Carol McDaniel: Oct 8, about 9:30 AM: two Evening Grosbeaks, male and a female, were at our feeder in the back yard (abuts Soldiers Delight). Saw them for a few minutes then had to leave for work -- not there next morning, anyway. Seemed to eat mixed, unhulled seed. Have not seen them since, but nobody's home during the week after 8 AM
On Sunday Oct 24, Julie Frantz observed an unidentified Hummer zip through her patio flowers. She assumed that the bird was a Ruby-throat. The Yellow Book indicates that R-T Hummers pass through our area at this time but it's fun to speculate that the little bird might have been a Selasphorus (Rufous or Alien's.) Interesting to note that another Ruby-throat (?) was seen in Towson on Oct 25.
Towson
A sighting from Peter Lev on November, 26: "It was indeed a good day for Tundra Swans. Thanksgiving morning at 8:30, I had a flock of 60 flying over my yard in Towson. What a wonderful sign of the season!"
Carroll County
Westminster
From Chris Wright:
On Nov 11 a pair of Red-headed Woodpeckers came into the yard today. First time I saw them both together. After that, one came back three times to a white oak tree I have. I assume there were acorns on the tree. I got to hear their song ( if you could call it that).

November 27: Been a good week for me. Brown Creeper, Bluebirds, Yellow-bellied Sapsucker, Red-headed Woodpecker, Great-horned Owl and White-throated Sparrows.
Sykesville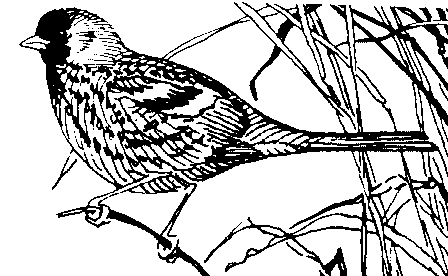 Imagine Dave and Maureen Harvey's delight when on November 18, they discovered a mature male Harris's Sparrow among the Juncos, White-throats, White-crowned and Song Sparrows at one of the feeders in their yard. The white millet seed the Harvey's place in a ground feeder kept the bird coming in for several weeks and a 12' high blue spruce next to the feeding station provides all the birds a quick get-a-way. The neighborhood has more than its share of hunting raptors so the bushes and evergreens provide safe shelter. At least a half dozen visitors from the BBC have visited the bird. The sparrow appears to be settling in for the winter and it looks as if many more birders will get to see him. The last Carroll County Harris's Sparrow was seen in Hampstead in 1996. Phil Davis reports that at this time there is no record for a Baltimore County Harris's Sparrow.
Manchester
Sandi Bailey has had an uninvited but welcome Selasphorus Hummingbird since September 21. The little bird disappears for an occasional day or two but has been coming back to take advantage of the goodies that grow in Sandi's garden.
Presently (Nov.), Sandi is getting apprehensive concerning the survival of this bird as the weather grows colder and her flowers die. She has located a network of hummingbird banders who have suggested ways of helping the hummer to survive the approaching winter. These experts proposed the construction of a survival box, a pile of rotted fruit to promote fruit fly reproduction and a container of heated sugar water.
To assuage some of Sandi's concerns over the hummingbird's ability to withstand cold weather, several of the banders suggested that Selasphorus hummer species are better equipped to deal with cold weather than are our more common Ruby-throats. Sandi sent in the following description of the yard arrangements she and her husband have made to accommodate their visitor:
Guess what, was walking past door yesterday, happened to look out, and there she(?) sat on the feeder, taking her time, just drinking away as if sipping thru a straw. Don't know where she has been for three days, but as soon as I made a noise, she flew right back to the cedars where she perches. Guess we will continue finishing our shelter box, hoping she will use it. When it gets cold, will put just that one feeder right up in the front of the box so she can see it. If this is the only food source she will probably use it. This is really just an experiment to try to help her. Don't know if it will work yet, will keep you posted.

Have to brace the box top with some 2x4's for any snow that may pile up on it. It is closed on all sides except one on the wide side, which will face south away from the wind. Sitting on a picnic table situated between two big pines next to the fence, right near her favorite cedars. The bag of rotted fruit it also nearby, loaded with fruit flies. The compost bin with rotting fruit on top is across the yard not too far away. This is all we can do for her. I had thought she was scheduling her departure by the flowers, but maybe she found some still blooming somewhere else for the past three days. We had been mulching leaves, and using power tools on the box, maybe this scared her a bit. Don't know.

In a way, glad she is back, but also wish she would leave.
To see a photograph of the Bailey's mystery visitor, check out their website
Be patient, the site takes a while to load up.
Let us hear about your Back Yard birding too!
Call or write to:

Gail Frantz
13955 Old Hanover Rd.
Reisterstown MD 21136

Tel: (410) 833-7135

e-mail:
---
Back to Table of Contents
To Baltimore Bird Club Home Page
---