Many of the spectacular birds Hank showed slides of and talked about are endemic to the localities which he visited. These included the Blue-eyed Cockatoo of New Britain island; the Hooded Plover and Cape Barren Goose of southeast Australia and Tasmania; and the Abbott's Booby and Christmas Island Frigatebird on Christmas Island. Among other birds he described were the Royal Albatross in New Zealand, the gaudy Gouldian Finch south of Darwin in the outback of northern Australia, and the rare Mascarene Paradise Flycatcher on Reunion island. Of special interest was the success story of the Mauritius Kestrel. In 1972 these falcons numbered only three. However, due to an aggressive breeding and habitat protection program sponsored by the Peregrine Fund, there are now more than five hundred falcons on the island. At least for now, the bird has been retrieved from extinction.
Hank encouraged us to bird off the beaten track away from the usual birding places. His unique experiences in exotic little known localities which host rarely seen birds prove that the extra effort required to visit these areas is well worth the effort.
Kevin Graff's hawk watching lists continue to amaze us. I was so impressed by the October 20, 1999 Baltimore Sun article about him that I posted it on Cylburn's porch along with an illustrated hawk identification chart from Hawk Mountain Sanctuary. It was there for several months. I hope you saw it. A recent issue of the Cylburn Arboretum Association's Newsletter carried reports of our late September sighting of 900 Broad-winged Hawks over Cylburn, thanks to editor, Adelaide Rackemann, also a member of the Baltimore Bird Club.
This "good hawk year" of 1999 reminded me of the late Douglas Hackman's article "Summary of Hawk Flights over White Marsh, Baltimore County, MD" carried in Maryland Birdlife Vol.10, No. 2,3, June-Sept., 1954. Hackman, a teenager at the time, wrote about his observations with detailed descriptions of the topography of the location, adding some conjecture about what this showed about fall hawk flight. He interpreted the effect of weather conditions and wind direction, using a circular chart comparing flight density in relation to wind direction. Another chart showed comparisons of the more numerous species of hawks in relation to dates seen. A table compared, on a percentage basis, 13 species of hawks seen at White Marsh with the percentages of those same species seen at Hawk Mountain that year. Hackman chose to represent the comparison in percentages rather than numbers to prevent the reader from being overwhelmed by the fact that Hawk Mountain totals were 5 times larger than his White Marsh totals. He reminded us that Hawk Mountain had the advantage of the "Ridge" flights of Pennsylvania over the weaker "Fall Line" flights of Maryland.
Now look at the map of Baltimore City and Baltimore County. Note how close Hackman's White Marsh area is to Graff's area in Northeast Baltimore City. And then read this quote from the last 2 paragraphs of the Maryland Birdlife article:
It's a long time since Hackman wrote the article, yet we can see from Kevin Graff's current data that the phenomenon continues. I don't know where we could find any intervening data to flesh out the story further. Perhaps we will get some response to that question from this writing.
Is Graff's proposal of a permanent facility at his Northeast Baltimore location what Hackman had in mind? If so, perhaps his ideas need to be studied more thoroughly, keeping in mind the practical issues of finances and prospective uses of the facility, as well as the "loyalty" of the migrating hawks to the "Fall Line."
During a recent conversation, Mike Baker of Baltimore City's Recreation and Parks expressed his belief that Graff's best method of accomplishing the goal of setting aside this very productive hawk-watching area is through the establishment of conservation easements. This would have to be done with the agreement of the present owners of the vacant land along the ridge where Graff has kept his watches. According to Baker this would keep the area free from development but would free the city from having to acquire and maintain the land, both costly enterprises. Baker seems very agreeable to offer Graff any help he can through his department. He is, after all, is a great hawk watcher himself, but he makes it clear that the department does not want to acquire or maintain the land.
Graff has agreed to accept the responsibility for keeping this site clean. Now it is up to him and his neighbors to facilitate the conservation easements. This seems to me where the Baltimore Bird Club could step in and help. We'd like to hear your opinions on the project.
Cylburn Lecture -
Chesapeake Bay Waterfowl:
Status and Trends
Doug Forsell's presentation at Cylburn on November 2, 1999 covered all aspects of waterfowl in Chesapeake Bay including population trends, habitat requirements, survey waterbirds in offshore waters of the Bay, and problems facing waterfowl. He also presented the Workgroup's recommendations for the control of exotic species; the restoration of submerged aquatic vegetation; the preservation and restoration of wetlands; and the establishment of open water sanctuaries.
Doug Forsell has worked on migratory bird research for over 25 years. He received his Masters Degree from California State University - Humboldt, where he studied the predatory efficiency and energetics of belted kingfishers. He has worked for the U.S. Fish and Wildlife Service for 23 years. He spent ten years in Alaska primarily studying the at sea distribution and abundance of marine birds, but he also worked on their food habits, seabird colony surveys, high seas gillnet mortality of birds, and recovery efforts of the endangered Aleutian Canada Goose. He spent four years as the manager of five remote tropical Pacific islands where he studied breeding biology of 12 species of tropical seabirds, reef fishes, and green sea turtles. Since moving to the Chesapeake Bay area in 1990, he has chaired the Waterfowl Workgroup in the Chesapeake Bay Program. His major activities in the Bay have involved interpretation of waterfowl population trends, identifying marshes for habitat restoration, surveys of water birds in offshore waters of the Bay, and assessing mortality of water birds in anchored gillnets.
Elliot Kirschbaum
Back to Table of Contents
---
Field Trip Reports
Compiled by Steve Sanford
January 16 - Conowingo Dam - 22 participants from several counties as well as Baltimore enjoyed a great showing of gulls and other specialties. Highlights included 2 adult winter Thayer's Gulls, 2 Lesser Black-backed Gulls, a Great Cormorant, 2 "Blue" Snow Geese, a Peregrine Falcon dining on a Pigeon, and a flying Yellow-headed Blackbird in a huge flock of Grackles. The weather was sunny and mild in the 50's. Leaders: Gene Scarpulla and Rick Blom.
February 5 - New Design Road - This trip's primary goal was field birds in southern Frederick Co. After seeing only a few Horned Larks at the first stop, the 7 participants hit the jackpot on Oland Road where a fresh strip of manure had been laid over the snow-covered field. There were hundreds of Horned Larks, some of them on the road itself. It didn't take too long to find two Lapland Longspurs in the field. One of them was in excellent view for about 10 minutes. This was followed by a visit to Noland's Ferry and an unsuccessful search for a Northern Shrike on Cap Stine Road. Then, on the way to ponds at Burkittsville, the Blair Witch must have intervened and split the lead car from the followers, ending the trip prematurely. 31 species. Weather: Mostly sunny, windy, 30's-40; felt much colder in wind; 4 in. snow cover. Leader: Pete Webb.
February 12 - Cape Henlopen-Ocean City - 7 participants braved wind, temperatures about 30°, and snow mounting up to about 11/2 inches at Ocean City. By far the highlight was the flock of 16 Red Crossbills at Cape Henlopen, including four red birds, one of which had yellow overtones in certain light angles. Didn't get the Harlequin Ducks at the Ocean City Jetty in the heavy snow and wind. Didn't even try for West Ocean City Pond in the inclement weather. 64 species. Leader: Pete Webb.
February 19 - Patuxent Naval Air Station & vicinity - Highlights: Excellent, close looks at Savannah Sparrows, decent looks at Snow Buntings, Short-eared Owl, Snipe, Greater White-fronted Geese, a couple of Fox Sparrows, Horned Larks, and a host of waterfowl. We did NOT see Longspurs or the Kelp Gull at Sea Breeze, and ran out of time before we could pursue the Tufted Duck in Washington, D.C. (See "Tufted Duck in DC" below.) Weather: pleasant, partly sunny, 50's & 60's. 19 participants plus host. 60 species. Leaders: host and leader on the base: Kyle Rambo; leading off-base portion of trip, and reporting: Pete Webb.
Back to Table of Contents
---
Birds Of Halifax
By Tony Bezanson
There are some wonderful birding spots in Halifax, Nova Scotia and the surrounding areas. The many sewer out-falls, in and around the harbour, provide excellent viewing spots in the winter. You might see Bald Eagles or gulls such as Iceland, Glaucous, Bonaparte's, Common Black-headed or our resident Ring-billed, Herring and Great Black-backed Gulls, as well as some Alcidae such as Dovekie and Black Guillemot. If you're lucky, you might even catch both Common and Thick-billed Murres.
In some of the outlying bays and coves in winter you often find Red-necked and Horned Grebes, Red-throated and Common Loons, Black Ducks, Gadwall, Lesser and Greater Scaup, all three Scoters, Harlequin Ducks, Oldsquaw, American and Eurasian Wigeons, and Green-winged Teal.
In the city of Dartmouth, on the other side of the harbour, Sullivan's Pond is another great place to visit. As of today (12/5/99) there are 3 Yellow-breasted Chats, two Baltimore Orioles, five Cardinals, one Connecticut Warbler, a pair of Eurasian Wigeon and Tufted Ducks. In the south end of Halifax near Point Pleasant Park, is Nova Scotia's only breeding population of House Finches.
One of my favorite birding spots is Point Pleasant Park which was originally part of an historic harbour defense system during the first 100 years before Halifax became a village. Homesick Europeans who lived there at the time, decided to bring over some of their plants and trees. They planted Norway spruce, Austrian pine, Scots pine, Norway maple, sycamore maple and European ash, and I can't forget the white poplars. This has since grown into a forest and has become a national historic site. It's also a great place for a jog. Even President Clinton has taken a jog here (with an army of secret service agents.)
Due to all of the people going through the park everyday, the birds living there have become used to people, which brings me to my first Point Pleasant Park surprise back in 1993. I was standing near the woods talking to a friend when all of a sudden a Black-capped Chickadee torpedoed towards me out of the bush. We startled the daylights out of each other and the little bird flew quickly away. I realized that the bird was going for my hand. Next time, rather then pull my hand away, I held it out. This time a Red-breasted Nuthatch flew in and spent at least thirty seconds searching for something. I guessed that he wanted food. We didn't have any seed but we did have the next best thing - bread crumbs. The bird ate some, then flew away.
The Red-breasted Nuthatches returned accompanied by several Boreal and Black-capped Chickadees. They all flew to our hands for the crumbs. We stood there for a bit until the bread was gone. When we turned to go, the birds followed us and continued flying to our hands. It was the best time I had before I went banding in '97 on Brier Island.
Editor's Note: The author, who lives in one of the remoter parts of Greater Baltimore - Halifax, Nova Scotia - is one of the Baltimore Bird Club's newest members. He is 18 years old and connected with us through the Internet. He has visited and birded in Maryland and particularly enjoyed some of the species we take for granted that are rare or non-existent up in Halifax, such as Cardinal, Tufted Titmouse, and Carolina Chickadee. If you have any questions or would like to correspond with Tony, his email address is: .ca
Back to Table of Contents
---
Baltimore Harbor and Mid-Winter Counts - 1999-2000
Compiled by Pete Webb
The Baltimore Harbor Christmas Bird Count held on Saturday, December 18, 1999, attracted 23 observers who reported 100 species and 18,797 birds. Temperatures were in the 30's and 40's under mostly cloudy skies with north winds of 10 MPH or less and no snow or ice on the ground or the water. Standout birds included 2 Great Cormorants on the rocks west of Ft. Smallwood (previous high count was one), 18 species of waterfowl including a Black Scoter, a Count first, and 13 White-winged Scoters, a new Count high, 4 Bald Eagles, 3 Merlins, new for the count, fully 11 Virginia Rails counted at Black Marsh and Hart-Miller Island, 2 Short-eared Owls on Hart-Miller Island, 2 Red-breasted Nuthatches, a Catbird, an Orange-crowned Warbler spotted near the Harbor, Tree, Field, Savannah and Fox Sparrows, 41 Snow Buntings at their usual haunt on Hart-Miller Island, and 3 hard-to-find Purple Finches.
The Baltimore City & County Mid-Winter Count was held Jan. 22, 2000. 24 observers counted 88 species and 29,792 birds. Highlights include: 16 Pine Warblers, a new species for the Count, new high counts for Pied-billed Grebe, Great Blue Heron, Gadwall, Redhead, Bluebird, Hermit Thrush, American Pipit and Yellow-bellied Sapsucker, 15 duck species, 5 Bald Eagles, 301 of those "summer" Robins, one Yellowthroat, 66 American Tree Sparrows, 13 Fox Sparrows and one of those hard-to-find Purple Finches.
Many thanks to our observers.
Results of the Baltimore Winter Counts

*  denotes new high for count       
** denotes new species for count



                              Harbor   Mid-Winter
                             12/18/99   01/22/00
 Common Loon                     5
 Pied-billed Grebe              18      * 143
 Horned Grebe                  115          3
 D-c Cormorant                             19
 Great Cormorant                 2
 
 Great Blue Heron               56       * 52
 Black-crowned N-Heron           1
 Black Vulture                             10
 Turkey Vulture                 20         33
 Canada Goose                  418       5933
 
 Mute Swan                      47          4
 Tundra Swan                    13          4
 Wood Duck                                  5
 Gadwall                        56      * 127
 American Wigeon                18        149
 
 Black Duck                     44         70
 Mallard                       638       1578
 Northern Shoveler                          8
 Green-winged Teal                          5
 Canvasback                    553       2072
 
 Redhead                         2       * 47
 Ring-necked Duck               12        300
 Greater Scaup                             34
 Lesser Scaup                  322       1510
 White-winged Scoter            13
 
 Black Scoter                    1
 Bufflehead                    461        165
 Common Goldeneye                7         66
 Hooded Merganser               11        100
 Common Merganser                         101
 
 Red-breasted Merganser          4         12
 Ruddy Duck                   3456       3252
 Bald Eagle                      4          5
     immature                    3
     adult                       1
 
 Northern Harrier                6          1
 Sharp-shinned Hawk             10          8
 Cooper's Hawk                   7          2
 Red-shouldered Hawk             3          9
 Red-tailed Hawk                23         27
 
 American Kestrel               20         10
 Merlin                          3          1
 Peregrine                       3
 Ringed-necked Pheasant          1          2
 Bobwhite                        7
 
 Virginia Rail                  11
 American Coot                  89        883
 Killdeer                        9         15
 Greater Yellowlegs              1
 Com. Snipe                      1
 
 Bonaparte's Gull                3        426
 Ring-billed Gull             2797       2627
 Herring Gull                  451        290
 Great Black-backed Gull       226         97
 Rock "Dove" (Pigeon)         1204        874
 
 Mourning Dove                 429        171
 Great Horned Owl                3          3
 Barred Owl                      1
 Short-eared Owl                 2
 Belted Kingfisher              17         11
 
 Red-bellied Woodpecker         18         44
 Yellow-bellied Sapsucker        5       * 20
 Downy Woodpecker               50         60
 Hairy Woodpecker                6          7
 Northern Flicker               35         52
 
 Pileated Woodpecker             1          9
 Blue Jay                       67        107
 American Crow                 433       1245
 Fish Crow                      20         18
 Crow sp.                      109        282
 
 Horned Lark                     2
 Carolina Chickadee            173        137
 Tufted Titmouse                53        154
 Red-breasted Nuthatch           2         13
 White-breasted Nuthatch        27         40
 
 Brown Creeper                   7          6
 Carolina Wren                 108         97
 Winter Wren                    10          9
 Marsh Wren                      3
 Golden-crowned Kinglet          7          1
 
 Ruby-crowned Kinglet           13          2
 Eastern Bluebird               10      * 130
 Hermit Thrush                   9       * 21
 American Robin               1022        301
 Gray Catbird                    1
 
 Northern Mockingbird           76        108
 Brown Thrasher                             2
 European Starling            2082       1615
 American Pipit                  2         24

 Cedar Waxwing                   2         80
 
 Orange-cr. Warbler              1
 Yellow-rumped Warbler          18         46
 Pine Warbler                           ** 16
 Common Yellowthroat                        1
 Eastern Towhee                  3          8
 
 American Tree Sparrow          26       * 81
 Field Sparrow                  12         42
 Savannah Sparrow               18
 Fox Sparrow                     4       * 13
 Song Sparrow                  425        263
 
 Swamp Sparrow                  84         17
 White-throated Sparrow        381        644
 Dark-eyed Junco               184        559
 Snow Bunting                   41
 Northern Cardinal             215        281
 
 Red-winged Blackbird          544        423
 Meadowlark                      1
 Common Grackle                141        384
 Brown-headed Cowbird           27      * 626
 Purple Finch                    3          1
 
 House Finch                   208        105
 American Goldfinch            106        145
 House Sparrow                 378        286

 SPECIES                       100         89
 BIRDS                       18797      29789



---



Count Logistics and Observers

       HARBOR                  MID-WINTER
23 Observers (8 paid)      24 observers
11 Parties                 15 parties
Start time 7:00 am         Start time 5:35 am
Stop time 5:30 pm          Stop time 5:15 pm
66.5 party hours           58.5 party hours
50.5 foot hours            45 foot hours
16 car hours               12 car hours
(no feeder hours)          2.5 feeder hours
278.5 party Miles          203 party miles
46.5 foot Miles            34.5 foot miles
232 car miles              169.5 car miles
Temps 32 to 45             Temps 8 - 30 degrees
Wind 0-10 mph from N       Wind 0-20 MPH from NW
Sky mostly sunny           Sky mostly cloudy
No Snow cover              3 - 4 inches snow cover
Still water open           Still water frozen
Moving water  open         Moving water partly open        

Observers:                 Observers:
Brent Byers                Jean Bowman
Mary Gruver-Byers          Brent Byers
Keith Costley              Mary Byers
Scott Crabtree             Keith E Costley
Barbara Cupp               Jon Cupp
Jon Cupp                   Jon Cupp Jr
Gail Frantz                Gail Frantz
Kevin Graff                Harry Frantz
Hank Kaestner              Helene Gardel
Elliot Kirschbaum          Kevin Graff
Nancy Kirschbaum           Tina Katsampis
Peter Lev                  Peter Lev
Taylor McLean Jr.          Jim Myers
Jim Peters                 Paul Noell
Bob Rineer                 Leanne Pemburn
Barbara Ross               Jim Peters
Terry Ross                 Bob Rineer
Sharm Schwemmer            Terry Ross
Susan Shock                Art Rogers
Debbie Terry               Ed Smith
David Walbeck              Sondra Stafford
Pete Webb (compiler)       Debbie Terry
Joy Wheeler                David Walbeck
                           Pete Webb (compiler)
Back to Table of Contents
---
Texas Revisited
By Jim Highsaw and Linda Prentice
It's breakfast time at the B-Bar-B Ranch Inn near Kingsville, and the garden area is full of birds - a Vermilion Flycatcher, Green Jays, Bobwhites, Golden-fronted Woodpecker, Inca Doves and "Black-crested" Titmice. A morning walk to the ponds produces Great Kiskadee, Loggerhead Shrike, White Ibis, Northern Harrier, Kestrel and Eastern Phoebe. It's great to be back in South Texas after a seven-year absence!
On this seven-day trip in mid-January 2000 we started in Rockport, then birded Hazel Bazemore Park, the Kingsville area and Highway 77 through the King Ranch, visited Santa Ana NWR, Bentsen SP and Anzalduas County Park, headed west to Falcon State Park, then back to the Harlingen area for Laguna Atascosa NWR, and finally north again on Highway 77 to Corpus Christi. Some of the highlights were 25 Whooping Cranes, Roseate Spoonbills and a Peregrine Falcon seen from Captain Ted's Skimmer, a nice assortment of birds (including Vermilion Flycatcher and Say's Phoebe) at Hazel Bazemore Park, breakfast with the birds at the B-Bar-B Ranch Inn, Pauraques and Altamira Orioles at Santa Ana and Bentsen, a Ringed Kingfisher at Santa Ana, a Hook-billed Kite and a Red-naped Sapsucker at Bentsen, trees full of warblers, kinglets and gnatcatchers at Anzalduas County Park, Long-billed Curlews, Crested Caracaras and White-tailed Kites at Laguna Atascosa, the hawks along Route 77 through the King Ranch, and photographing Green Jays, Loggerhead Shrikes, Pauraques, Chachalacas and Roseate Spoonbills. Getting free air tickets on the way home was an added bonus!
Back to Table of Contents
---
Tufted Duck in DC
In late January and February, 2000 a Tufted Duck, a life-bird for many observers, appeared in the Potomac River waters of Washington DC and briefly in Maryland waters. This Eurasian species was best viewed from the grounds of the elegant Fort McNair in DC and from East Potomac Park (Hain's Point). For a few tantalizing days it was seen by a few observers down-river in Maryland waters, but it returned to its DC haunts before most birders could tick it off on their Maryland lists.
Steve Sanford
Back to Table of Contents
---
BBC Mail Order
The Baltimore Bird Club is now offering its merchandise for sale through its mail order section. The following items are available. All prices include shipping costs.
Baltimore Bird Club's Birding Site Guide - $12.00
Baltimore Bird Club T-Shirt - $18.00 (only XL left)
MOS Patch - $3.50
MOS Decal - $3.50
Please make your check or money order payable to "The Baltimore Bird Club" and send your order to: Joseph Lewandowski, 3021 Temple Gate, Baltimore, Maryland 21209.
Back to Table of Contents
---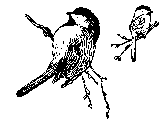 Back Yard Birding
by Gail Frantz
Baltimore City
January 1 - from Jane White:
For over a week, I've been seeing a lone female Common Goldeneye paddling near the esplanade at the Inner Harbor. I see her when I walk over to skate at Rash Field at lunch time. She doesn't hang out with all the mallards, but is always alone. From my backyard: My new little birdbath warmer has been a big hit since the weather got cold. The other morning there were seven Robins crowded into it. The whole surface was brown and at first glance I thought some large object had fallen into it.
Mt. Washington
From Carol Schreter:
Guess what, Saturday, Feb. 26, I had a Fox Sparrow. Not seen here, in Mt. Washington since March 1990.
Ten Hills
January at Louise Rizzutti's:
Yep, the Red-breasted Nuthatch is still a daily visitor to my windowsill along with a pair of White-breasted Nuthatches, a Carolina Wren, a male and female Downey, Chickadees, Titmice and a Red-bellied Woodpecker who comes for suet but can't resist a peanut from the sill.
Baltimore County
Randallstown
Feb 29 - Steve Sanford writes:
I noticed the fruits on my young crabapple tree have lasted much longer than normal this winter. Usually they are completely devoured by December, mainly by Starlings. The reason for their survival this winter is that a Mockingbird is now zealously defending the tree from interlopers. Once or twice I've seen it almost ride the back of a Starling to escort it out. Three Cheers for my Mockingbird!
Hampton
Lester Simon was surprised to see a Yellow-rumped Warbler in his yard on February 4.
Parkville
From Peggy Smith:
I live in Parkville, about a mile from the beltway near the Perring Parkway interchange.. My yard is in a wooded area near a small stream, I Just wanted to share with you the great birds in my yard (or above it!) this year. On 4/24 I heard, to my amazement, a Whippoorwill calling in the evening. Listened on other evenings but did not hear the bird again. In early May, we had three Rose-breasted Grosbeaks at the feeder. They stayed for the weekend, loaded up on sunflower seed and then departed. A pair visited the feeder again in late September, perhaps the same ones. I also had a Bald Eagle soaring high overhead in late September. Have been seeing a Yellow-bellied Sapsucker for the past 2 years. It's been a good year for yard watching.
Monkton
Spring came to Leanne Pemburn's yard on January 30:
Out shoveling snow this morning, and couldn't help but notice all the singing (not just calling) birds in the area -Chickadees, Titmice, the ever-present Carolina Wren, and now White-breasted Nuthatch, Red-bellied Woodpecker, and Cardinals. Also a Downy Woodpecker drumming nearby, telling all others: "Stay away from that suet block -it's mine!"
Catonsville
February - from Joel Martin:
I must say that the activity has finally picked up at my tray feeder, even though the variety is not that exceptional. Among our regulars we have a pair of Blue Jays, a pair of Song Sparrows, an occasional Mockingbird, 3 or 4 pairs of Juncos, and an occasional swarm of Starlings that swoop in out of nowhere like passenger pigeons and drive everything else away. The juncos have been our most consistent visitors, especially when it snows, and though they're common it's a real treat to see them so close. Sometimes a junco or starling will perch on the deck railing by the window, only 2 feet from my face. You get to see details you've never noticed, like all the different colors in a starling's bill!
Yesterday my son Eric and I were both itching to get out, and all it took was for him to ask if we could "go to the woods" as he puts it. We went out to Granite and walked a LONG way along the Patapsco (I wish I had his energy). Aside from the coastal marshes there's probably no place I'd rather be than a snow-covered winter woods. Most of the riverside trail was passable, but the snow was near knee-deep in spots. We saw a lot of the usual suspects, including some singing Chickadees and Titmice. I didn't see any of the year birds I was hoping for like winter wren and creeper. But there were some real highlights. A lone, beautiful Myrtle Warbler seemed out of place against the snow. A Red-shouldered Hawk was being harassed by crows. Two amorous Barred Owls were hooting back and forth, unseen, across the river. And a pair of Pileated Woodpeckers were being very noisy along the edge of a field. But the real avian highlight came as we were intently watching a flock of White-throats and juncos scratching along the riverbank no more than 30 feet away. Suddenly everything erupted in a twittering, fluttering mass and the view was filled with the form of a Sharp-shinned Hawk which had just made an unsuccessful attack. Amazingly, he remained perched there for several minutes, apparently convinced that he must have actually caught something. Finally he flew off up the river. On our walk out, the day was capped off as we surprised a beautiful red fox at close range, scratching for food on the riverbank. He ran across the ice, up the opposite bank and across the railroad tracks.
Westview
During snowy February Lois Sybor reported an unusually aggressive Mockingbird in her back yard., Lois has her feeders hanging where she can see them from her kitchen window. Unfortunately, the Mocker chased all the birds away quickly and efficiently in order to protect his berry bush food source.
Finksburg
From Chris Wright:
On February 19 I saw a Bald Eagle near route 9...It is encouraging to witness their steady return.
Let us hear about your Back Yard Birding too!!!
Call or write to:
Gail Frantz
13955 Old Hanover Rd.
Reisterstown MD 21136
Tel: 833-7135
e-mail:
---
Back to Table of Contents
To Baltimore Bird Club Home Page
---