Double Western Day


By Pete Webb

It all started January 12 with a scheduled field trip to Horsehead Sanctuary south of Grasonville just east of Kent Narrows and the Bay Bridge.

The group of 6 birders including co-leaders Kevin Graff and myself, Pete Webb, checked the Bayside beach overlook (Long-tailed Ducks and Buffleheads) and the Marshy Point Trail, where we were initially disappointed to find no large raft of ducks awaiting us, just a couple more Bufflehead, a couple of Ruddy Ducks, and a bird I initially glanced at and passed off as a Horned Grebe. Someone put a scope on it and thought it might be a Red-necked Grebe, longer neck and larger than a Horned Grebe. I put my Questar on it and... (gulp! can it be?) ... a Western Grebe!

Seen well enough, sun at our backs, to see the red eye in a black cheek, black crown, white sides to the neck, with the white almost meeting behind the head narrowing the black to a very thin vertical stripe there, and the looooong neck and narrow, long head and bill. The bird, initially in the middle of the cove in front of us at the canoe landing, gradually drifted left (west) and further away, and someone remarked that they thought they saw TWO birds .. and eventually, sure enough, there were indeed TWO Western Grebes, side by side and well out into the arm of the Bay but slowly drifting back into the outer part of the cove. We found the first bird about 10:30 am, viewed the two until about 11 when I departed to try to get communications out to the rest of the world. About 11:30, another group of birders led by Fred Fallon appeared in the parking lot as my group was considering a side trip to another site, and we led them back to see one of the birds (where was the second?).

About noon I left them there and took my Baltimore Six around Chestertown to Eastern Neck NWR to try our luck with the Western Kingbird I saw there last month, and which had been reported last Saturday. We arrived about 1 pm - and there it was! We watched it for about a half-hour on and off, then broke up and started for home. Some of us stopped at Bogle's Wharf (still in Eastern Neck) to gawk at over 10,000 diving ducks, mostly Greater and Lesser Scaup, with some Canvasbacks and Bufflehead. The mass in the water stretched from behind land to our left, across in front of us, and around land to our right.

So we had TWO Western Grebes and two species of "Western" birds in one fantastic day!
---
Conservation Corner

Judgments on Mute Swans


By Anneke Davis

At this time last year, both the BBC and MOS took an unusual and strong position advocating that Mute Swans in the Chesapeake Bay region be controlled by the Department of Natural Resources (DNR) by whatever means possible. (See "Too Many Mute Swans," Chip Notes, April 2001.) As evidence of widespread agreement on this issue, a bill (H.B. 728) in the 2001 Maryland State Legislature would have authorized DNR to use lethal means to control the growing population of Mute Swans.

Since then a court case was filed by two women, "Swan Huggers," using $30,000 of their own funds to protect Mute Swans. They lost their case but then proceeded to the U.S. District of Columbia Court of Appeals where a federal judge in Hill v Norton ruled on December 28, 2001 that Mute Swans should be protected under provisions of the Migratory Bird Treaty Act (MBTA) of 1918 . Through convoluted legal "logic," the case debated only the question of "whether the Mute Swan (Cygnus olor) is a member of the family anatidae," a known fact, with no reference to the basic goals of the Act.

It thus seems timely to examine the background and intent of the Migratory Bird Treaty Act of 1918. The original stimulus for this federal legislation was the need to curb the wanton slaughter of birds and to protect species that "live, reproduce or migrate within or across international borders at some point during their annual life cycle" (American Bird Conservancy). The United States recognized the importance of international coordination of wildlife management by ratifying bilateral agreements with Canada (1916), Mexico (1936), Japan (1972) and the USSR (1978). The U.S. Fish and Wildlife Service is mandated to enforce provisions of these treaties.

The Act articulates these important conservation principles:
To conserve and manage migratory birds internationally;

To sustain healthy migratory bird populations;

To provide for, maintain, and protect necessary habitat; and

To restore depleted populations of migratory birds.
The problem with using this Act to protect the Mute Swan is that they are non-native and non-migratory. They were introduced from Europe in the mid 19th century. In the Maryland Chesapeake Bay region their numbers have increased from 100 birds in the mid 1970s to 4,000 birds in 1999. Mute swans are very destructive of wetlands; they are very aggressive toward many other species, competing for nesting sites with native species. Mute Swans destroy Submerged Aquatic Vegetation (SAV) at an enormous rate, even more than they actually consume, through uprooting the Submerged Aquatic Vegetation and promoting siltation. Our winter ducks and migrants depend on these grasses.
Many bird conservation groups feel that this Appeals Court is mistaken and are urging Gail Norton, Secretary of the Interior, to appeal Hill v Norton, and to examine and clarify the issue of what species are protected under the MBTA, and under what circumstances.
---
Message from the President
Thanks for Your Generous Support
Many thanks to all who generously responded to BBC's Membership Appeal. As of mid February 2002, 48 BBC members donated $2,170. Seventy-eight percent of this ($1,688) may be used for general operating expenses -- to support basic member services at our usual level. Twenty-two percent was targeted to specific purposes, including $307 for education and the BBC Bird Museum, $150 for outreach and publicity, and $25 for conservation.
So that members can better understand how BBC's income is spent, the Board has agreed that our Annual Financial Report will be published in the August/September issue of Chip Notes each year. A new process is now in place to allow us to better predict our basic and occasional needs.
The dollars available for member services also depends upon the size of the membership -- which seems stable at about 400 people. From May 2001 - February 2002 we added 48 new members, approximately the same number that did not renew this year.
Many new members were Baltimore City (not County) residents who may have learned of BBC through two newspaper articles that featured BBC projects. A City Paper cover story "The Marsh of Progress" (August 29, 2001) featured Jim Peters' efforts to enhance bird habitat at Fort McHenry. "A Swift Passage" in the Sun (October 14, 2001) described how migrating Chimney Swifts roost in two Hampden chimneys.
Helene Gardel, President
---
Message from the Board
Membership to Vote on Proposed Dues
Increase at May Cylburn Meeting
As most members now know, the Club has had no dues increase for decades, while costs have been increasing over the years, especially postage increases and printing costs for Chip Notes and the Program Book. Recently a fund-raiser letter went out, and the Club received about $2,000 to help balance this year's budget; however, even with that help, a dues increase will be needed for next season to avoid excessive budget deficit spending and severe cuts in core services like the newsletter and program book, or both. Even with the proposed $5 increase in individual member dues for BBC, there will still be a deficit and more fund-raising ideas will have to be considered; however, with the state MOS dues also being raised by $10, it was felt by board members that a local BBC dues increase of more than $5 would make too much of a "sticker shock" to Club members, so we stayed at that level, with the proposed new dues schedule coming out like this:

            Before Sep 2002:      | Beginning Sep 2002: 
                   MOS  BBC TOTAL |  MOS   BBC    TOTAL 
Full year memberships: 
Individual         $10  $10  $20  |  $20   $15     $35 
Household          $15  $15  $30  |  $25   $20     $45 
Sustaining         $25  $25  $50  |  $50   $30     $80 
Junior              $5   $5  $10  |   $5    $5     $10 
Chapter Indiv       -   $10  $15  |   -    $15     $15 
Chapter HH          -   $15  $15  |   -    $20     $20 
Life (State)       $400   - $400  |  $1,000  (dropped in BBC) 

         New memberships enrolling Mar 1 - Aug 31: 
Individual          $5   $5  $10  |  $10    $8     $18 
Household          $10  $10  $20  |  $13   $10     $23 
Sustaining         $15  $15  $30  |  $25   $15     $40
A vote will be held at the general membership meeting, the May Tuesday Evening at Cylburn, Tuesday May 7, at 7:30 pm, to approve the proposed local dues increase. Note that only the $5 increase in BBC dues is being voted on; the State organization will vote on the $10 increase in State dues at another event.
---
May Count coming May 11
The May Count will take place May 11 counting birds in Baltimore City and County. We urge you to participate. We can pair you up with others if you prefer. The count, part of the International Migratory Bird Day, provides valuable data on bird migration. It is a great way to enjoy lots of good birds at the peak of migration, too. For area assignments call Debbie Terry, 410-252-8771 or e-mail . Submit your completed reports to Steve Sanford, 8412 Downey Dale Dr, Randallstown MD 21133, Tel. 410-922-5103, . Please use the form in the May-June issue of Yellowthroat, and submit it as soon as possible.
---
Field Trip Reports


Compiled by Steve Sanford

January 12 - Marshy Point - Waterfowl numbers and diversity were frustratingly low. Land birds included Tree Sparrow and Red-breasted Nuthatch. About 30 participants! Leader: Bob Rineer.

January 12 - Horsehead Wetlands - Western Grebe and Western Kingbird! See the story on page 1.

February 9 - New Design Road and Lily Pons - Leader Pete Webb writes:
On a Baltimore Bird Club trip re-scheduled for today (canceled on the snowy Saturday Jan. 19) we found a flock of about 150-200 Horned Larks north of Oland Road and too distant to scope, flying around and feeding among corn stubble a couple hundred yards away, equidistant from Oland and Buckeystown Roads. A smaller group of 15-20 birds was in the short grass on the south side at 10 AM, with one Lapland Longspur among them. We also found about five White-crowned Sparrows on Cap Stine Road, where Tree Sparrows had been reported earlier. No sign of any Rough-legged Hawks or Snow Buntings.
The weather was unseasonably warm and windless. Overall, 48 species of birds for 7 participants.
February 16 - Cape Henlopen to Ocean City - Leader Pete Webb reports:
Our most interesting birds were adult male and female Common Eiders and Peregrine Falcon at Cape Henlopen, DE; Red-breasted Nuthatches at the visitor center feeder there (but no sign of the resident Brown-headed Nuts); and the hybrid Tufted/Scaup Duck at Silver Lake in Rehobeth, DE. We did find Lesser Black-backed Gulls in Delaware and at West Ocean City Pond. The off-shore Gannets seemed to be all flying north and were visible at all coastal sites. Forster's Terns were mingling with the Bonaparte's Gulls at the Inlets (both states). A Razorbill had been reported earlier in the day at Indian River Inlet (DE) but we didn't spot it, although we did see a harbor seal there.

At Ocean City Inlet the Purple Sandpipers were right under our feet. We did not find the reported Harlequin Duck. In addition to the expected Dunlin, American Oystercatchers, Sanderlings, and Black-bellied Plovers, there were three Greater Yellowlegs at Skimmer Island. Brant were in the waters as expected. Our only Great Cormorants were at Cape Henlopen. All three Scoters were seen in Delaware, although the majority were Surf. Surf Scoters were all along the coast. West Ocean City Pond had Pintail, Green-winged Teal, Shovelers, Gadwall, Hooded Merg's, Am. Wigeon, Lesser Black-back Gull, and no herons other than Great Blue. We added one Ring-necked Duck to our tally at Ocean Pines pond as the light was waning. Nice weather but no MD rarities. We had 18 observers and about 85 species overall.
February 23 - Patuxent River Naval Air Station - Per Leader Pete Webb:
The Kelp Gull ("Shrimpy") was on his post 8:20 am as we stopped by on our way down. On the Naval Air Station, we failed to find any Longspurs or Snow Buntings, but did see Savannah Sparrows, Horned Larks, Snipe, two adult male N. Harriers and a singing Fox Sparrow. Waterfowl there were the same as at Point Lookout later: Common Goldeneye, Bufflehead, Long-tailed Ducks, Horned Grebes, and Common Loons. At Point Lookout, we added Gannets, one adult Brown Pelican, a distant scoter species, Red-throated Loons and a lone Bonaparte's Gull. We also saw an Otter in the ponds, and near Fort Lincoln Pine Warblers, a Brown Creeper, both Kinglets, a Catbird, a Thrasher, and several Brown-headed Nuthatches. We subsequently visited Stoakley Road in Calvert County west of Prince Frederick, garnering all the woodpeckers except Red-headed, which is sometimes found there. All in all a nice trip, 71 species recorded by 13 observers.
---
Baltimore Harbor Christmas Count 2001


December 29, 2001

Compiled by Pete Webb

Common Loon               4     Downy Woodpecker    41 
P-B Grebe                10     Hairy Woodpecker     4 
Horned Grebe              1     Flicker             15 
D-C Corm.               217     Blue Jay            52 
Black-cr Nt Heron         1     Crow               214 
G B Heron                55     Fish Crow           35 
Turkey Vulture           12     Crow Sp.            20 
goose sp.                 1     Car. Chickadee     114 
Canada Goose            600     Titmouse            56 
M Swan                    8     W-b  Nuthatch       17 
Tundra Swan              67     Brown Creeper        3 
Wood Duck                 5     Carolina Wren       75 
Gadwall                  34     Winter Wren          3 
Wigeon                   28     Marsh Wren           2 
Black Duck               43     G C  Kinglet         5 
Mallard                 956     R C Kinglet         19 
Northern Shoveler        29     Bluebird            11 
Canvasback              909     Hermit Thrush        7 
Redhead                   2     Robin              492 
Ring-necked              54     Catbird              5 
L Scaup                5966     Mockingbird         69 
Scaup sp                 54     Thrasher             2 
Bufflehead              468     Starling          1456 
Com. Goldeneye           64     Cedar Waxwing        1 
Hooded Merg              50     Parula Warbler       1 
Ruddy Duck             3889      (at Ft McHenry) 
Bald Eagle (adult)        4     Myrtle Warb         44 
(immature)                3     Com. Yellowthroat    3 
Bald Eagle (TOTAL)        7     Towhee              24 
Harrier                   5     Tree Sparrow        28 
Sharp-shinned Hawk        5     Field Sparrow        6 
Cooper's Hawk             5     Savannah Sparrow    32 
Red-shoulder              3     Fox Sparrow          3 
Red-tail                  9     Song Sp.           237 
Kestrel                   5     Swamp Sp.           29 
Merlin                    1     White-throat       288 
Peregrine                 2     White-crowned       15 
Pheasant                  4     Junco              219 
Virginia Rail             2     Snow Bunting        20 
Coot                    105     Cardinal           130 
Killdeer                 24     Red-winged         319 
Bonaparte's Gull         83     C. Grackle          45 
Ring-billed Gull       3335     Cowbird             21 
Herring Gull            175     House Finch        154 
Great Black             140     Goldfinch          217 
Pigeon                  682     House Sparrow      217 
Mourning Dove           680 
Great Horned Owl          1     SPECIES             92 
Belted Kingfisher        12     BIRDS            23292 
Red-headed Woodpecker     1 
Red-bellied Woodpecker   25 
Yel-bel Sapsucker         4
Observers: Jeff Boltz, Dan Britt, Gwen Burkhardt, Brent Byers, Mary Gruver-Byers, Danny Bystrak, Mary Chetelat, Dan Cockerham, Keith Eric Costley, Adriana Masiarova Frangos, Helene Gardel, Kevin Graff, Sarah Johnson, Jim Peters, Bob Rineer, Barbara Ross, James Ross (son), Gene Scarpulla, Carol Schreter, Kevin Smith, Wanda Stefan, Debbie Terry, David Walbeck, Pete Webb, Joy Wheeler.
DATA: Observers 24, Paid Obsv. 10, Parties 9, START TIME 7:00, STOP TIME 17:00, Total Hours 52.75, Foot Hours 42, Car Hours 10.75, Total Miles 135.5, Foot Miles 29.5, Car Miles 106, Min Temp 28, Max Temp 45, Min Wind 3, Max Wind 15, Direction W, Sky AM C, Sky PM PC, Snow Cover 0, Still Water F, Moving Water o.
---
New Activities Not on Original Schedule:
Swift Watching
We will hold two new field trips, April 25 and May 9 7:30-8:30 PM to watch Chimney Swifts returning to chimneys in Hampden (Baltimore City). Also on April 21, 7:30-8:30 PM there will be a training session for those interested in helping with a swift counting project at 12 chimneys in the Baltimore area this spring and fall. Coordinator: Adriana Frangos (410) 625-2156 or . See the entries for these dates in BBC Online Schedule for more information.
Fort McHenry - New Trips
Saturday Mornings:
APR 20, MAY 25 (Sat) 8:00-12:00 a.m. Fort McHenry. Meet at the visitor center parking lot. Canceled if rain, snow, heavy fog. Leader Jim Peters, 410-429-0966.
Wednesday Evenings:
APR 10, 17 and 24 and MAY 1, 8, 15, 22, 29 ( Wed) 5:30-8:00 p.m. Fort McHenry evening monitoring walks. Meet at MD Port Authority Parking Lot outside the park and adjacent to the Fort's gate. Canceled if raining. Leader: Jim Peters, 410-429-0966
See April 3 in the BBC online schedule for directions to the fort.
Introductory Walks at Cromwell Valley
Georgia MacDonald invites you to join introductory walks for small groups of beginning birders/new members: spring 2002 migration at Cromwell Valley Park. Mon, Thur or Fri, mornings are best but other times can be considered. Diverse habitat includes stream, woods & fields. During the months of March, April, May and June, you may schedule a walk 3-5 days in advance with leader Georgia McDonald at 410-821-6956 or .
These walks are intended to be as flexible as possible to fit the scheduling needs of both leader and participants. We want to schedule no more than 3-5 days in advance in order to be able to take weather forecasts into consideration. Walks can be as long or short as desire and time allow. Trails covered can be limited to fairly easy streamside walking or include moderately steep uphill according to the capacity of participants. (Check program booklet under "CVP" for directions to Cromwell Valley Park).
Beginning Birding Program
Baltimore Bird Club members, Ben and Ruth Poscover, will again be teaching a beginning birding program at Oregon Ridge Nature Center. The program consists of two 90 minute evening classes on Tuesday, May 28, and Thursday, May 30. A field experience will be held on Saturday, June 1. For further information call 410-887-1815.
---
Postcard from India
An invitation to speak to the World Spice Congress in Cochin, South India, provided the opportunity for some interesting birdwatching. I also had great luck with my camera, so should be able to put together a good slide show for the BBC.
First I birded the tropical forest of SW India, looking for the last of the 30 endemics of that area. I did see the missing link: the Gray-headed Bulbul. Today I birded at the famous Bharat bird sanctuary north of Delhi. The highlight was a close-up pair of the rare Siberian Cane Hawk.
Hank Kaestner
---
Postcard from Chiapas, Mexico
I can highly recommend a birding trip to Chiapas, Mexico. I have had the chance to bird the Pacific coast lowlands where I found two localized Mexican endemics - the spectacular Rosita's Bunting and Giant Wren. Then I traveled to the Caribbean lowlands and the Lacondian jungle in Mexico, and finally I birded at 8000 feet in the highlands, where many Central American birds reach their northern limit.
Best regards, Hank Kaestner
---
West Mexico Trip


By Steve Sanford

I enjoyed a great birding tour in western Mexico February 22-March 4 with 5 participants led by Michael Carmody* - an excellent guide whom I highly recommend. We birded mainly around Mazatlan, San Blas, and the Durango Highway. Many of the locations are described in Steven N.G. Howell's A Bird-finding Guide to Mexico.

Some of the most spectacular birds were: Military Macaw; four gaudy endemic jays - the wonderful Tufted Jay on the Durango Highway, and Purplish-backed Jay, San Blas Jay, and Black-throated Magpie-Jay; plus Blue Mockingbird, Northern Potoo, Elegant Quail, Crested Guan; Citreoline and Mountain Trogon; Red-headed and Flame-colored Tanager, and Yellow Grosbeak.

I was really pleased to get great looks at some species I had seen before but longed to see really well - most of all Blue-footed Boobies - close-up on Roca Elefante off the coast of San Blas, where we also saw one Red-footed Booby and Red-billed Tropicbird. Also in this category were Happy Wren, Elegant Euphonia, and Blue Bunting.

Some other great birds included Rufous-bellied Chachalaca, Rufous-necked Wood-Rail, Sinaloa and Spotted Wrens; Colima Pygmy-Owl, Collared Forest-Falcon, Eared Poorwill, Bumblebee Hummingbird; 4 species of Central American woodpeckers including the giant Lineated and Pale-billed Woodpeckers (close!); lots of warblers including Rufous-capped, Golden-browed, Crescent-chested and Red; Red-breasted Chat, Streak-backed Oriole, Yellow-winged Cacique, and Varied Buntings galore.

All participants got excellent looks at the vast majority of our 312 species, including about 25 Mexican endemics. I personally tallied 294 species and got 57 out of a possible 69 life-birds!

I posted some pictures at http://www.santanager.net/NW-Mexico-2002.html

* Michael Carmody, Legacy Tours, 888-754-6186,
---
Museum Enhancements


By Joy Wheeler and Patsy Perlman

Our Museum of the Birds of Maryland is responsible in large part for the image we present to the public as they explore Cylburn. The 207 acres of open space with its distinctive Victorian mansion attracts hundreds of visitors from throughout Baltimore, the state, and the world. How we display our collection of the birds of Maryland is in large measure why the Baltimore Bird Club is identified with Cylburn. There are continuing inquiries about, birds, bird studies, field walks and memberships in the BBC in spite of our excellent electronic presence. Visitors to the Cylburn Arboretum Association's yearly list of events, open houses, Market Day, etc. always visit our second floor museum.

During the summer of 2000 and 2001 some noteworthy changes were made in the museum with some still to be made. Through consultation with Eugene Gregorio, professional museum design artist, some of the changes are:
The Bald Eagles have been enclosed in a Plexiglas case at eye level.
The Wild Turkey has been placed in a case adjacent to the eagles.
The 4 window cases have been built into the window recesses closing off the light.
Three other specimens have been moved to the cases attached to the walls instead of free-standing cases of their own (Baltimore Oriole, Peregrine Falcon, Carolina Parakeet).
The 6 small dioramas have been brought down from near the ceiling to eye level in the small room to the side.
To make way for mounting the dioramas, the large case containing our egg collection was moved to the third floor archive room.
The second floor front windows have been replaced with clear glass, removing the unsightly white covers that were placed there 20 years ago.
Still to be designed and put into place is a 24" X 36" panel with our name superimposed on an outline map of Maryland graced by a few of our favorite birds. (Oriole? Raven?) Even if you've been there many times before, you'll find it's still worth a trip to the second floor during our meeting evenings, during Cylburn Arboretum Association special events, and any Tuesday and and Thursday from 10AM to 3PM. The Museum Committee loves to hear first-time visitors exclaim : "This is wonderful!" And then we are always proud to inform them of the BBC's part in establishing this collection and slip them one of our orange brochures.
---
Bird Club Archives


By Joy Wheeler

Some of us are blessed with being on Chan and Eleanor Robbins' Christmas letter list. How I am that fortunate I do not know, but for the past few years I've been adding them to our archives for anyone else to read. And worth reading they are for the history of the Robbins family (They are related to our current President.), for the history of Chan's influence on ornithology for over 50 years (Chan has participated in 326 Christmas counts and plans to continue until he has completed 350), and for reports of how members of his family were affected by some of the years' events (The Laurel tornado left a lasting impression on their nerves as well as their trees.).

The Baltimore Bird Club archives are available on Tuesdays and Thursdays from 10AM to 3PM on the third floor of Cylburn. Stop in the next time you visit our Museum of the Birds of Maryland. These letters are only a small part of the fascinating history of the Maryland Ornithological Society.
---
Back Yard Birding and Beyond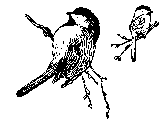 By Gail Frantz
Mt. Washington
Carol Schreter: December 25, a holiday treat. A flock of up to 35 Pine Siskins at my thistle feeder in Mt. Washington, also eating hulled Black-Oil Sunflower Seed Chips. Some 5, or 10, or 17 around most of the day, while BBC members visited over the next three weeks. Then my neighbor put up a thistle feeder, and I had to share the Siskins. Other notables from December 31- February 1, a "Yellow Variant" House Finch around for 10 days. The yellow color, says Shirley Geddes, may be the result of diet. Prior to this, I'd only seen the yellow colored House Finch in Southern California. A pair of Fox Sparrow feeding from the ground, below a feeder. A pair of Hairy Woodpeckers bold enough to visit to a hanging suet feeder just 6 feet from my window.
Randallstown
Steve Sanford: For months this winter a Mockingbird was aggressively driving all the raiding Starlings away from the medium-sized crab apple tree in my front yard. As a result the tree kept almost all of its berries until January 30. In late January the number of Robins was already growing and they were even singing a little in the mornings. Then on January 30 they descended on the crab apple tree. There were sometimes as many as 20 Robins on it at a time, supplemented with a few Cedar Waxwings. They cleaned out the whole tree in about a half-hour! And the Mocker didn't even show up. Also of note this winter: A Red-breasted Nuthatch has shown up at my feeders periodically, which is unusual here.
Reisterstown
Evelyn Taylor: Saw 3 Yellow-bellied Sapsuckers on a leaning branch yesterday, very nonchalantly going up it. Really cute.
Beyond the Back Yard:
Freeland in White Hall by Joann Gochnour
Directions: Take Exit 36 off I83 north to Rt. 439. Go west to York road and turn right. Freeland road is a left hand turn at the flashing light. The beaver pond is a very short distance from the Freeland parking area of the North Central Rail/bike trail. Follow Freeland Road several miles, the parking lot for the bike trail is on the right just past the old railroad crossing. Walk north a short distance past the restroom building. The beaver pond is on the right. The beaver are very active and have built several smaller dams on the other side of the trail, also. I have seen Kingfishers and Green Herons there. Further up the trail near Oakland Road I have seen Baltimore Orioles.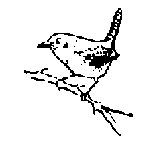 Let us hear about your Back Yard and Maryland Birding too!!!
Call or write to:
Gail Frantz
13955 Old Hanover Rd.
Reisterstown MD 21136

Tel: 410-833-7135

e-mail: guineabird@aol.com