The newsletter of the Baltimore Bird Club
October/November 1995 - Online Edition
---
by Steve Sanford
As you can see in Terry Ross's article, the BBC is a hit already on the Information Superhighway. Congratulations to Terry on his excellent "Baltimore Bird Club Homepage" on the Internet. Incidentally, if you happen to have the latest versions of one of the big three computer online services - America Online, Prodigy, or Compuserve, you already have access to the page. Go to their Web Browsers and enter the URL (the http// number below) and start cruising. The new URL of the Baltimore Bird Club Home Page is http://www.bcpl.lib.md.us/~tross/baltbird.html

As you can also see in this issue, our members have been ranging the whole globe and sharing their experiences. Thanks for your contributions.

Don't forget we are the Baltimore Bird Club. Let us hear about your good birding experiences in or near Baltimore, too. Informal descriptions of good birding locations would be especially welcome.

Back to Table of Contents

---
by Terry Ross
In the last issue of Chip Notes, I described how to find birding information on the internet, and I mentioned in passing the existence of the new Baltimore Bird Club home page. The BBC home page has quickly become a popular source of birding information: in July, the page was accessed 928 times; in August, 1109 times. For the benefit of those who have not yet visited the page, I here describe its features.

On arriving at the page, viewers with graphics capabilities will see the BBC logo, a full color version of the emblem that appears on the masthead of this newsletter between the words "Chip" and "Notes." I have Mark Pemburn to thank for sending me the logo in a computer file, and also for letting me see what it looks like on his computer. The computer I use spares me such annoying distractions as pretty pictures and lovely sounds.

After a few words of welcome, the rest of the BBC page is divided into six sections. If I were Julius Caesar, and this were the home page of the Gaul Birding Club, there would be three parts, but I'm not, and it isn't, and so there are six.

The first section comprises transcripts of rare bird alerts. You can choose among the Baltimore Birdline (featuring another one of Mark's graphics), the Voice of the Naturalist, the Philadelphia Birdline (which consistently has the best coverage of the Delaware refuges), and the Cape May Birding and Butterfly Hotline. Anyone whose eyes haven't yet glazed over can follow a link to all the other RBAs from the United States and Canada.

The second section of the page presents information about the BBC. There's a detailed description of the club itself (I retyped one of our BBC flyers), the current issue of Chip Notes (sent me via e-mail by Steve Sanford), and the schedule of meetings and activities from the program booklet (sent by Pete Webb). After all that, now that a visitor to the BBC page has seen what a classy organization we are, there is a membership application that may be downloaded and mailed in. As of August 30, we had acquired five new members in this way.

The third section is devoted to the rest of the MOS. As of this writing, the only items here are the statewide schedule of chapter events and the newsletter of the Harford County Chapter, but I hope to put up newsletters from other chapters as well.

The fourth section of the page is headed "What else is out there?" Here are links to the very best birding sites on the internet. Most of these sites are so comprehensive, they even include a link back to the BBC page. (There's something decidedly incestuous about the internet. My sister is planning to put up a home page, but I'm not sure it would be proper for me to link to it.)

The fifth section, "What are birders talking about?" contains links to the archives of birding mailing lists and the discussion group "rec.birds." There was recently a flurry of correspondence on BirdChat about the proper pronunciation of "osprey," and almost everybody who wrote in admitted to pronouncing it incorrectly--that is, differently from the way I do (there is no "pray" in "osprey," the second syllable is pronounced "pree"; I am also willing to lay down the law about "pileated").

Finally, the section called "Enough with the birds, already" is for anyone who stumbled onto the page by mistake. It includes a link to that other BBC, the British Broadcasting Corporation.

Back to Table of Contents

---
by Terry Ross
IF YOU ALREADY KNOW YOUR WAY AROUND THE INTERNET, find the Baltimore Bird Club at this URL: http://www.bcpl.lib.md.us/~tross/baltbird.html

IF YOU OWN A COMPUTER WITH A MODEM, you can get to the Baltimore Bird Club home page for no charge on SAILOR, Maryland's online public information network. Set your telecommunication software to vt100 (terminal emulation), no parity, 8 data bits, 1 stop bit, and full duplex. SAILOR supports modem speeds from 300 to 14,400 baud. Have your modem dial one of these numbers:

    Enoch Pratt Free Library:               (410) 605-0500
    Anne Arundel County Public Library:     (410) 222-7100
    Baltimore County Public Library:        (410) 494-1199
    Carroll County Public Library:          (410) 848-1230
    Cecil County Public Library:            (410) 392-0909
    Frederick County Public Library:        (301) 620-0055
    Harford County Library:                 (410) 638-5669
    Howard County Library:                  (410) 730-0707
    Montgomery County Public Libraries:     (301) 424-4200
    Prince George's County Public Library:  (301) 925-2400
    Southern Maryland Regional Library
           Association--Charles County:     (301) 645-2002
    Talbot County Free Library:             (410) 820-4411
    Washington County Free Library:         (301) 739-7600
    Wicomico County Free Library:           (410) 742-0500

Follow the login instructions and select "Lynx." From the first menu inside SAILOR, select "Other Maryland & Regional Information." From the "Other Maryland etc." menu, select "Culture - Entertainment - Leisure." From the "Culture etc." menu, select "Baltimore Bird Club."

IF YOU DO NOT HAVE ACCESS TO A PERSONAL COMPUTER WITH A MODEM, visit your local library and use SAILOR at one of its computers. You can use SAILOR at a growing number of Maryland libraries. In some, you will use the same computer available for the library's online catalog. Others will have special computers set aside for SAILOR. Follow the instructions to reach SAILOR and select "Lynx." From the menu called "SAILOR's Home Port," select "Other Maryland & Regional Information." From the "Other Maryland etc." menu, select "Culture - Entertainment - Leisure." From the "Culture etc." menu, select "Baltimore Bird Club." If you're not sure how to do this, ask your local librarian.

Back to Table of Contents

---
by Mark Pemburn
While you may be enjoying the first flush of autumn, I'm back here in the springtime where the warblers sing and the long, hot summer still lies ahead . . .

April 29 - Steve Simon led a new trip through the retirement community of Glen Meadows. Fifteen people turned out for the trip (including seven Glen Meadows residents) and 32 species were recorded. Steve reports that there is good habitat in the area even though the birds weren't particularly cooperative this day.

May 5 - In heavy overcast and temperatures in the low- to mid-50s, Bill Gray and Dot Gustafson did the tour of Woodstock, spotting fifty species, including a Solitary Sandpiper. Bill asks that people interested in this trip call him at home (301-596-0063) after 6:00 PM for confirmation prior to the event.

May 6 - The report of a Brewster's Warbler in the area lent an exciting edge this day's trip to Lake Roland. Paul Strohecker and 13 others scoured the woods and managed to turn in a respectable 66 species but, alas, the Brewster's was not seen again.

May 7 - A beautiful day and an incredible turn-out. Twenty-nine people(!) showed up for the Milford Mill Park trip, led by Steve Sanford. I swore under oath that I would not reveal the number of Warblers we saw. We did see 67 species, though.

May 8 - Bob Rineer led the trip to Cylburn this day. Thirty species were seen by the eight birders in attendance. Highlights included Ovenbird, Black-and-White Warbler, and Scarlet Tanager.

May 9 - A very birdy day at Lake Roland. Shirley Geddes and Pete Webb led 24 people all the way up the dike and along the stream toward the train trestle, snagging 76 species on the way. Of those, a solid 20 were Warblers. They reported great looks at Blackburnian, Worm-eating, and Magnolias.

May 11 - The day began under overcast skies but later cleared and rose into the mid-70s. Bill Gray's trip to Dr. Dandy s in Monkton gave some 14 birders a look at 79 species. Among the highlights were Red-headed Woodpecker, and Magnolia and Cape May Warblers.

May 13 - This trip was originally scheduled for the Phoenix Pond area but heavy bicycle traffic on the trail moved Paul Strohecker and two colleagues to try their luck at Gunpowder Falls State Park instead. They didn't do too badly, with a total of 48 species listed.

May 14 - The next day was cool and overcast, turning to rain after a couple of hours. Graham Egerton guided 20 folks through the Phoenix area, turning in 47 species all told. There were nests of Baltimore and Orchard Orioles, as well as Kingbirds and Gnatcatchers. Graham reports, "A male Baltimore Oriole [was seen] repeatedly taking material from the nest of a Kingbird to use in its own. The Kingbird didn't like this."

May 14 - Cyburn Self-Guided - see Spring Continues at Cylburn

May 23 - Sunny and temperatures in the 70s, a pleasant day for the 21 people who attended Mac Plant's tour of Lake Roland. Sixty-one species were tallied, including a Wilson's Warbler and Baltimore Orioles on the nest.

May 27 - One of the year's big trips, Gene Scarpulla's Delaware Bay Shore odyssey was bigger than ever with a turn-out of over 25 birders. We ranged up and down the coast, ticking off this and that until the total reached 100 species. Highlight birds were King and Virginia Rails and a breeding plumage White-winged Tern. (Editor s Note: The strain that two-dozen-odd birders and their cars puts on the refuges [as well as on the trip leader] is not inconsiderable. The board would appreciate any creative suggestions you might have to lessen the impact of these popular trips. Please drop me a note at 2617 Guilford Ave, Baltimore, 21218 or e-mail .com.)

May 28 - Cyburn Self-Guided - see Spring Continues at Cylburn

June 4 - Cyburn Self-Guided - see Spring Continues at Cylburn

August 12 - We fast-forward now to late summer where we find a sun-dazed crew of 14 birders lined up along the refuge dikes for the next installment of the Delaware Bay Shore trip with your host, Gene Scarpulla. This time 99 species were recorded, including Scissor-tailed Flycatcher, Ruff, White-winged Tern, and Buff-breasted Sandpiper.

August 26 - Good weather today for a trip to Liberty Reservoir with Burton Alexander. The eight attending saw 33 species, including a Northern Harrier and a Red-shouldered Hawk that was flushed up by a gang of crows.

Back to Table of Contents

---
by Joseph Lewandowski
May 14th The May Count must have taken its toll, for only three birders braved the cool, overcast day. Cool weather and a late morning rain must have kept the birds away as well -- only nine species were seen. Not to be disappointed, however; we did have an excellent view of a Scarlet Tanager.

The change in barometric pressure did have its advantages, for the pungent odors of the forest were evident. They reminded me of a flower shop without the usual sweet fragrances. While we birders listen for bird songs, the scents of wildflowers must be just as distinctive to an avid horticulturist.

May 21st Thirteen birders greeted this day with a wonderful walk through the gardens and paths of Cylburn. The Garden of the Senses was in bloom, and twenty-one bird species greeted us as we walked along.

I don't know whether it was the camaraderie of the birders, the display activity of the cowbirds or the beautiful Oriole that we saw, but the day was picture-perfect. Among the species we saw were Catbirds, Yellow and Blackpoll Warblers, House Wren, Baltimore Oriole, Common Yellowthroat and Great-crested Flycatcher.

May 28th The day was overcast and cool for the three birders that came out this Memorial Day weekend. The birds stuck to the trees and, while we heard some interesting calls and songs, only seventeen species were counted. The activity of the Robins and of a Yellow Warbler were the highlights of this outing -- but it was interesting to try to identify the birds that only gave us a quick look at their rumps before darting into the underbrush. For those interested in fungi, we saw some interesting specimens this morning. Who says that walk through Cylburn has to always be the same?

June 4th A wonderful day at Cylburn! Nine birders enjoyed a beautiful spring day with sunny skies and balmy temperatures. While the birds were not singing with their earlier intensity, we did manage to see 21 species. We discovered a flycatcher but could not identify the species. Some of the special treats were good views of a Cedar Waxwing, a Red-eyed Vireo and a singing Indigo Bunting. Watching two Red-shouldered Hawks soaring overhead made for a beautiful day with our feathered friends. For those interested in botany, the large-leaf Magnolia trees at Cylburn were in bloom and presented their lightly scented flowers for our enjoyment.

Back to Table of Contents

---
by Steve Sanford
On June 7, 8, & 9 the Baltimore Bird Club will be host to MOS members from around the State for the 51st Annual Conference.

The Conference will be held at The University Of Maryland at Baltimore County (UMBC). Volunteers are needed for multiple projects, tasks, and duties, including helping with reservations, envelope stuffing, field trips and leaders, and on-site registration. If you want to be a part of making the conference happen call Mary Byers at (410) 686-7294 to volunteer.

Back to Table of Contents

---
by Hank Kaestner
I am now in Indonesia where I spent several days on the Tanimbar Islands, located just west of New Guinea. It's a wild, seldom visited area that is high in endemism. There are 17 species of birds in the Tanimbar area found nowhere else in the world. I saw 16 of those. The most memorable was the Goffin's Corella, a small white Cockatoo. Also spectacular was the bright red, Blue-streaked Lory, a parrot species heavily trapped for the bird trade. Now I'm on my way to Hanoi, Vietnam.

Back to Table of Contents

---
by Irma Weinstein
During the last ten days in May, I visited Senegal as part of a group observing literacy programs and small business development. My itinerary did not include Djoudj National park, which is the third most important wetland in the world, where the Senegal River meets the Atlantic Ocean, and is directly on a north-south migratory route. The best season for birding there is from November through March.

However, in the course of my travels in and around Dakar, the capital, and Goree Island off the coast of Dakar, I observed fifteen bird species. These included White-necked Vultures, Black Kites, White-necked Cormorants, Golden-backed and Black-headed Weavers; a Yellow-fronted Canary; African Firefinches, and Purple-breasted Sunbirds, which behave like large hummingbirds. I saw Red-cheeked Cordon-bleu, White-rumped Swifts, Pied Crows, a Yellow-billed Hornbill, in addition to the ubiquitous Cattle Egrets, Mourning Doves, and English Sparrows.

I also saw a number of iridescent turquoise birds with long tails - ground feeders - which the French call "Merle." I suspect they are a type of Starling. They were gorgeous. Based on the few birds I did see, it is a puzzle to me why birding companies travel to East Africa, which is much further and takes longer to get to, when West Africa, and particularly Senegal, has so much to offer.

Back to Table of Contents

---
by Alan Bromberg
It is a late afternoon in June, and I am cruising west on I-70 towards Grand Junction, Colorado. Although Colorado's birds have not been cooperative for the last four days, things seem to be looking up; my day's list is respectable, with MacGillivray's Warbler, Hammond's Flycatcher, and American Dipper all joining my life list. Now, even though I've been on the go since 5:00 AM and would really like to get to a motel in Grand Junction and collapse, I'm after a long-shot: Chukar.
The Chukar is an introduced member of the partridge family. It is an elusive bird, found, when found at all, in dry, brushy areas in some of the Rocky Mountain and Northwestern states. I am hell-bent on finding one. The Lane guide to Colorado says that Cameo is a good spot for Chukar. I leave the highway at Cameo. Cameo is not a place; it is a power plant, There is nothing else there. I am in a scene from a science fiction movie, with strange machines doing mysterious things, sirens hooting, odd mounds of minerals and rock formations sprouting on all sides, and monstrous trucks rumbling about with no sign of human life in their cabs.
I drive north out of this nightmare world. The guide says to stick to the roads marked for public access, and I do so, but I can't help wondering what horrors lurk up the roads which are barred to the public. The pavement soon ends, and then the dirt road deteriorates into a rut with delusions of grandeur. But I forge ahead, as alarming noises start coming from the right front wheel of my car. (Is it just shocks, or is the car going to throw a wheel as revenge for the punishment I gave it in the Pawnee National Grasslands?) The book says to go two miles up this alleged road to a gate. The wheel stays on, but it's a long two miles. At last I see the gate; to spare the car any more suffering, I stop a tenth of a mile short and walk.
That's what the book says; the birds can be anywhere, so park at the gate and walk. I walk. This must be the loneliest place I've ever been. The high canyon walls almost block out the sun. Except for the gate there is no sign that man has ever been here before. There are chipmunks and ground squirrels aplenty, a few rabbits, far too many flies, and even some birds--Lark Sparrows, a Blue-gray Gnatcatcher, a couple of Rock Wrens having a dispute over whatever Rock Wrens have a dispute over. One thing there isn't--Chukar. The birds can be anywhere, but they aren't. I check the dry stream bed. I check the dry washes. I check the rocky slopes. No Chukar. Anywhere.
It's getting late; time to go high tech. I return to the car for the cassette player and the Peterson tapes. Let loose a serenade that no self-respecting Chukar can resist. Must be no self-respecting Chukar around, because I get no response. Try again. And again. A Lark Sparrow gives me a curious look as its tiny brain tries to comprehend what this is all about. Try again. Except for the flies, I am in utter solitude. No Chukar. Even the Lark Sparrow has abandoned me.
Tempus fugit; I can no longer resist the siren song of Grand Junction's motels and restaurants. Chukar will have to join my list of long shots that didn't play out on this trip. I fire up the weary car and start out--and about 100 yards down, there's a gray shape in the middle of the road. Could it be? I stop dead, grab the binoculars, and peer eagerly ahead. It not only could be, it is--a Chukar ! I feast my eyes on the bird, then seize my camera, exit the car stealthily, and take a picture. As I try to get closer, my prize scuttles down the road. I leap into the car and pursue. There it is--and not one, but two! One is giving itself a dust bath in the road, while the other observes. But each time I attempt a cautious approach, they move off. Finally, they disappear for good into the sage. Well, I wasn't planning to bring them home as cage birds; I got a good look, and I even got a picture, sort of. I am content.
Back to Table of Contents

---
A Northwest Washington Log
by Steve Sanford
August 19, 1995--Saturday
We (Alan Bromberg and I) have a 28 minute window to connect to our TWA flight to Seattle. We miss it by 2 minutes, but get another flight 40 minutes later, first class, with swordfish dinner. We have fantastic views of the Grand Tetons and Mt. Ranier as we fly past. Good start.
We get the last rooms in Everett, Washington. Glaucous-winged Gulls are everywhere. It's about 65 degrees and clear.
August 20--Sunday
At Deception Pass State Park (free) we get good views of Pigeon Guillemots, Marbled Murrelets, Rhinoceros Auklets, and Chestnut-backed Chickadees. A very pretty, birdy spot.
We take a ferry and go to Port Angeles on the Olympic Peninsula. On the log rafts in the harbor we see Pacific Golden Plover, Surfbirds, Black Turnstones.
In late afternoon, we go briefly up to Hurricane Ridge in Olympic National Park and see a small flock of Red Crossbills, including some good scope views, and a Merlin perched on a snag at the top of the ridge. Mule Deer pose casually for pictures and handouts.
We sure did a lot today. The high temperature was about 70. I got a terrific sunburn on my face. Overnight in Port Angeles.
August 21--Monday
We go back up Hurricane Ridge. More Red Crossbills. At the top we see some female and young Blue Grouse. Then we go west along Rt 112. Get some nice coastal birds but nothing new. Pass through the fabled, one-house town of Pysht, amidst some massive examples of clear-cutting. We drive through the only rain of the trip, scarcely wetting the pavement.
On to Forks, population 2900, the largest town for about 50 miles around. We get the last two rooms in town, and have a delicious, cheap, Aspen-grilled Salmon dinner at the Rain Drop Cafe. The waitress says she lived there all her life, and likes it. I envy her. I mention that I was in the Florida Keys in April. She says you must travel a lot. I said if you lived in Baltimore, you'd travel at every possible opportunity, too.
The high temperature is about 65.
August 22--Tuesday
We go to the Hoh River rain-forest section of Olympic National Park. Mosses drip from the trees. It looks a little like Georgia. At the end there are hundreds of Red Crossbills buzzing around. Amazing! On the way out, we finally find some Varied Thrushes along the road. They apparently dont sing at this season.
We head for the ultimate northwest corner of the lower 48 states, Cape Flattery. It's not real easy to get to. You go through Neah Bay, an Indian reservation town, and follow an obscure dirt road. Then you follow a poorly-marked trail for about half a mile (Take the left fork!) The trail is very rough, and a broken-down boardwalk is a major obstacle rather than a help.
But it's worth it! There is a great view of the Pacific and the Strait of Juan de Fuca. Black Oystercatchers, Pigeon Guillemots, Common Murres, Marbled Murrelets are numerous. Starfish are plastered on the rocks. A Gray Whale plays in the strait. And, most importantly, there are about five Tufted Puffins in full breeding plumage at close range.
Its been sunny all day, high about 70 or less. Overnight in Port Angeles with another great dinner at the Cafe Garden.
August 23--Wednesday
We were going to go to the San Juan Islands for Skylarks, but decide to postpone that until Friday, and do the Cascades today and tomorrow, headquartered in Burlington. With the ferry trip back east, this is mainly a travel day. In the late afternoon we get a few Black Swifts mixed with the Vaux's Swifts along the Skagit River.
It has been partly cloudy, high about 65.
August 24--Thursday
We go back up Route 20 into North Cascades National Park, beginning a 450 mile loop. At the Newhalem campground we get much better looks at Black Swifts, which are quite numerous. They distinguish themselves by frequently fanning their tails. I don't really see any fork in the tails, though. The trailing edges of their wings are also smooth curves, as opposed to the bat-like crooks in the Vaux's Swifts wings. The Vauxes are also clearly rather pale when you see them against a dark background.
We go to the visitors center. We hear lots of Crossbill sounds. While I am inside talking, Alan gets great close-up looks at Red Crossbills. Inside, I'm told there are White-winged Crossbills down the road at Rainy Pass.
At a scenic overlook several Red Crossbills pose within arm's reach. At Rainy Pass (actually very sunny) we hear sounds like sweet little Kingfishers. After a while we finally see a few of them. They are actually White-winged Crossbills. We get good scope views of them at the tops of some evergreens laden with cones. Thank you. Some Gray Jays and Clark's Nutcrackers entertain us too.
Then, at the spectacularly beautiful Washington Pass overlook, we hear rousing choruses of White-winged Crossbills --- dozens of them singing their effervescent buzzy-trilly songs. The fact that we can also see them seems almost irrelevant.
Push, push, push. We still want Lewis's and White-headed Woodpeckers and Three-toed Woodpeckers. (We don't ask for much in three or four hours.) We go east where the lush forest rapidly turns to near-desert countryside. We turn south on Route 153. Suddenly, we hit a flock of crow-like birds. It's about 50 green and pink Lewis's Woodpeckers. They linger long enough for some very good looks.
On to Chelan Butte. No White-headed or Three-toed Woodpeckers, but how lucky can you get? This has been a spectacular day. (The temperature is about 65 in the mountains, except for a sultry 80 on the east side, and sunny all day.)
August 25--Friday
We go to the San Juan Islands for Skylarks on our last full day. The logistics of catching the ferries in and out are challenging. At the ferry a Merlin harasses one of those wimpy Northwestern Crows mercilessly.
The islands are beautiful, and surprisingly dry. We go to the American Camp of the silly Pig War of 1859-1872. This is the only place in the US where the Skylarks breed. Unfortunately, they apparently only sing their wonderful, bubbly song from March to July. With patience, we hear some unfamiliar chips from the dry fields, and get modest glimpses of the birds to check them off. They essentially were the end of the trip. In the background, Peg Lee sings, "Is that all there is?" Well, the Skylarks were anti-climactic, but I have no complaints about the trip overall, Peg.
Oh, the temperature is about 70 and mainly sunny.
Back to Table of Contents

---
by Joy Wheeler
Our Norway-Texas correspondent, George Worthley, by way of his mother, Jean, sends us a newspaper account of how birdlife in Western Europe is being adversely influenced by a bird native to the North American continent, our very own Ruddy Duck (Oxyura jamaicencis). The report in "The Daily Telegraph" of June 29, 1995, titled "Ruddy duck killers are accused of fowl racism," was written by the Agricultural Correspondent David Brown from "somewhere in England."
Introduced into Europe by Sir Peter Scott's Wildfowl Sanctuary, the Ruddy Duck escaped into the English countryside and from there into Spain. By what is described as their "libidinous" behavior, the Ruddy Ducks have mated so successfully with Spain's native White-headed Ducks (Oxyura leucocephala) that this Mediterranean and Central European species is moving towards extinction, with only 19.000 remaining worldwide. Gwynn Williams, Britain's Head of Species and Habitat Policy, said: "It seems that the Spanish White-headed drakes spend so much time being aggressive to each other that they don't notice the Ruddy Duck males slipping in among the females and doing the business, as it were." To combat this coming species catastrophe the Royal Society for the Preservation of Birds, in cooperation with several other agencies, is encouraging shooting a controlled number of Ruddy Ducks during the next breeding season. Other measures of control have included trapping the birds at selected sites, coating their eggs with paraffin to prevent hatching, and expanding the sites where shooting is being tried. However, another vocal group in Britain with strong feelings on the problem, the League Against Cruel Sports, has attacked these plans, calling them a "pointless exercise."
The reverse of this problem is all too familiar to us here on the North American continent as we struggle with some European immigrants that have been growing threats to our native birds, the Starling, House Sparrow, and Mute Swan, for instance; differing details, but similar problems. In this "one world" global atmosphere for humans as well as birds, travel between continents may cause continuing problems. So, I suppose it's an over-simplification to say to the RSBP to pack them up and send them back . We love our Ruddy Ducks.
Back to Table of Contents

---
from InterBirdNet Magazine
"SHOOT THE RUDDY LOT OF 'EM"
Ruddy Duck Working Group Remit
This might well be the battle-cry of the Ruddy Duck Working Group, a government funded group, set up bv the Department of the Environment, and run by The Joint Nature Conservation Committee and the International Waterfowl and Wetlands Research Bureau. Their remit is to halt and reverse the range expansion of the Ruddy Duck (Oxjura jamaciensis) in the UK. Know your Enemy !
A common, resident species in North America, the Ruddy Duck is a small dumpy diving duck, belonging to the group known as "Stifftails." In breeding plumage the male is an attractive looking bird with a chestnut brown body, black head with white cheeks, and a bright blue bill. Like all female wildfowl, the duck is a much duller looking bird. In the US it has many amusing names, such as, Bumble Bee Coot, Butter Duck, Chunk Duck, Hickory Head, and many others. The North American Ruddy Duck, or Ruddy Duck for short, has only been part of the "UK" scene since the 1960s, when escapees from the Wildfowl Trust, Slimbridge, began breeding in the wild. Birds mainly settled down in The West Midlands where they are now well established a nesting birds. From here it has pushed northwards colonising Cheshire, the Greater Manchester area, Yorkshire, and Angelsey. Total UK population is now considered to be around 4,000 birds and increasing.
Nothing Succeeds Like Success?
A success story to be applauded? Unfortunately not, certainly not by those who believe that the increasing Ruddy Duck population poses a threat to the 400 or so White-Headed Ducks breeding in southern Spain! True, there have been a number of records of male Ruddy Duck occuring in Spain and there have been a few instances of hybrididsation, but is this cause for a hue and cry over Ruddy Duck in Britain? To date there is no firm evidence that Ruddy Duck turning up in Spain are from Britain. As yet The Ruddy Duck Working Group have done little to prove British birds are involved, but they have spent a lot of money in looking at ways of killing Ruddy Duck--and would you believe shooting has been found to be the most effective method (that is, if the birds are shot whilst at the nest site!)
Battle Plan
The Ruddy Duck Working Group are currently making arrangements for a major cull next breeding season. To quote Dr.Mason of English Nature, "Ruddy Duck will be shot with either shotguns using lead-free shot, or rifles firing high velocity ammunition which disintergrates on impact" (the ruddy Duck will be pleased!) It is envisaged a limited number of visits will be necessary, over the summers of 1996 and 1997 . This would involve perhaps six visits or less, of two hours duration to each site in each year . Just imagine what disturbance that will cause to other nesting birds. How many injured birds will there be, left to die? These are questions that have to be asked. Certainly the White-Headed Duck is deserved of all the protection it can be given, as globally, its world population is less than that of the Ruddy Duck; also, it is a threatened species. Already thousands of pounds have been spent by the Ruddy Duck Working group on finding ways to get rid of Ruddy Duck; might this money have been put to better used in providing further protection for the White- Headed Duck in North Africa and Turkey?
What do you think? Should the British Ruddy Duck population be wiped out in this way?
You could write to your MP, you could write to you local newspaper,or you could write to the The Secretary of the UK Ruddy Duck Working Group, Vertebrate Ecology & Conservation Branch, JNCC, Monkstone House, Peterborough PE1 1JY, UK. telling them what you think. If you like, you can write to interBirdNet Magazine or you can of course Email us at .
It would be interesting to have some views from the US!
Back to Table of Contents

---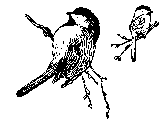 Back Yard Birding
by
Hand feeding birds has always appealed to me. However, I don't have the patience to stand around with an extended treat-filled hand in the hope that some hungry bird will move in for the feast. Instead, while I'm distributing their food, I look for one bird in the group who, over 2 or 3 days, consistently lands less than a foot from where I am standing. Once the "consistently less than a foot" criterion has been met (and this rarely happens), a food "hook" is required. I use a cornmeal/fat mixture, which is infallible (except for one female Evening Grosbeak who naturally preferred sunflower seeds, but that's another story).
This summer, a very special Catbird began to come in less than a foot from me in order to grab the food "hook" delicacy that I spread over the banister every morning. Then, after packing her beak full, she would fly into a bramble bush which was about 60 feet away. She continued this behavior for several days, each day coming a little closer than the day before.
On the fifth morning I made my move. Resting my hand on the banister, I placed a small bit of "hook" mixture on the tips of the fingers of one hand while holding the rest of the Ping-Pong-ball-sized portion cupped in my other hand, behind my back. Sure enough, she flew in, but instead of landing on the banister as she had always done previously, she flew behind my back twice. This was a new behavior. Could she have noticed the large ball of mixture tucked behind me? She did! On her third pass behind my back, I felt her feet touch my hand and her soft wings flutter on my bare arm. When she appeared in front of me, I could see that she had grabbed a hunk of the stuff. She flew off and disappeared into the bramble bush, which presumably held a nest with her young.
The next morning, refusing to be outsmarted by a bird-brain, I did not store the unused mixture behind my back. This time, only one hand held breakfast, and so she was forced to use that source, but only for three more days. After that, for the remainder of the summer, she simply waited until I backed away from the banister and flew in with everyone else. It may be that her young fledged because she no longer returned to the bramble bush. G.F.
Betsy Taylor from Catonsville describes a delightful incident with a Ruby-throated Hummer during the August drought. Betsy mentioned that she was wearing brightly-colored purple-flowered shorts at that time, which may account for the hummer's studying her so carefully.
"Hummingbirds do the darndest things! I was watering my front yard flowers this August when a hummingbird hovered at face-level and we had a square-off. He was only a few feet away; I could have reached out and touched him. He looked right at me for several seconds, then flew to my other side and looked at me again. Then he flew down through the spray several times, back and forth. I don't know if he liked the water or if I was disrupting his attempts to check out the Salvia.
"This has been a decadent summer for me. I put my hummingbird feeder at my front window. All I have to do is lie on the sofa with my binoculars and a hummer comes along every few minutes!"
Steve Sanford has an update on his "liberated" yard. He writes: "As I reported last year, in hopes of getting some birds at feeders, I liberated my little yard from being completely suffocated by a big Norway Maple. I particularly hoped for Hummingbirds. I planted an irresistible assortment of flowers, such as Phlox, Salvia, Weigela, Iris, Gladiolus, Cardinal Flower, and Bee Balm; and of course I put up a Hummingbird feeder. Despite these sensuous delights, the little devils boycotted me all spring and early summer.
"But finally I started getting occasional visits from Hummers in late July. Starting August 2, I saw them every day. Within a week I would see them at the feeder and the flowers about once every fifteen minutes, including a handsome male. I suppose this is all a reflection of "post-breeding dispersal." Perhaps they will remember my address and settle in the area next spring for the whole season. In the meantime, I can enjoy the Goldfinches which are coming regularly for the first time now."
Let us hear about your Back Yard birding too. Call or write

                  Gail Frantz
                  13955 Old Hanover Rd.
                  Reisterstown MD 21136
                  e-mail:  
Back to Table of Contents
---
by Roberta Ross
Our 1995-96 membership year began September 1, 1995. Thanks to all who paid their dues promptly. If you have not paid your dues, please forward them as promptly as possible to

                                Roberta Ross
                              4128 Roland Ave

                          Baltimore MD 21211-2034

If the expiration date on your mailing label is circled in red, we have not received your dues.
Our regular dues, which include membership in the state organization, are $20 for an individual or $30 for a household. Members of another chapter or life members of MOS who joined after 6/11/90 pay the "chapter only" dues of $10 for an individual or $15 for household memberships. (Before 6/11/90, the Baltimore chapter also offered a life membership. If you are a life member of the Baltimore chapter and MOS who joined before 6/11/90, you do not owe anything.)
Back to Table of Contents

---
Back to Baltimore Bird Club home page.