The newsletter of the Baltimore Bird Club
December 1995/January 1996 - Online Edition
---
Winter Omen
by Steve Sanford, CHIP NOTES editor
Do you remember the winter a few years ago with all the Redpolls, Short-eared and Snowy Owls, Rough-legged Hawks, Red-necked Grebes,and a Painted Bunting (!), Bohemian Waxwing, and even a Gyrfalcon here in Maryland --- and, oh yes, some rather cold and icy weather? There are signs that we may have another interesting winter. Things reminiscent of the autumn before the wonderful-terrible Great Icy Winter of 1993-1994 are happening.

Some signs as of November 4: There have been many Red-breasted Nuthatches (normally rather uncommon) in the mid-Atlantic this fall, just as in the fall of 1993. There have been at least three reports of Evening Grosbeaks in eastern Maryland in the last week of October. These northern birds are quite unusual in eastern Maryland, even in winter. In the first week of November New England birding hotlines are already reporting numbers of Redpolls, Snow Buntings, Northern Shrikes, and Bohemian Waxwings. Redpolls and Bohemian Waxwings in New England were key features of the Great Icy Winter invasion from the north.

Back to Table of Contents

---
by Alan Bromberg, Recording Secretary
The BBC Board of Directors met on September 11 and October 9. At the September 11 meeting, the board adopted a motion to apply for a grant of $200 from the MOS Education Committee to pay for subscriptions to the Audubon Adventures series for six area schools. The Education Committee approved the grant, and six subscriptions have been provided to the schools. It was announced at the September meeting that the BBC's Web Page on the Internet has been moved to the Baltimore County Public Library's system.

On October 9, the board approved a motion to reimburse Terry Ross for the cost of the account with the library. At both meetings, the board discussed the need for someone to take over filling the bird feeders at Cylburn. The naturalist at Cylburn volunteered to fill the feeders, but volunteers are needed to obtain the seed and fill the bins. In September, a Conference Committee chaired by Mary Byers was established to handle the arrangements for the 1996 MOS annual conference, which is being hosted by the BBC. A new Site Guide Committee, chaired by Bob Rineer, was also appointed to coordinate the work on the site guide for Baltimore County. A proposal was made at the September meeting to change the method of election of the BBC officers; all the officers would be chosen by the Nominating Committee rather than the general membership, as the number of votes cast by members is too few to justify the time and expense involved in holding an election. As this would require a change in the bylaws, which is subject to vote by the membership, at the October meeting, the proposal was referred to the Bylaws Committee for action.

Back to Table of Contents

---
by Catherine Pinckard
Irma Weinstein, in her article in the October-November, 1995 issue of Chip Notes, is correct in her perception of the sub-Saharan country of Senegal as an interesting place to bird. Senegal lacks the enormous herds of animals that attract crowds of tourists to East Africa, and as a consequence Senegal is relatively uncrowded by foreigners. This is not to say there are no interesting animals there; the only African Hunting Dogs we have seen, we saw in Senegal.

In Senegal expect to see real poverty in the country outside of the principal cities, on land largely denuded by goats. The number of goats, and wives, is considered an indicator of a man's wealth; the more goats, the greater the prestige -- and environmental consequences be damned.

VENT (Victor Emmanuel Nature Tours) ran trips to Senegal for a couple of years, but discontinued them for lack of interest. (Those East African animals are the magnet.) My husband and I birded for two weeks in Senegal, January 22 to February 3, 1984, with friends from New Jersey, one of whom was educated in France, and a few others, on a VENT tour led by Michael Kleinbaum. We identified 313 species, many of which were new to us. By way of comparison, in three weeks in Kenya we saw 716 species, plus 61 mammal species and unbelievable numbers of butterflies. The only available field guide, A Field Guide to the Birds of West Africa, does not rate among the best of the guides, but it is more than adequate.

French is the official language, and outside of Dakar and St. Louis we encountered no English-speaking people. If you are not fluent in French, The Gambia, a narrow country separating northern and southern Senegal, is an English-speaking region, and many of the birds of Senegal can be found there. Sunbird/Wings conducts 15-day birding tours to Gambia in November. Either country is a good introduction to the African avifauna, and they are a short overnight flight from New York City.

We will never forget a mongrel dog that had the misfortune of being hit by a truck in front of us on the road from Dakar to St. Louis. The carcass was immediately set upon by five species of vultures, and within fifteen minutes nothing remained but hair and bone. It was fascinating to watch the pecking order of the vulture species as they devoured the dog.

Back to Table of Contents

---
by Roberta Ross
This is the last notification we will publish this year. If the expiration date on your mailing label is circled in red, we have not received your dues. Please make checks payable to Baltimore Bird Club and mail to

                           Roberta Ross
                         4128 Roland Ave.
                     Baltimore, MD 21211-2034
Back to Table of Contents

---
by Joy Wheeler
Not original with me, this title is lifted from an obscure book written by Edythe Johns' second husband (her first being Jesse Tyson, Cylburn's builder), Bruce Cotten. I've been spending a lot of time at this vantage point in the past two or three years and want to report some observations from the year 1995.

1) From the rear window in the third floor museum I can see in the direction of the Perennial Garden. You may remember that three years ago we began a vain effort to attract Purple Martins to the martin house near the Perennial Garden. As a final activity to this spring's also unsuccessful effort I mounted a panel about Purple Martins on the third floor Nature's Calendar: "March, the month when Purple Martins begin their spring migration to the north." Emily Kneebone and I, the Purple Martin Committee, are determined to try one more year. This time, March-June 1996 we plan to use more and stronger boom boxes, hoping to project the sounds of the Purple Martin dawn song further towards the Jones Falls Valley where conventional wisdom suggests martins should follow the path of the river to guide them north. Care to join us a half-hour before sunrise each day, March through June 1996, and a half-hour after sunrise? Get in touch with us in the third floor office at Cylburn. We arrange to allow you to join us for one of Baltimore's Best Ways to Greet the Sunrise.

2) On the second floor in the Bird Museum we have attracted a new bird: an adult Bald Eagle. No longer do we have to explain that our Bald Eagle does not have a white head or tail because it is an immature specimen and Bald Eagles take four to five years to reach maturity.

After petitioning the Maryland Department of Natural Resources for several years for a mature Bald Eagle, Glen Therres let us know that there was one available: the bird that had lived in a cage at the Baltimore Zoo for 23 years.

Our museum curator, Patsy Perlman picked up the frozen specimen from the DNR and took it to taxidermists Christine and Otto Epping in Winchester, Virginia. They worked their magic upon it, and it now graces the top of the oak cabinet in a position very reminiscent of the one illustrated in Audubon's Birds of America, plate 107. Be sure to see it soon. It's worth a special trip to Cylburn. A grant of $200 from the MOS Education Committee was used to fund this latest museum acquisition.

3) While we're on the second floor, here is another Cylburn summertime story.

During one of the few thunderstorms of the season, the electricity was cut off at Cylburn. Thinking that it would surely be restored soon, we did not open the freezer containing birds waiting to be taken to the taxidermist. After two days of this we learned that the electricity would not be restored for about a week. The problem was Cylburn's ancient electrical system, not the storm.

Realizing that two hot days had already passed, we could not raise the courage to remove what was in there to find freezer space elsewhere, especially without benefit of light or ventilation in the freezer's dark corner. The log book of freezer entries showed very few items since the most choice birds had been taken to the taxidermist with the eagle. So, we're starting with an empty freezer once again. You all know the routines by now:
Wrap the dead bird in one piece of newspaper being sure all the feathers are smoothed down.
Place it in a plastic bag.
Tie it securely.
Put it in the freezer.
Bring it to Cylburn and put it in the freezer there.
Include your name, date found, where found.
Enter it in the log book.
Close the freezer securely.
So far, we have a Robin, a Sharp-shinned Hawk, and an immature Oriole. We'd very much like to have a crow, and a gull, and other common birds; but we're interested in any birds that you find.

Back to Table of Contents

---
by Hank Kaestner
Finally my bird-watching took back seat as I spent 3 days on a trek to see the Mountain Gorillas in a park along the Uganda/Zaire border. After 8 hours by jeep to the park, overnight in a tent, then a 2½ hour, strenuous, muddy hike up a steep trail, we found a family group and spent 1½ hours just 20 feet from them. It was the greatest experience of my traveling. I did also manage about 200 bird species finally, including the rare Yellow-eyed Black Flycatcher.
---
by Shirley Geddes
GLADYS SCHAUM COLE, a long-time member of the Baltimore Chapter died on September 11th at the age of 86 in Seneca, South Carolina. Gladys was instrumental in starting the MOS sanctuary system. She worked tirelessly at both Rock Run in the 1950's and later at Irish Grove. All who have visited our sanctuaries when she was there will remember her warm hospitality as well as her agility at banding birds. Her dedication helped form the sanctuaries that we are so proud of today.

Back to Table of Contents

---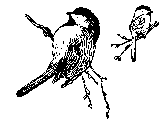 Field Trip Reports: September-October, 1995
compiled by Mark Pemburn
And so another turn in our orbit tilts us into autumn again. The hours of daylight squeeze to a narrowing gap as leaves cascade to the ground. How can you not love this time of year? Walk through the woods with the pungency of decay in your nostrils and spy old friends newly returned from their summer haunts. Drink the cool air. Autumn is a time of year when we can rediscover why we prefer to live in a climate that enjoys a change of seasons.
September 3
- Cyburn Self-Guided - see Autumn Walks below.
September 5
- A clear day, temperatures in the high 60's. Steve Hass's trip to Lake Roland seems to catch the pinnacle of fall migration, spotting no fewer than twelve species of Warblers out of the 58 species seen. Twenty-one birders signed the roster.
September 10
- Cyburn Self-Guided - see Autumn Walks below.
September 12
- Shirley Geddes reports that the day was calm and dry at Lake Roland. Twenty-two birders showed up and, while it was slow for Warblers, there was notable hawk activity around noon. The day's species total was 50.
September 16
- "Hawks and Warblers" trip leader Steve Sanford relates the tale of the day:

"Kind of a dud. Based on forecasts of easterly winds, we decided to make Town Hill (Allegheny Co.) the main target. To catch some warblers first, we went to Dickeyville, which is right near the Security Park & Ride meeting place. The warblers were quite slow, but we did finally get six species. There were several Rose-breasted Grosbeaks around: one seen well.

"Then we buzzed out to Town Hill (about 110 miles). The winds were easterly, with lots of clouds. The hawks were fairly slow, but we did get 8 Broad-wings, 4 Osprey and selected short-subjects. However, after an hour and a half, the rain got fairly significant. We tried watching for a while at Sideling Hill on the way east, with few hawks and rain again pretty quickly, so we declared the trip over.

"Ironically, on the way home, the sleepy leader and passengers stopped at the 1-70 rest area on South Mountain (north of Monument Knob) to rest. But we noticed there was a good view of the upper east slope of the ridge. Very soon we saw a group of 54 Broad-winged Hawks. Within a half-hour we brought the number up to 94 Broadwings, with 4 Osprey."
September 17
- Joy Wheeler recounts this season's Breakfast with the Birds:

"In spite of heavy rain at 6:30 AM, Sunday, September 17, I packed the car with Breakfast-with-the-Birds. The first rain in weeks just might stop by 8:30 when, after a 7:30 breakfast, we were scheduled for the usual Sunday morning search for birds at Cylburn. A lot of things didn't happen on schedule.

"No one came to open up the mansion. One person came for breakfast out of the 12 who had made reservations. Only five species of birds came through the downpour to be listed on our field trip report."

Better luck next year!
September 19
- Two days later, it is sunny again. Lake Roland presented Phyllis Gerber and her crew of 21 a "wonderful variety of hawks and warblers." The total of 50 species included Parula, Chestnut-sided, Magnolia, Cape May, Black-throated Green and Blue Warblers, among others and Osprey, Sharp-shinned, Broad-winged, Red-shoulder and Red-tailed Hawks.
September 23
- Overcast, cool, a day in the 60's: gorgeous weather. Gail Frantz took a walk up on Oregon Ridge with a group of 14 and saw some good birds. Among those were a kettle of about 25 Broadwinged Hawks and a juvenile Red-shoulder who sat and posed for a quarter-hour, giving everyone a good look. Gail also reports a flock of Swainson's Thrushes: it's been a very good year for those guys. The total for the day was 49 species.
September 24
- Cyburn Self-Guided - see Autumn Walks below. September 26 - A warm, misty, rainy day at Lake Roland with Mac Plant. Ten stalwart souls prowled the grounds and turned up 34 species, all told.
October 1
- Cyburn Self-Guided - see Autumn Walks below.
October 3
- Overcast turns clear, mid-60's turns warm by the end of this day's tour of Lake Roland with Josie Gray. At this delightful time of year, you can see the Black-throated Blues leaving and the Golden-crowned Kinglets arriving on the same day. Total for the day was 52 species.
October 5
- A warm and somewhat showery Thursday at Soldier's Delight. Jean Worthley and Zlata Hartman were pretty much by themselves with the spring peepers and fringed gentians. Can you hear the melancholy question of the Towhee?
October 10
- Weather warm and clear. Lake Roland yielded 45 species including three Yellow-bellied Sapsuckers to the 15 who turned out for Matilda Weiss's trip.
October 17
- Clear and calm, temperatures rising from 50 to the mid-60's. Bob Wood led the charge on this Tuesday at Lake Roland. Total for the day was 46 species. Eighteen birders turned out.

---
Autumn Walks
Notes on the Cyburn Self-Guided walks
by Joseph Lewandowski
- Blue skies, mild temperature, and the mild scent of flowers in the air greeted the six birders who ventured on the self-guided tour of Cylburn. Butterflies were out in force, flowers were in bloom, and some trees were already dropping yellow leaves to the forest floor.

Thirty species of birds were seen including a flyover by an Osprey, Cedar Waxwings, a Rose-breasted Grosbeak, a Hummingbird, and a Magnolia Warbler.

Temperature in the 60's + Flowers + 4 Birders = 1 Cylburn Self-Guided Bird Walk. With the sun glistening on the spider webs in the arboretum and a fragrance of flowers in the air, eighteen species of birds were seen on this lovely fall-like day. Notable species included an Ovenbird, Rufous-sided Towhee, Common Yellowthroat, and great views of Flickers. This proved to be a rainy overcast day with temperatures in the 50s. Two birders braved this Fall day to see only eight species of birds. The birds were not unusual for Cylburn but we did manage to see some great flying acrobatics from flocks of Flickers in the area. The crows did bother a hawk in the area, but, as usual, the raptor was not cooperative enough to allow us a good view. It is hoped that the rest of the Fall has some sunny days that may perk up the birding at this beautiful city sanctuary. - For most people, a foggy day with temperatures in the 50s would mean a day spent indoors. But for nine birders, it meant the October 1st self-guided tour of Cylburn.

The gardens were still in bloom and several different types of mushrooms could be seen as we walked the trails. Birds, you ask? Of course we saw birds! Eighteen species were seen. The antics of the blue jays, the hide and seek activity of a Black-throated Blue Warbler, the frantic flying of Flickers, and the soaring of a Red-tailed Hawk harassed by a Mockingbird made for a wonderful experience. If you haven't tried birding at Cylburn, you owe it to yourself to come out and get up-close-and-personal with some of our common feathered friends.

Back to Table of Contents

---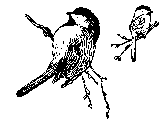 Back Yard Birding
by
William Gerting from Glen Falls Rd. writes: "September 10, 11:00 A.M. Fiery hot sun, no clouds. Three Red-tailed hawks, soaring and gliding in front of an enormous, pearl moon glowing in the azure blue sky. Unforgettable."

Since she is recuperating from surgery, Peggy Bohanan is currently unable to walk the turf looking for birds, and so the birds are coming to her. The last week in September Peggy was lying abed and talking to a friend on the phone when a Merlin flew the width of her glass walled apartment at Sutton Place. She was able to get a good long look and the experience made her day! Even though Peggy lives in the middle of Baltimore city, she has enjoyed some great BYB birding. Some of you may remember the Saw-whet owl she had in her back yard several years ago when she lived on Tyson street which is only three blocks away from her present home.

Robert Wood from Kingsville dropped a card to mention nine hungry species feeding at his pokeberry bushes that included Scarlet Tanagers, a Pewee, Cedar Waxwings, and a Brown Thrasher. Bob saw his last Hummer (female or juvenile) on Sep. 26.

Chris McSwain of Randallstown has been watching a male white-headed Cardinal for the last 6 months. The rest of the bird is bright red and does not show any other color variation.

Irma Weinstein has seen Common nighthawks in Fla. and Texas. However, her first view of this graceful bird in Md. at her home in Mt. Washington on Sep. 6 sounds more like Frostburg than Baltimore, "...on a warm, hazy evening. I was sitting in my backyard, watching the swifts catching the swarms of dragonflies and other insects . . . when suddenly a flock of Common Nighthawks came swooping down, wheeling and diving so low I could plainly see the white bands on their wings. They hunted for about twenty minutes, and when the flying insect population had disappeared, so did they."

Margaret Mays of Woodensburg reported that her family first heard the unmistakable squawking of a Pheasant sometime last March. They were excited since this bird's population has declined so drastically over the last eight years. However, the bird's behavior was puzzling because he remained in their yard and allowed them to approach him quite closely. Sometime during August they were told that a man who lives down the road from them no longer has his penned male. The bird had escaped sometime during late winter. Margaret surmised that this is probably the same bird and he has remained on their property because there is food, water and cover available.

As part of Winand Elementary school's on-line computer training, we are happy to welcome 10 year old Corey Walters, an avid birder who recently joined BBC. Corey and another 5th grader, Paul Ateuyi, will be using the internet to report bird sightings that they and other students observe in the Randallstown area.

"The school principal found a dead bird right outside the front door of Winand Elementary. It was brownish-green on the back with a striped head and white and black underparts. Children identified the bird as an Ovenbird."

Let us hear about your Back Yard birding too. Call or write

                  Gail Frantz
                  13955 Old Hanover Rd.
                  Reisterstown MD 21136
                  e-mail:  
Back to Table of Contents
---
To Baltimore Bird Club Home Page