The newsletter of the Baltimore Bird Club
February/March 1996 - Online Edition
Deadline for next CHIP NOTES: February 25, 1996
Send material to:

                   Steve Sanford
                   8412 Downey Dale Drive
                   Randallstown MD 21133
or e-mail to
Please help CHIP NOTES get out on time
---
by Joy Wheeler
We include these excerpts from the presentation of remembrances of Alberta MacGregor at her memorial service in November. The last time "Bertie" joined us at Cylburn was in December 1994 when Alice Arcieri read her journal of the Panama trip with her grandmother. Bertie wrote the Backyard Birding column for our newsletter for many years.

We shall miss her.
Excerpts from "Grandma"
by Katie and Alice Arcieri
Grandma Alberta MacGregor always had a smile on her face. Her favorite hobbies were birdwatching, walking, playing tennis, and being with her family.

When our family moved to Baltimore in 1985, we lived in Grandma's beautiful Roland Park home on Greenleaf Road for about a year. When our parents were busy, Grandma would take us to feed the birds and water the plants. She taught us a lot about birds and different whistles you could make for bird calls.

One year Grandma took Katie to the Outer Banks in North Carolina and we had a great time. We checked out all the birds in Cape Hatteras, went swimming in the ocean, and attended a medieval dinner. Katie will never forget the experience.

Another year, Grandma invited Alice to go on a birdwatching expedition to Panama. There they experienced the latino culture and enjoyed the exotic birds that made their habitat there. Alice brought back a whole diary full of memories and experiences.

Silver Bay, on Lake George in upstate New York, was Grandma's favorite place. She would look forward to going every year. Sometimes she would invite us to stay with her a couple of extra weeks. She was always involved in birdwatching, playing tennis or getting a suntan on the beach. She would convince Katie to swim across the lake, to go on a hike, and to get up in the morning for the children's group. Silver Bay became our favorite place also and she was the reason why.

Grandma was a wonderful example of living life to the fullest. Her enthusiasm and positive outlook on life inspired us. We shall carry her spirit with us all of our lives.

Back to Table of Contents

---
by Steve Sanford
Eastern Neck National Wildlife Refuge is a delightfully wild and remote place in Kent County directly across the Chesapeake Bay from Baltimore. It's not very far as the Merlin flies, but thanks to the fractured geography of the area, it takes about two hours to drive there from Baltimore. It is probably best known as a major gathering place for Tundra Swans in winter. We used to do field trips there.

On November 24, 1995, the day after Thanksgiving, I decided to do some leisurely birding in Kent County as I returned home from my parents place in Cecil County. I was especially hoping to find a Pileated Woodpecker there because I suffer from the peculiar and incurable illness of "County Listing." If I could find a Pileated Woodpecker in Kent County, I would have seen one in every county in Maryland.

Kent County is almost a museum of rural America at the turn of the century. It has no shopping malls, no fast food, no expressways, no suburban developments, no urban blight. (Well, almost none of this.) Most of it is wide-open farmland and woods. I roamed the northwest corner of the county all day. The weather was quite pleasant. There were thousands of Canada Geese and Snow Geese. Somewhere - nowhere in particular - I stopped to look at some blackbirds that turned out to be Rusty Blackbirds. Soon I heard something unusual - a Great Horned Owl calling in the middle of the day. Some Bluebirds fluttered in the field. A Bald Eagle flew past.

Very nice.

I decided there wasn't enough time to do Eastern Neck, so I went home. There was a message waiting on my late twentieth-century answering machine. "Hi, Steve. This is Bob Ringler. I just got a call from Rick Blom. He was at Eastern Neck Refuge where they found a Western Grebe..."

I just missed a Western Grebe in Maryland? Oh, no !

The next morning Pete Webb (Baltimore Co.) and I headed to Eastern Neck. It was sunny, windless, and not particularly cold. At our first stop in the refuge we spotted some Redheads amongst the many American Wigeon.Of course, there were a lot of vocal Tundra Swans. We saw Leanne and Mark Pemburn's (Baltimore City) car by the first parking area, and soon the Pemburns themselves showed up. No Western Grebe yet, they said. Along came Hal Wierenga (Ann Arundel); then came Bob Ringler (Carroll) . This was becoming a MOS party!

We talked and casually watched the birds near the entrance. Suddenly there was a sound like applause or a roaring waterfall. It was a flock of perhaps several thousand Greater and Lesser Scaup. The whole flock took to the sky and wheeled back and forth for ten or fifteen minutes before settling down. It was a glorious spectacle.

We decided to go up a trail that might give a view of the area where the Western Grebe was supposed to be. As we were looking for a Yellow-bellied Sapsucker that Leanne had spotted, a young man came charging wildly through the woods. Was it a drug-crazed hippie? Was it an escaped convict? No. It was Marshall Iliff (Ann Arundel), announcing that he and Jim Stasz (Calvert) had found the Western Grebe.

We plunged into the woods and marsh and found Jim, who quickly guided us to the Western Grebe. It was an elegant, long-necked bird; like a miniature black and white swan. It swam and dove unperturbed about fifty yards offshore, just beyond the Scaup. Jim said he thought it was only about the fifth time this species had been seen in Maryland. We watched the Grebe and enjoyed the setting for quite a while. The Scaup didn't spook from us, even though we were quite close. Perhaps they actually knew we weren't going to kill them.

It was delightful.

Bob Ringler reported that he had seen a Greater White-fronted Goose earlier at nearby Remington Farms. Pete and I stopped there on the way home. After much diligent searching Pete spotted it amongst the thousands of Canada Geese.

Very nice.

I never did find that Pileated Woodpecker, but who cares?

Back to Table of Contents

---
by Joy Wheeler
As a result of a generous gift to the Maryland Ornithological Society, the state Education Committee, Linda Bystrak, Chair, has made available to each chapter grants of $200 and will be able to do so for the next few years. To receive this money each chapter must make a proposal for its use and have the proposal approved by the Education Committee.

In 1994-95 Baltimore requested and received the money to help pay for the new American Bald Eagle mount in the museum. For the 1995-96 season the $200 was proposed to fund six subscriptions to Audubon Adventures to be sent to six fifth grades in six Baltimore City schools. The proposal was approved and the following schools will each be receiving a class set (32 papers) every other month for the school year 1995-1996, along with a Leaders Guide: Govans Elementary, Pimlico Elementary, Johnston Square Elementary, Cross Country Elementary, Dr. Martin Luther King Elementary, and Eutaw-Marshburn Elementary. Each one of these schools is either in Cylburn's neighborhood or has visited Cylburn in the past year.

We hope that each child who reads Audubon Adventures will begin to see the importance of learning more about the living things that share the planet with us. When we receive some responses from them, we will share them with you. Keep posted.

Back to Table of Contents

---
Compiled by Mark Pemburn
It's feast or famine as my mother (and probably your mother) always used to say. Last issue, if you'll recall I duly reported the results of no fewer than umpteen field trips. This time, I have three. Notwithstanding, I hereby launch into the atmospherics that always begin these things with:

Blazing summer wound gracelessly down into fall. All too soon, winter began. Well, perhaps I exaggerate.

November 11 - Under cloudy skies, but mercifully without rain, Burton Alexander led the annual fall trip to Piney Run on this date. Forty-nine species were seen by the sixteen birders including a notable 12 species of waterfowl. This is quite a good place to bird at this time of year.

December 10 - I quote Bob Rineer from the record:

"With the wind chill predicted to be 10 below zero, we lost our very able leader, Steve Simon, to the cold. Kye (Jenkins) and I, knowing that Loch Raven in winter is always worthwhile, proceeded on. The birding was great -- land birds were active and we had a superb look at an adult Yellow-bellied Sapsucker. We also observed huge flocks of waterfowl in the Leeward coves. We were commenting on how warm it was -- until we got to the point and the wind blowing across the water hit us. We quickly receded into the woods, the back to the cars. We knew that we had captured a few hours of great winter birding and only regretted that more people hadn't joined us." The species total for the day was 31.

December 16 - From leader Steve Sanford here is his report on the Southern Maryland Field Trip:

"Last year's trip was canceled due to rain. This year's trip was postponed a week due to snow. When the trip finally got going it was raining hard, but the reports indicated it would end by mid-morning.

"At Benedict the five original participants joined Marty Cribb, who now lives at Point Lookout. We decided to stop at Battle Creek Cypress Swamp in southern Calvert County, mainly to go to the visitors' center and get out of the rain. When we got there, though, the rain stopped. Birds busted out all over, including a few calling Sapsuckers, a singing Winter Wren, a calling Hermit Thrush, and some colorful close-up Kinglets. It was a post-pluvial plethora !

"We moved on to Leonardtown where Bald Eagles awaited us as always. Then we went on to the Beauvue ponds where there was a fair assortment of waterfowl. We spotted a raptor sparring with an Eagle rather high up. It was a Short-eared Owl. We went down the road, and soon we saw a total of four Short-ears hunting actively over the fields at midday -- real close! It was the highlight of the trip.

"At Point Lookout we had good looks at great numbers of all three Scoter species, especially Black and White-winged, as well as Oldsquaw, one Great Cormorant and a few distant Gannets. Then, in the woods, we heard Brown-headed, Red-breasted and one White-breasted Nuthatch at the same time -- an extremely uncommon combination. Finally, as dusk approached, Marty led us to an old farm with nine species of sparrows, including Tree and White-crowned. Several silly domestic Turkeys made amorous advances to us the whole time we were there.

"We ended up with 81 species--not bad for one day in December. We joked that next year the instructions will be, 'Trip canceled if not raining.'"

Back to Table of Contents

---
Alan Bromberg, Recording Secretary
The BBC Board of Directors met on November 13 and December 11, 1995. The board made arrangements to purchase seed for the bird feeders at Cylburn. It discussed a request from the Maryland Science Center for BBC participation in a promotional day concerning birds to be held on March 23, 1996. The board agreed to participate in the event, and two members will contact the Science Center to discuss activities we could conduct.

In May, the board approved a donation of $1,000 from the Dorothy Blake Martin Fund to purchase land adjacent to the Costa Rican preserve of the famed naturalist, Dr. Alexander Skutch. At the December meeting, the board approved a motion to have the donation handled by the Nature Conservancy, which is familiar with the appropriate Costa Rican authorities.

The board also approved a display on the Martin Fund at the 1996 MOS conference in order to make people more aware of the fund and stimulate requests.

A company producing video about the Internet requested permission to show one of the BBC's Web pages as a sample of what is on the Internet; the BBC will be listed in the credits. The board approved the request at the December meeting.

At that meeting, it was announced that the Natural History Society of Maryland has donated five copies each of two books of historic interest, Birds of Baltimore and Vicinity and Preliminary List of the Birds of Maryland and the District of Columbia, to the BBC for the 1996 MOS Conference. The board expresses its thanks to the society for this generous gift.

Back to Table of Contents

---
by Catherine Pinckard
This Spring my husband and I traveled south to the mouth of Mobile Bay in Alabama to witness the arrival of birds migrating northward. Most of our time was spent on Dauphin Island, a coastal barrier island about 35 miles south of Mobile. One morning we drove west into Mississippi to see the resident Sandhill Cranes, and another morning we traveled north into the pinewoods for Bachman's Sparrows.

We found 137 species, ranging from dozens of Ruby-throated Hummingbirds feeding at honeysuckle to hundreds of Indigo Buntings feeding on the ground, looking like a carpet of blue with several Blue Grosbeaks and one Painted Bunting mixed in for pattern, feeding on seed we had broadcast.

Our favorite birding location was the shell mounds area -- a prehistoric Indian burial ground comprised of hillocks of oyster and other shells. A mixed woods has grown up there, including Spanish moss-festooned huge live oak trees that must be several hundred years old. A variety of habitats was available, including swampy areas, low brush, open clearings and fields, woods of varied density, sandy beach and dunes, and rock jetties.

The birdlife varied from day to day, and often from hour to hour, as long-distance migrants arrived, rested, fed, and departed. There were many Summer and Scarlet Tanagers, Orchard and Baltimore Orioles, five species of vireos, and twenty-two species of warblers, including Swainson's Warbler. We were told by local birders that the last week in March usually has even more warblers. (We were there April 8-15.) The good weather meant no fallout, but we were not hoping to see exhausted birds. White and Brown Pelicans and seven species of terns were seen on sandbars. Other sightings included Snowy and Piping Plovers, dozens of Red-headed Woodpeckers, and lots of Wood Thrushes and a few Swainson's Thrushes. Three Swallow-tailed Kites flew low overhead feeding on insects. We saw a Coral Snake and two Cottonmouth Moccasins.

If you can't wait until the migrants arrive in Maryland, I recommend a trip to Dauphin Island.

Back to Table of Contents

---
The nominating committee has met and is pleased to announce the following slate of officers for the 1996-1997 Year. The ballot will appear in the April-May issue of CHIP NOTES along with voting instructions. Additional nominations may be submitted to Debbie Terry in writing no later than March 1st, 1996.

                                  OFFICERS
              President                   Sukon Kanchanaraksa
              Vice-president              Debbie Terry
              Recording Secretary         Alan Bromberg
              Corresponding Secretary     Dot Clark
              Treasurer                   Bob Wood
              Membership Secretary        Roberta Ross


                                 DIRECTORS
                             Joseph Lewandowski
                             Elliot Kirschbaum
                             Gail Frantz


                              STATE DIRECTORS
                  Karen Morley                  Terry Ross
                  Leanne Pemburn                Pete Webb
                  Mark Pemburn


                 NOMINATING COMMITTEE: (two to be elected)
                            Graham Egerton
                            Shirley Geddes
                            Sukon Kanchanaraksa
                            Mark Pemburn
                            Bob Rineer
Submitted by the 1995-1996 Nominating Committee: Alan Bromberg,, Mark Pemburn, Bob Rineer, Steve Sanford, Debbie Terry (chair)

Back to Table of Contents

---
by Joy Wheeler
On Tuesday, November 28, newscasters announced the discovery of a "brown dwarf" by astronomers from the Johns Hopkins University and the California Institute of Technology. A brown dwarf they described as an almost-star, a star that will never be, too dim to be seen with the naked eye, but confirmed after much study by the Hubble Space Telescope. Let me tell you of Cylburn's own discovery of a "brown dwarf" that day.

Our brown dwarf had its "almost" quality too, its "hard to imagine" character, and its later confirmation, not by world-renowned scientists and equipment from outer space, but by long-time observers of birds and other flying wildlife with nothing more sophisticated to back them up than one pair of Swift 8.5 X 44 binoculars. Can our Cylburn observers compete with Hopkins-Caltech space scientists in their reports of the happenings of that day? Let us know what you think.

This happened in the light of November 28's noon, a brilliant 60 degree day. As four or five of us volunteers came out of the dim light of Cylburn's main hall heading home for lunch, we could see the sun shining through the stand of cypress trees halfway down the lawn, accentuating their fall brownness, filtering through their still thickly hanging leaves. Cypress trees are among my favorite trees, but it wasn't the trees that caught my attention. It was the dwarfish flying object darting in and out of the trees about halfway up their considerable height. Having spent the morning with a class of third-graders from Furman-Templeton Elementary School, I had my binoculars with me and lost no time in focusing. Our "dwarf" continued to plunge low to the ground, then rise up among the trees, back and forth, in and out of the brilliant sunlight, the color of a Brown Thrasher but with the flight of a swallow.

Cylburn has presented me with years of unlimited delight and here was another one. But what? Continuing to watch and pass the binoculars among us, we could see the strong sunlight showing through the creature's translucent wings. No feathers on these wings, we could be almost sure. Now, there was not a scientist among us, let alone one who specialized in Chiroptera; but from that distance we agreed that those delicate wings, flapping and gliding so purposefully, were the wings of a bat, covered with a beautiful russet shade of fur. I had seen bats flying over Cylburn's perennial garden during our spring watch for Purple Martins; small, dark, mouse-like animals -- the little brown bat. The bat in our vision while still "dwarfish," was larger and lighter brown in color. Was there such a thing as a big brown bat? Besides, what was a bat doing out in midday in late November? Patsy Perlman, one of our front porch observers reported she'd seen them on occasion when bats, residing near her pond in north Baltimore County, bestirred themselves for a noon meal. We clearly needed more information.

My search for information led me to the Arbutus Library where my daughter, the librarian, found this from "America's Neighborhood Bats" by Merlin Tuttle and published by University of Texas, 1988.

Big Brown Bats (Eptesicus fuscus) : ... one of the most widely distributed of American bats; ... brown to copper-colored with a wingspan 325-350 mm ... in contrast to the wingspan of the Little Brown Bat (Myotis lucifugus) 222-315 mm. They hunt among scattered trees in pastures or even around city street lights. In the northern US they frequently remain active until November or December.

Our big brown bat continued to fly among the cypresses gathering one of its last meals before hibernation, perhaps. Could we depend on our "brown dwarf" staying around for our second class from Furman-Templeton Elementary School that day? We couldn't, and we didn't see it again. The last we saw, it was flying in the direction of the carriage house where a bat house has been hanging for a few years. We did show that to the children and invited them to imagine our big brown bat hanging in its cozy roost where it could keep warm and digest those insects for the next few days during the predicted snow storm and cold front, ready to slip out once again when another 60 degree day might bless us towards the end of the year.

I submit this to CHIP NOTES the newsletter of the bird club without apology, since Pat Sutton, an authority on owls and a spokesperson for the New Jersey Audubon Society was interviewed on National Public Radio at great length about the bats observed over New Jersey during fall migration.

Back to Table of Contents

---
by Joy Wheeler 1995

                    Whatever may be
                    The water level
                    Through drought or flood
                    The top of the rock remains
                    Resolute against watery dissolution
                    Faithful companion for my eyes
                    Glistening black in flood
                    Flat gray in drought
                    Unfaithful only in full fog
                    Deserving for my amusement alone
                    And now yours, a name
                    For whatever may be there
                         Goose Roost
                         Turtle Island
                         Cormorant Outcropping
                         Duck Droppings
                         Heron Heights
                         Gull Stones
Back to Table of Contents

---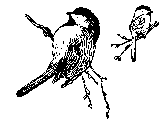 Back Yard Birding
by
Peter Dans of Cockeysville called about a large hawk hanging around his yard and neighborhood during late Nov. and early Dec. The bird actually landed on Peter's Bluebird box and sat there for several minutes. Peter has enjoyed watching this hunter at such close proximity.

Judy Transtle of Woodensburg reports seeing a Meadowlark on October 29. Ten years ago there were at least 4 nesting pair of these birds on Old Hanover Rd. These days the bird is a rarity in her neighborhood and only seen during migration.

Joan George of Timonium has been singing "It's June in January". The reason? A female or immature male Baltimore oriole visiting daily since Dec. 11. He(?) particularly likes to visit a sheltered feeder at her window. Joan's cat jumps and thumps at the window but the bird remains unperturbed. The suet feeders seem to be a favorite source of food. Joan has also put out some raisins and orange pieces. If you're interested in seeing this winter visitor, Joan has graciously invited you to her home to watch him.

On snowy Dec. 9, Charlie and Doris Gugel of Reisterstown decided to put out some bird seed one more time in spite of all the squirrels. They got more than they bargained for when a large Barred owl perched on their back porch! One of Charlie's reference books mentioned the Barred owl's predilection for occasional day time hunting.

In Woodensburg, White-crowned and Fox sparrows were welcome visitors during Oct. and Nov. A small flock of 7 Siskins have been regular visitors since early Nov. In mid-December a Tree sparrow and female Purple finch showed up during the snow and ice storms. (G.F.)

Steve Sanford of Randallstown writes, "About a week ago a flock of Robins visited my two-year old crabapple tree sapling. It was full of pretty red berries in the morning. It was practically naked by evening. 'I can't believe they ate the whole thing.' Of course, I'm glad to have been of service."

Shirley Geddes of Timonium reports that a pair of Carolina wrens and a female Towhee have settled in her yard's winter landscape. Neither of these species breeds in her neighborhood so she's enjoying watching them now. Tim Carney, a middle school student and avid bird watcher writes:

"...in my yard...I love watching song birds. This morning (11/26), they all suddenly flew up in a nearby tree on the opposite side of the yard. Then I saw something large with a grayish back and from what I could see, a pale cream underside. ...I identified it as a male Cooper's hawk. I watched... as the hawk swooped down on its large broad wings and into some 10 ft. tall evergreens. He dove after another bird, landed on the grass, then flew up to a perch. One more time he dove into the bushes. A Junco flew out one way and a White-throated Sparrow flew out the other. There was no catch. I watched the hawk for another 5 minutes until it flew off over the road. It's amazing that this happened in my own backyard. Now, I can add a new species to my backyard list."

Winand Elementary School Bird Watching (Randallstown):

During the first week of December a Great Blue Heron was seen flying over the school by 2nd grader Danielle DeConge, her 4th grade brother, Darrell and their Mom.

5th graders, Corey Walters and Paul Ateuyi report a White-breasted nuthatch that has been making daily visits during Nov. and Dec. to their school's courtyard suet and sunflower feeders. Records kept over the last eight years, indicate that this is the first time this species has been seen at the school's feeders. Also, in the courtyard, the boys observed a pile of Mourning dove feathers during the week of Dec. 11 which looked like hawk leavings.

Let us hear about your Back Yard birding too. Call or write

                  Gail Frantz
                  13955 Old Hanover Rd.
                  Reisterstown MD 21136
                  e-mail:  
Back to Table of Contents
---
To Baltimore Bird Club Home Page