Field Trip Reports
Compiled by Steve Sanford
Thank you Peter Lev for providing most of the Lake Roland narratives, and Kevin Graff for e-mail summaries of some trips otherwise unreported.
March 6 - Baltimore Harbor - This trip visited the Harbor Hospital area, Cherry Hill Park, and Southwest Area Park. Some of the best birds were at Cherry Hill Park: Common Snipe, Ring-necked Pheasant, Savannah Sparrow, and Tree Sparrow. 5 participants. Leader: Mark Pemburn.
March 13 - Centennial Lake - Waterfowl included American Wigeon and Ring-necked Duck. 35 species. 3 participants. Leader: Burton Alexander.
March 20 - Middle Creek, PA - It was a beautiful March day for the 7 participants to enjoy the waterfowl at this great spot in Lancaster Co., PA.
Much as he tried, the leader could not shake off Gail Frantz's party. At the Timonium Park n' Ride he announced they would be regrouping at "the Burger King in York." The lead vehicle quickly lost sight of Gail's vehicle, and she ended up at a different Burger King, where, incidentally, she was rewarded with the most beautiful fast-food restroom she ever saw. Her description of it was sheer poetry!
Gail cleverly found her way to Middle Creek anyway, where she chastised the feckless leader severely. But harmony was restored by the sight of thousands of waterfowl. There were about 25,000 Snow Geese - 23,512 according to Kevin Graff - which a Bald Eagle stirred into glorious flight, and 13 other species of waterfowl in smaller numbers, including about 200 Tundra Swans, plus one lonely Snipe, and several Tree Sparrows.
The excellent displays of mounted birds at the visitor center were - as always - another attraction of the trip. The species total was 50. Feckless Leader: Steve Sanford.
March 23 - Lake Roland - A cool morning, with partial sun. Highlights were Common Merganser (not common at Lake Roland), Gadwall, and Eastern Phoebe (5 or 6). Curiously, we did not see any Rock Doves, Starlings, House Finches, or House Sparrows. It was a day for native birds. 29 species. 17 participants, Leader: Adelaide Rackemann
March 30 - Lake Roland - Today we had 23 birders and 30 species on a lovely morning. Good birds not seen last week were Common Loon (4 seen overhead), Rough-winged Swallow, and Hooded Merganser. Gadwall, and Eastern Phoebe were again around. Leader: Chris Manning
April 6 - Lake Roland - It was a "great spring day," around 50°, with lots of early spring migrants including 10 Palm Warblers, and 11 Cormorants. 39 species. 24 participants. Leader: Patsy Perlman
April 11 - Loch Raven - Rained out. We thank leader Kye Jenkins for trying anyway.
April 13 - Lake Roland - A sunny but windy day. We saw nothing extraordinary, just a nice list of April birds: Osprey, Red-tailed Hawk (several), Tree and Rough-winged Swallows, Blue-gray Gnatcatcher, both kinglets, Palm and Yellow-rumped Warblers. One birder wandered off on his own and saw a Barred Owl. 41 species were counted overall. 21 participants. Leader: Matilda Weiss
April 17 - Fort Smallwood - This hawk-watching trip hit Broad-winged Hawk migration literally at its peak. The watch had a record-breaking 814 Broadwings, and a total of 1412 raptors according to watch-compiler Sue Ricciardi. In addition to the hawks there were various water birds such as Caspian Terns and Red-breasted Mergansers. At the Nursery Road meeting place was an early Parula Warbler and Savannah Sparrow. 67 species. 4 birders came with the BBC trip with about 10 more watchers coming to the hawk-watch which is regularly manned and visited every day during the spring.
April 20 - Lake Roland - It's beginning to feel like migration. We saw 56 species today. Songbird arrivals were White-eyed Vireo, Red-eyed Vireo, Northern Parula, and Louisiana Waterthrush. Three Horned Grebes in breeding plumage gave us excellent looks. Other water birds were Black-crowned Night-Heron and Blue-winged Teal. Raptors included Barred Owl, Osprey, Broad-winged and Red-tailed Hawks. A Yellow-bellied Sapsucker was well-seen, and Ruby-crowned Kinglets were found at several locations in the park. 23 participants, Leader: Dot Gustafson
April 24 - Huntley Meadows - The highlights at this remarkable sample of freshwater marshland in the Virginia suburbs of D.C. were an excellent close-up view of a grunting King Rail, a Common Moorhen, and a posing close-up Solitary Sandpiper. It was a pleasant spring day with about 12 participants. Leader: Pete Webb.
April 27 - Lake Roland - A beautiful morning with a nice group of migrating songbirds. Orioles were prominently seen and heard-mostly Baltimores, but we had a few Orchards as well. Nine warbler species were counted, including Blue-winged, Worm-eating, and Wilson's. Other arrivals were Eastern Kingbird, Warbling Vireo, and Blue-headed Vireo. Overall, we saw and/or heard 62 species. 28 participants, Leader: Elliot Kirschbaum
May 1 - Gwynn's Falls Park: Crimea Mansion - 18 birders gathered at this attractive area with it's mansion and varied habitat of fields, shrubs, deep woods, and stream at the beginning of the peak of spring migration. Unfortunately, the migrants must have been resting elsewhere in preparation for a big push during the workweek. It was sunny, and cool - almost fall-like, which was probably the problem. As leader Scott Crabtree wrote: "A stalled high pressure system from the north kept migrants to a minimum." There were 41 species
May 4 - Lake Roland - Birding seemed slow today, although we counted a respectable 59 species. After a week of northeast winds, neotropical migrants were sparse. We did have a female Scarlet Tanager (seen) and a Yellow-throated Vireo (heard). Lots of Northern Parulas were around, but we saw a total of only 5 warbler species. Shorebirds included a Snipe, two Solitary Sandpipers (no, they were not together) and a few peeps. 23 participants, Leader: Shirley Geddes
May 9 - Phoenix - 10 birders enjoyed 63 species on this beautiful day. There were 14 species of warblers including Prothonotary, Blackburnian, and both waterthrushes. Leader: Steve Simon. Due to an inconsistency between Chip Notes and the program book schedule we had two fieldtrips this day. Thank you Steve Simon for leading this one on short notice.
May 9 - Milford Mill Park - On this sunny, moderately warm day 8 birders enjoyed 14 species of warblers with good numbers of Redstarts, Black-throated Blues, and Yellow-rumps. There were good views of Swainson's and Wood Thrushes. A female Pileated Woodpecker on a dead tree - 20 feet from the trail - was too busy looking for breakfast to concern itself with a gaggle of admiring birdwatchers. Leaders: Sukon Kanchanaraksa and Michele Melia.
May 11 - Lake Roland - This was an excellent birding day at Lake Roland. 16 warbler species were seen, and 81 (WOW!) species overall. The bird of the day was a Prothonotary Warbler. Shirley Geddes remembers when Prothonotaries nested at Lake Roland, but currently they are rare visitors during migration. Other warblers of note were Blue-winged and Kentucky. Both Baltimore and Orchard Orioles were around, and a Great Egret was in the marsh north of the lake. 24 participants. Leader: Shirley Geddes
May 18 - Lake Roland - A singing male Prothonotary Warbler was again at Lake Roland today, so nesting is at least a possibility this year. A total of 11 warblers was seen or heard, including Canada and Blackpoll. It was also a thrushy day; we encountered Veery, Wood Thrush, Swainson's, and Gray-cheeked/Bicknell's. Overall, 66 species were seen. 27 participants, Leader: Ruth Culbertson
May 25 - Lake Roland - On this beautiful, fall-like day, we saw mainly summer residents at Lake Roland. The Prothonotary Warbler was singing on territory-but no one has seen a female yet. A few yards away was a singing Warbling Vireo. In the "park" area, we saw both Blackpoll (migrant) and Black-and-white Warblers. A female Wood Duck with babies was at the north end of the lake. Among the other summer birds were both oriole species, Yellow-throated Vireo, Black-crowned Night-Heron, and Spotted Sandpiper (or was this last fellow just passing through?). 63 species, 25 participants, Leader: Josie Gray
May 30 - Liberty Plus - 6 birders gathered at Owings Mills Mall and then in the Liberty Lake area for late spring birds. Leader Gail Frantz writes:
Relentless development at the Owings Mill Mall has used up at least another 40 to 50 acres of habitat. Missing for the first time in 5 years were Scarlet Tanager, both species of orioles, and Yellow-throated Vireo. One of two singing Willow Flycatchers cooperated nicely so that everyone got a good look through the scope. A Great Blue Heron with a beak full of nesting material flew over the mall's large settling pond. A Kingfisher caught a fish while we watched - how did these fish, one of the birders thought it was a blue gill - get into the settling pond?

At the Liberty Lake area were nests of Baltimore Oriole and Eastern Kingbird, a male Yellow Warbler feeding young, and 2 Yellow-billed Cuckoos. Over the last 4 years the Cliff Swallow colony off Route 91 has dropped from 11 to 6 active nests. Nevertheless they gave a good show. The young have not fledged as of yet.
Back to Table of Contents
---
Cylburn Fieldtrips: Spring 1999
By Joseph M. Lewandowski
March 21, 1999
The first Sunday walk of the season was overcast but the light rain did stop as our walk began. Six participants showed up and all were pleased to start a new spring.
We observed ten species of birds during our 11/2 hour walk (rain started again). Besides the usual birds, we heard Towhees and had a good view of a male Yellow-bellied Sapsucker. The high point of the morning was spotting an adult Bald Eagle soaring above us. I cannot recall seeing one at Cylburn before.
Not bad for a gloomy day in March!
(Summary provided by Chris Manning)
March 28, 1999
With a temperature in the mid-40's, five birders came out on a cool, windy, overcast day to see what birds Cylburn has to offer. This is a different time of year, with the trees still bare and little in the way of blooms in the gardens. However, 27 species graced our bird list. A Cooper's and a Red-tailed Hawk soared above us and a Kestrel did his acrobatics. Fox, Song, and White-throated Sparrows as well as Canada Geese flying overhead were present
April 4, 1999
What a beautiful day to go bird watching! Temperature was perfect - in the 60's. Little wind and blue skies with the sun warm and bright added to the perfection. For the two birders that ventured out, Mother Nature had a great day planned. Twenty-one species dotted our bird list. A Kestrel eating a mouse, Mockingbirds flying about, Cowbirds milling about, Chipping Sparrows on the lawn, and a Grackle. The Arboretum was filled with yellow daffodils that gave promise to a great spring. Tulips were showing their leaves; could the blooms be that far behind.
April 11, 1999
With a temperature in the 40's, overcast, and rain, it was not the best day to bird. Five birders decided to walk the trails of Cylburn for a short time and tallied seven species. They were all common species but we saw that many wildflowers were out, the daffodils made their yellow carpet throughout the Arboretum, and the tulips were beginning to flower. They say that April showers bring May flowers, but I believe that spring is just around the corner at Cylburn.
April 18, 1999
It was a sunny day with a temperature in the 50's that greeted twelve birders at Cylburn. Spring was definitely in the air. Blue-gray Gnatcatchers, Rough-winged Swallows, and Song Sparrows fluttered across our path. A close-up look at a Palm Warbler gave everyone a peak at this first warbler of the season. A Hermit Thrush and Cowbirds rounded out our list. Twenty-three species of birds were seen as well as wildflowers and the start of the tulips. Compared to last week's rain, it was a great birding day at Baltimore's outstanding Arboretum.
April 25, 1999
It was another great Sunday at Cylburn. This sunny day with the temperature in the 50's showed the twelve birders that walked the trails all the wonders that an Arboretum has to offer. Tulips were out in force, the small gardens were beginning to show their wonders, and the birds were there aplenty. Forty-four birds topped our species list with such notables as a Redstart, Black-throated Green Warbler, Broad-winged Hawk, Hairy Woodpecker, Wood Thrush, Indigo Bunting, Spotted and Solitary Sandpipers, White-eyed and Warbling Vireos, and Rough-winged Swallows. Some of the close ups of the birds were spectacular and everyone enjoyed a day with nature.
May 2, 1999
The Sundays at Cylburn are beginning to look repetitive. A sunny day with the temperature in the 50's again greeted thirteen birders. New fences circled the small gardens and the flowers were out in force. Forty-one birds topped our species list. A flock of Cedar Waxwings met us along the trail along with a Wood Thrush; and a beautiful red fox looked at us as we walked along. A House Wren, Barn Swallows, Broad-winged Hawk, Yellow-rumped Warbler, Baltimore and Orchard Oriole, and Solitary Sandpiper were some of our notable birds. The highlight of this trip was the sighting of a Great Horned Owl.
May 16, 1999
The tulips have all disappeared, the dead tree at the end of the Circle Trail has been cut down, and the trees have gained their leaves. This probably means that spring is on the way out. For the nine birders who traveled the Arboretum on this, the last Cylburn walk of the spring season, it meant a time to say good-by to friends and part our ways. Twenty-five birds graced our species list. A few Cedar Waxwings were in the high trees, a Yellowthroat, Blackpoll, and Yellow Warbler were present, and the Barn Swallows were circling the fields. Wildflowers were still in bloom to let us know that for some plants, spring did not depart. But on this sunny day, it was nice to see the regular birds at our favorite haunt and watch, as we did, the Wood Thrushes walk down the familiar trails of Cylburn. Here's hoping the summer brings you good birding and that the fall will find you on the Cylburn trails.
Back to Table of Contents
---
Postcard from India
Dear Chippers,
A day layover between Cairo and Cochin in south India allowed some birding in the modern city of New Delhi. In spite of India's incredible population density, there is quite a lot of good birding habitat near town. In fact, the Delhi area bird list is over 450 species. I started the day in the Buddha Jayanti Park, which contains much acacia forest on a hill known as Delhi Ridge. It was fun to see wild Peacocks, Gray Francolins, Oriental Honey-Buzzards, Indian Gray Hornbills, Rose-ringed and Blossom-headed Parakeets by the hundreds, all in the city-limits of Delhi. Saw several new for my list: Plain Leaf Warbler, Gray-necked and White-capped Buntings. Later in the day I rented a boat to visit an island located in the Yumana River, the home to the localized White-tailed Stonechat, another lifer.
Best - Hank Kaestner
Back to Table of Contents
---
Volunteer Counters Needed for
Turkey Point Hawk Watch
By Leslie Fisher
The Cecil Bird Club wishes that their neighboring Baltimore Bird Club cohorts would come out and share in the excitement of the 1999 Turkey Point Hawk Watch, which was established in 1994 by Cecil founding president Gary Griffith and veteran hawk watcher Charles Gant. Join us on Wed. September 1st, 11am. for the official dedication of an interpretive sign to the Elk Neck State Park. Club member Ron Kelczewski has been working hard all summer constructing this much needed and informative piece of work. The club is excited to be contributing something of lasting value to the park.
In the past, hawk watchers have had breath taking looks of raptors in their often "naked eye" flight path across the point, while enjoying the beautiful scenery of the peninsula. Already I am thinking of gusty fall days, with one Red-tail after another soaring over the point, wings set against the buffeting wind. Who can forget the excitement when someone yells "PEREGRINE!!!", the sense of awe when the sky is filled with migrating raptors. If hawk watching is your game, you need to join us at Turkey Point this fall.
Our best season to date has been 5,000 raptors with much less than full time coverage, and we suspect that being strategically located on a peninsula, the numbers could be much higher, perhaps even significant, with regular volunteer coverage. Therefore, we invite you to join us at the Turkey Point Hawk Watch on a regular basis, for a few hours, for a day, once a week, come as you can, whatever!! We look forward to seeing you. I encourage all who can commit to a specific date(s) to contact me, Leslie Fisher, as I will be coordinating volunteers. A regular core of counters would be wonderful. Call 410-658-2427 or e-mail . It would be equally welcome for spur of the moment visitors to report data, should they find no counter present. Ron K., builder of the new sign will also be data compiler, and will submit to HMANA at the end of the season. Call Ron at 302-738-4345, or e-mail with your data. More information on Turkey Point and Cecil County birding can be found at the web site, www.udel.edu/cecilbirds
Turkey Point is located in Cecil County, in the northeast corner of Maryland. The Point is a peninsula of land between the Elk and Northeast Rivers, at the head of the Chesapeake Bay. The peninsula is roughly triangular, with the point facing south, and this shape funnels and concentrates migrating birds, which are often reluctant to cross the water To reach Turkey Point, take I-95 or Route 40 into Cecil County. Exit at Rt. 272 south and enter the town of North East. Continue straight through town and remain on 272 south. Continue past the main part of Elk Neck State Park (camping area, day use areas and administrative offices) and past the community of Chesapeake Isle. Rt. 272 ends and the Turkey Point parking lot. Park here and follow the trail 0.9 miles to the second meadow.
Look for the sign and people staring into the sky! We hope to see you during the 1999 Turkey Point hawk watching season.
Back to Table of Contents
---
BBC Mail Order
The Baltimore Bird Club is now offering its merchandise for sale through its mail order section. The following items are available. All prices include shipping costs.
Baltimore Bird Club's Birding Site Guide - $12.00
Baltimore Bird Club T-Shirt - $18.00 (only XL left)
MOS Patch - $3.50
MOS Decal - $3.50
Please make your check or money order payable to "The Baltimore Bird Club" and send your order to: Joseph Lewandowski, 3021 Temple Gate, Baltimore, Maryland 21209.
Back to Table of Contents
---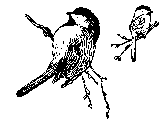 Back Yard Birding
by Gail Frantz
Baltimore City From his yard, Scott Crabtree enjoyed a Screech Owl in February and a Woodcock in the middle of March. The first of April brought Scott a special visitor that few folks in Baltimore County got to see this year - a Red-breasted Nuthatch at his feeder.
Irma Weinstein reports two new and welcome yard birds:
I live in the city, not far from the Pimlico Race Track, so I generally get the usual feeder birds: Chickadees, Titmice, Cardinals etc. March 20: At my feeder I saw a bird I had never seen at my feeder before. It turned out to be a Fox Sparrow! Then on April 27, I got a Towhee which was another first.
Baltimore County
Randallstown
April 5: Chris McSwain saw a pair of Sharp-shinned Hawks fly over her house and on April 27 was pleased to be able to observe a flock of fifteen Cedar Waxwings that spent two days in her yard.
From Steve Sanford:
April 3: I just got a pleasant surprise, a new yard bird: Field Sparrow. Considering the habitat here I would say it's a Far-afield Sparrow. I'm still very jealous of all those people getting Fox Sparrows in their yards.

April 16: I had a most welcome visitor: As I was leaving for work this morning, I noticed a little warbler-like thing hopping in one of my taller trees. I almost ignored it, but finally decided to go back and get my binoculars. Thank goodness, because it was a great new yard-bird: a Yellow-throated Warbler -one of my favorites, and certainly one of the prettiest warblers. This is particularly remarkable considering the lack of habitat in my yard and neighborhood. It's the only warbler I've had in my yard so far this season. Chipping Sparrows have been relatively thick (up to 5 at at a time) in the yard most days since April 1. I usually only see them for a few days in spring and fall.

April 19: I finally cleaned out and re-filled the upside-down thistle feeder that had been idle all winter and the Goldfinches are back in force. They are almost all the way back to breeding plumage.

June 11: I had a good bird for my yard last night. I heard a loud yelp then "Who-cooks-for you" twice from a Barred Owl that sounded quite close. This is only the second time I've had one here.

June 17: Another yard bird first was a Wood Thrush that sang in the rain outside my window.
Phoenix
April 6: Anne Brooks spotted a Yellow-throated Warbler on one of her oaks. On May 4, a Pileated Woodpecker made a surprise visit next to the Brooks' patio.
Rogers Forge
On March 13, Dot Gustafson observed an accipiter , probably a Sharp-shinned Hawk, perched in the trees on the edge of her neighbor's yard.
March 15: Dot was delighted to see a White-throated Sparrow and the neighborhood's resident Carolina Wren during the mid-March snow storm. Dot says that the constant supply of squirrels, 20+ House Sparrows and Mourning Doves have intimidated most all other bird species from venturing onto her postage stamp sized yard to feed. One exception is the Goldfinches that have persisted all winter. She feels that this is due to her Upside Down Feeder's inaccessibility to the House sparrows and House Finches.
In late January, Ruth Culbertson enjoyed a flock of more than 20 Robins feeding on the berries of a mystery vine that grows up and around the trees in the woods. At the same time another half a dozen Robins enjoyed the birdbath stationed next to her home.
Lochearn
This spring, as always, Pete Webb's yard attracted a wide variety of migratory birds. A Gray-cheeked (not Bicknell's) Thrush present May 18 through May 21. Tennessee Warbler May 17 through May 21. Passing warbler species during the weekend of May 22 included Canada, Blackpoll and Redstart. A pair of Red-shouldered Hawks nested across the street from Pete's home. On a sad note, the single Yellow-crowned Night Heron chick from this year's nesting died for unknown reasons.
Fallston
A very early bird came to Barb Meserve of Fallston on April 21: "My husband grabbed my arm and pointed out the window. A male Rubythroat was settled on the feeder!!!"
Woodensburg
On April 29, While driving past my neighbor's field-like yard, I noticed a flurry of small hawk and bird activity. I immediately stopped the car and snatched my binoculars off the passenger seat. By the time the birds were in focus the attack was complete. The Sharpshin was standing quietly on the ground with one foot pressed against a black, disheveled lump of feathers. The motionless lump appeared to be a Grackle.
A short distance away a movement in the grass caught my eye. A groundhog, with its head sticking up out of his hole, was watching the drama along with me.
The hawk rested only a moment. She glanced around the yard then spread her wings which made her appear enormous. With her prize clutched firmly in her talons, she slowly lifted off and disappeared into the large trees that ring the property. (GF)
Backyard Birding at Liberty Reservoir
David and Evelyn Taylor, two of our new BBC directors, like to extend their backyard to include the nearby woods of Liberty Reservoir. Evelyn explains:
We live on watershed property so feel the woods are an extension of our yard sometime! These really aren't in any order except in the order in which we see them. To back up a few weeks, the week from February 20th to February 27th was a good one. On the 20th, we saw Cardinals, Chickadees, Yellow- rumped Warblers, Turkey Vultures, Juncos, Carolina Wren, a Red-bellied Woodpecker, Ruby-crowned Kinglet, Red-tailed Hawk, Killdeer, Ring-billed Gull, and to top it off --a Bald Eagle. One of our better days!! These were all seen on a walk in the woods near our house.

During March, I saw from my window while having morning coffee, Eastern Bluebirds, Hermit Thrush, White Breasted Nuthatches, Carolina Wrens, Chickadees and a Hairy Woodpecker! Another great start to a day! Dave also saw a White-throated and Song Sparrows, Tufted Titmouse, Golden-crowned Kinglet, Brown Creeper, Belted Kingfisher, Canada Geese and a Common Merganser. He went out later the same day and saw a Barred Owl then heard two others. Our weeks are usually not quite this good!

On March 13th, a flock of Cedar Waxwings gave us a show. They landed in the top of a small Maple tree in our backyard and almost immediately left, but Dave thought they came right back down again, and when we checked the side yard, there they were about 15 feet from our window in a pine tree, eating berries from a wild rose vine. They stayed there, doing all kinds of acrobatics to reach the berries and giving us quite a thrill - Gorgeous! - for five minutes or so. These few days made up for the many days we go out and see only one or two of anything -- some days we feel lucky to see a Crow!
EXTRA
Northhampton Furnace Trail on May 15 produced a fine collection of thrushes for Joy Wheeler that included: Wood, Thrush, Swainson and a Gray-cheeked Thrush. On May 17, Joy had the first of four sightings of a singing Prothonotary Warbler.
Birth Announcement:
Mr. & Mrs. Brian Rollfinke's baby, Maxwell Franklin, was born on April 12 and weighed in at 7lbs 7oz. Max has already visited Cylburn for the June 20 Summer Solstice celebration. Mom says that Max was so taken with a White-breasted Nuthatch he saw, that she expects that bird's name will be his first words.
Let us hear about your Back Yard birding too ! ! !
Call or write to:

Gail Frantz
13955 Old Hanover Rd.
Reisterstown MD 21136

Tel: (410) 833-7135

e-mail:
---
Back to Table of Contents
To Baltimore Bird Club Home Page
---