Three Friends Remember
Peggy Bohanan
Shirley Geddes
Peggy Bohanan, a faithful, long-time member of the BBC died on January 7, 2001. On that day the birds lost an ardent admirer and I lost a cherished birding friend.
Peggy had an artistic bent and used it when bird watching. She was especially good at discerning subtle shades of coloring and shapes. In a split second Peggy could separate confusing fall warblers from one another or discern a Gray-cheeked thrush from a Swainson's.
Even though she was confined to her home for the last six years, she still involved herself in the world of birding. From her Park Avenue apartment window in Baltimore city she watched for any bird that might be unusual. Over the last few years, her diligence enabled her to spot Chimney Swifts, Nighthawks, once a Merlin and many other species.
We will miss Peggy's enthusiasm and her flair for introducing people to the joys of birding. We will miss Peggy's ability to share in the delight of a new birder who sees a Cardinal, Mockingbird or "common" species for the first time.
I shall miss her.
Joy Wheeler
Peggy first came to my attention at one of the lectures I attended as a new member. At that time the club was known as the MOS Baltimore Chapter. Peggy and her husband Walter were seated fairly close to the front of Cylburn's lecture hall while I, still woefully ignorant of birds and bird clubs sat in the back. Jean Worthley spoke to us that evening. She drew us into the topic of her lecture naturally as she still does today.
Jean's technique was to first challenge us. She passed among us holding a dead, limp bird. We were to identify it. Many made a wrong guess! I wasn't able to even make a guess but Peggy and Walter knew immediately that the bird was a female Dickcissel! At that moment I knew the extent of my ignorance and the lengths I'd have to go to catch up.
Peggy and Walter were scheduled to lead a walk. Of course I attended. That trail was later to become "mine." They showed me my first Wood Thrush and introduced me to the rest-of-my-life-interest -The Northampton Furnace trail hikes.
I got to know Peggy better as we shared more bird walks and attended board meetings together (she declared board meetings "fun".) I traveled with her to Yosemite, southeast Arizona, south Texas, Minnesota's MaGregor Swamp for Yellow Rails (a story in itself.) Over the years, if I was uncertain concerning a bird's identification, I always sought her opinion as the final word. Finally one day Peggy delivered me to my own resources: Joy, you've been birding long enough to depend on your own judgment!
Maybe, but then will I ever be as self-assured as Peggy on the trail? Of one thing I am assured, I shall ever be grateful for having known her.
Patsy Perlman
Peggy was a spirited, fun loving, outspoken, opinionated, wonderful individual. Her definitive way was often reassuring but if you didn't agree with her, that was O.K. too. Rational disputes always ended in an amicable way.
Her innovative spirit led to some wonderfully memorable adventures. Peggy was the instigator of several birding trips and I was lucky enough to be part of that group of compatible birders. Through her enthusiasm we all discovered wonderful places with fantastic vistas and visions in national and international realms.
Camaraderie with Peggy, through thick and thin, was always an elevating experience. Indeed, I do miss her but I am so grateful for having had her for a true friend.
---
Too Many Mute Swans


By Anneke Davis

In January, the Maryland Department of Natural Resources (DNR) received a task force report about the Mute Swan population in Maryland. You may have seen in the March/April issue of Yellowthroat, in the Conservation Corner, a brief article about this report. View the full text at http://www.dnr.state.md.us/ and click "Mute Swan Task Force."

The problem is that the non-native, non-migratory Mute Swans destroy Submerged Aquatic Vegetation (SAV) at an enormous rate, even more than they actually consume, through uprooting the Submerged Aquatic Vegetation and promoting siltation. Our winter ducks and migrants depend on these grasses. The Maryland Chesapeake Bay population of Mute Swans has increased from 100 birds in the mid 1970s to 4,000 birds in 1999. Expected: 20,000 birds in 10 years.

Our state organization, the MOS, asked each chapter for a reaction to this report. As your Conservation Chair, I'd call this report overly cautious, pussyfooting around. It seems to say that more study is needed before deciding to control the Mute Swan population. However, I believe that saving some of these Mute Swans is like saving a little bit of smallpox, as I told the BBC Board on February 12.

Thus the BBC board voted to send MOS this message: "The BBC board voted that the state Department of Natural Resources (DNR) goal should be to eliminate Mute Swans by whatever means necessary. To this end, we strongly support a public education campaign."

Whether you agree or disagree, feel free to comment yourself by contacting DNR directly -- even after the March 1 deadline for public comment. Because the Mute Swan is a beautiful and popular bird, this issue may simmer for years.

Comments can be e-mailed to:
Or faxed to: (410) 260-8595
Or sent by mail to:
Mute Swan Management Plan
MD DNR Wildlife & Heritage Division
580 Taylor Ave., E-1
Annapolis MD 21401
---
Baltimore Urban Birdscape Project
By Aaron Haines
I am a researcher for the Center for Conservation Research & Technology (CCRT) based at the University of Maryland Baltimore County (UMBC). Our center is currently teaming up with the Baltimore Ecosystem Study (BES) team to conduct an urban birdscape project for the city of Baltimore. We are looking for volunteers to help survey birds for this project.
What is the Urban Birdscape Project?
The birdscape project is analogous to a breeding bird survey. It is conducted during the month of June where specific points within the city of Baltimore are surveyed for every bird seen and heard, with a special emphasis on Neotropical migrant birds. Survey points are determined by laying a 500-meter by 500-meter grid on top of the whole city of Baltimore within a GIS program. A survey point is located where each grid line intersects with a total number of 823 survey points.
Due to the huge number of survey points, we need volunteers who are able to identify local area birds by sight and sound, especially Neotropical migrants. Beginning birders could partner up with more experienced birders to become more familiar with the avian residents within their community.
If anyone is interested in this project and would like to be sent more information please send me an e-mail at . I can also be contacted by phone at 410-455-8040 and fax 410-455-8041.
---
Membership Reminders


By Roberta Ross

This is my last year as Membership Secretary for the Baltimore Bird Club. I've enjoyed my ten years in this office. Thank you all for your support, and please try to keep up your prompt payment of dues, which will be due again September 1, 2001.

Beginning in May, the functions of the Membership Secretary will be taken over by a group of three people - Catherine Bishop, Dot Gustafson, and Georgia McDonald, and I'm sure they'll appreciate your support too.

Please don't forget to notify the club of address changes, so we will be able to send you information about the 2001-2002 membership year, which will begin September 1, 2001.

If you know people who would like to join the Baltimore Bird Club, tell them to join now. If they pay a full year's dues ($20 for an individual or $30 for a household) now, this amount will be applied to the 2001-2002 year, so their dues will actually cover the period from May 1, 2001 to September 1, 2002.

After May 1, address changes or applications for membership should be sent to:

Dot Gustafson
11 Parliament Court
Baltimore, MD 21212

Please help Dot and Catherine and Georgia out by keeping your information up-to-date. See you at the field trips!
---
Stand Up and Get Counting!
By Helene Gardel
Don't think you do not know enough to go on bird counts. Give what you can give and enjoy.
I don't normally bird from dawn to dusk or count every bird along the way. But since I have survived two Hart-Miller walks, I know I have it in me. I knew this adventure would be much less rigorous and more comfortable. The count day had already been postponed once due to snow and cold. However, the Jan 24 conditions were more favorable. We would be traveling between places in a heated car and there would be food and facilities when needed. In addition, since I was driving, I could quit at any time. Piece of cake.
Dave Walbeck was assigned to count the birds in the southern part of the Baltimore harbor. He told me that the day would end at Cherry Hill Park around 4:30. At that site Dave hoped to add raptors, Short-eared Owls and Pheasants to our count list. The day began at 9:00 a.m. We started the count under the Key Bridge at Fort Armistead Park. I wore sneakers, long underwear, ear warmers, gloves and carried binoculars and a scope. Next time I'll bring knee boots and my camera. We searched long and hard for Long-tailed ducks, which were nowhere to be seen. We scoped the harbor then moved on to other pond areas. Small, brown birds were moving quickly through trees and bushes where we walked. Even though I'm familiar with Song and White-throated Sparrows, the little birds were difficult to see long enough for me to identify them.
We drove to an area called Quaranteen. Our goal was to get close to the water at Thoms Cove. We parked and walked on an abandoned road that came to a dead end on a hill thick with thorny bushes and shrubs. We scooted down the hill, found a dryer path and crossed some railroad tracks. We finally reached the water and were able to see many more ducks. Again counting was difficult for me. I identified the pond ducks as Ring-necked, Gadwall and Shovelers but couldn't see them clearly through the Phragmites. Due to their moving and diving I lost count. I had difficulty identifying the Golden Eye that flew by. After lunch, we moved on to a different cove. With the scope I could see some lovely Canvasbacks and two Redheads. I especially enjoyed the beautiful Common and Hooded Mergansers. Dave uncovered one Greater Scaup hidden in among hundreds of Lesser Scaup.
About 4:30, as Dave had planned, we reached Cherry Hill Park our last destination. Bob Rineer was there to join us. Together, we looked for hawks, Harriers, Kestrels and possibly a Short-eared Owl. Because it was late afternoon, we stayed less than an hour. Although we saw no owls or raptors, we did manage to flush one colorful, fast moving pheasant. In past counts, Dave mentioned that he has flushed as many as eight Pheasants in that location.
Don't think that you don't know enough to go on a bird count. Give it a try. I was able to contribute a second pair of eyes and did spot a Green-winged Teal. I still believe it will be years before I am able to count alone. I need to improve my identification skills and my ability to count in real field situations. I want to go again and with more practice I will be ready.
Thank you Dave for your company, your special haunts, your stories and your patience at showing me birds I had not seen. Thank you Pete Webb for organizing these events and pairing me with Dave.
---
And Who is Dave Walbeck, You Ask?
By Gail Frantz
As a youngster Dave lived in Timonium and became interested in birding. Dave was introduced to MOS by Marty Brazeau (see page 6 also), who was a counselor for the Bird Study Merit Badge that Dave was working on in Boy Scouts. When Dave was 17 years old he joined the Baltimore chapter of MOS and Anne Arundel chapter in October 1991.
One of the first MOS field trips that Dave attended was a trip to Baltimore Harbor led by Bob Ringler. He attended the walk several years and now covers that area on winter bird counts.
Dave received a Bachelor's Degree in Biology from Penn State and a Master's Degree in Wildlife Management from Frostburg State. While at Frostburg, Dave worked on a Breeding Bird Atlas Block on top of Dan's Mountain in Allegany County. He has covered eastern Garrett County on the May Count since 1989.
Before getting a permanent job, Dave worked one summer at Gwynnbrook Wildlife Management Area in Owings Mills. Dave's interest in Gwynnbrook has continued and presently he is conducting his own study of wildlife there.
Dave has published the "Solitary Nesting by Great Blue Herons" which appeared in the December 1988 issue of Maryland Birdlife. Another article "Observations of Roof-nesting Killdeer and Common Nighthawks in Frostburg, Maryland" appeared in the March 1989 issue of Maryland Birdlife.
Dave works for the Nontidal Wetlands and Waterways Division of the Maryland Department of the Environment as a wetlands mitigation specialist. He and his wife Marguerite live near Annapolis with their two sons, sixteen year old Joe and six year old Angus. Dave still holds memberships in both the Anne Arundel and Baltimore chapters of MOS and is looking forward to leading more field trips.
Like many bird clubs in Maryland, the Baltimore Bird Club has four bird counts every year. Fall, Christmas, Winter and Spring. If you havenít given the counts a try, seriously consider going on one. The next count will be held on Sat May 12. Contact Michele Melia (410) 358-5920 or for an assignment!
---
Winter Birding:
Central California Coast
By Catherine and Carroll Pinckard
Picture a Laysan Albatross with its nearly seven-foot wide, slender black and white wings, and pure white breast and belly gliding effortlessly back and forth as close as 100 feet from you for several minutes three times the same morning. Add Short-tailed Albatross, Black-footed Albatross, Flesh-footed Shearwater, Sooty Shearwater, Black-vented Shearwater, Short-tailed Shearwater, Black-legged Kittiwake, Common Murre, Pigeon Guillemot, Cassin's and Rhinoceros Auklets, and a sea full of Red Phalaropes. All of these birds, and many more, were seen during the January 200 and January 2001 Morro Bay Winter Birding Festivals along the central coast of California. (The Short-tailed Albatross and the Flesh-footed Shearwater were seen only in 2000.)
Morro Bay, the estuary and town of about 10,000 is located midway between Monterey to the north and Santa Barbara to the south, and about 230 miles north of Los Angeles. The closest airport having scheduled service (3 carriers) is San Luis Obispo, 13 miles south. Morro Bay is a working commercial fishing harbor, and there are several excellent restaurants. There are about 30 places to eat and 40 motels.
Each year for the past six years the Morro Coast Audubon Society has conducted a reasonably priced four-day winter bird festival during the middle of January. Various field trips, workshops, lectures, exhibitions, and social activities were scheduled. During the 2000 festival 203 species of birds were found; 200 were found in 2001.
Birds of special interest to eastern birders included Pacific Loon, Western and Clark's Grebes, Brandt's and Pelagic Cormorants, Ross' Goose, Brant (the western "Black" form), California Condor (5 were seen in 2000, in flight and then interacting on the ground Ė none were seen in 2001) Ferruginous Hawk, Prairie Falcon, Black Oystercatcher, Black Turnstone, Surfbird, Wandering Tattler, Pomarine and Parasitic Jaegers, Band-tailed Pigeon, Western Screech Owl, Northern Pygmy Owl, Long-eared Owl (5 in one roost tree in 2000), White-throated Swift, Anna's Hummingbird, Red-breasted Sapsucker, Nutall's Woodpecker, Black and Say's Phoebes, Steller's and Western Scrub Jays, Yellow-billed Magpie (a California endemic), Chestnut-backed Chickadee, Oak Titmouse (a split), Western and Mountain Bluebirds, Varied Thrush, Wrentit, Phainopepla, Hutton's Vireo, Black-throated Gray and Townsend's Warbler, Spotted and California Towhees (both splits), Rufous-crowned and Golden-crowned Sparrows, Tricolored Blackbird, and Lesser Goldfinch.
Morro Rock rises 578 feet out of the Pacific at the north end of Morro Bay. Peregrines nest there and a Canyon Wren can be seen or heard there.
Marine mammals, Gray Whales, Harbor Seals and Elephant Seals can be seen from boats or from shore. The Elephant Seals "beach" a few miles northward, en route to San Simeon. A wintering Monarch Butterfly grove is nearby. Four different tours, each of about 2 hours duration are conducted at he 116-room Hearst Castle at San Simeon.
Mid-January weather along the central coast is usually sunny with temperatures in the 45į to 65į range. It will seem colder on the ocean. You can get sunburned here in January.
We recommend you consider the 2002 Morro Bay Winter Birding Festival, January 11-14, for your winter birding getaway.
---
California Birdiní on Such a Winterís Day


By Cathy MacFarlane and Stephen Hoag

On a January business trip to San Francisco, we were lucky enough to snag several extra days off in which to play in the Monterey Bay and San Francisco area. Being fairly new to birding, we were unsure of what we would see and whether we would be able to identify all the birds we saw. Either we have gotten better at identification, or the birds donít move as much in California Ė in our few birding days, we were able to identify 61 species (though we admit there were more species whose identities remained a mystery to us). Below we list the places we went and the birds we saw.

The most prolific birding spot during our trip was the Elkhorn Slough (pronounced slew) National Estuarine Research Reserve (www.elkhornslough.org ), a marshy, freshwater estuary a half hour north of Monterey. Through an organization called Elkhorn Slough Safari Nature Tours (www.elkhornslough.com ), we embarked on a 2.5-hour boat journey several miles up into the slough. The slough is considered to be one of the best birding spots in all of the far west. In addition to the 26 otters and 130+ harbor seals we saw, we saw the following birds: Pacific Loons, Common Loons, Horned Grebes, Eared Grebes, Pied-billed Grebes, Western Grebes, Brown Pelicans, cormorants (Double-crested, Brandtís and Pelagic), Snowy and Great Egrets, Great Blue Herons, scoters (Black, White-winged and Surf), Oldsquaws, Common Goldeneyes, Buffleheads, Red-breasted Mergansers, a Red-shouldered Hawk, a Peregrine Falcon, American Coots, Black-bellied Plovers, Killdeers, American Avocets, Black-necked Stilts, Willets, Long-billed Curlews, Marbled Godwits, Sanderlings, Dunlins, Western and Least Sandpipers, Heermannís Gulls, Bonaparteís Gulls, Ring-billed Gulls, California Gulls, Western Gulls, Forsterís Terns, and Belted Kingfishers.

Another spot at which we spent quite a bit of time was Point Lobos State Reserve (www.pt-lobos.parks.state.ca.us), which is just south of Carmel. If you plan to go there, get there when the park first opens as parking spots are limited and park rangers do not allow more cars in than parking spaces. Out on the rocks, we saw many elephant seals basking in the January morning sunlight. Onshore, besides some of the birds we had already seen at Elkhorn Slough, we saw Greater Yellowlegs, Black Turnstones, Annaís Hummingbirds, Black Phoebes, Western Scrub Jays, Audubonís Warblers, White-crowned Sparrows, and an Oregon Junco. We heard, but were unable to see, what were probably Pygmy Nuthatches and Chestnut-backed Chickadees. Point Lobos, for the botanical buffs out there, is the site of one of only two natural stands of Monterey Cypress trees in the world.

We drove down the coast toward Big Sur in the hopes of seeing one of the 12 California Condors that have been released. Rangers at the Pfeiffer Big Sur State Park (www.parks.ca.gov/central/Monterey/pbssp) advised us that the best place to go to see them is on Route 1 by the sign for the state park Ė no tall redwoods here to block your view. Just look up toward the mountain ridges to the east. No condors were visible on this day, though we did see some very social and noisy Acorn Woodpeckers at the park.

On our drives through Carmel, Monterey and Pacific Grove as well as on our journey down Route 1 from San Francisco, we stopped whenever we saw different or unusual birds. On those stops we saw the following birds (besides many of those already listed above): Brewerís Blackbirds, Bushtits, Cinnamon Teals, and Northern Shovelers. We also would like to recommend stopping at the Monterey Bay Aquarium Ė we saw more birds in their aviary including a Snowy Plover with an amusing personality and tiny Red Phalaropes (www.mbayaq.org).

Finally, we traveled north of San Francisco to visit the Bolinas Lagoon, about a 45-minute beautiful but harrowing drive along the coastal cliffs in Marin County (www.sfgate.com/getoutside/1996/may/bolinas). There we saw many of the shorebirds we had seen at Elkhorn Slough, and we also saw American and Eurasian Wigeons, Mallards, Northern Pintails, and Ruddy Ducks. Slightly further north from the Bolinas lagoon is the southern edge of Point Reyes National Seashore (www.nps.gov/pore) where there is a bird sanctuary, banding station and nature trail. We arrived there practically at sunset and were unable to see much (other than a gorgeous sunset), but we did see Golden-crowned Sparrows, California Towhees, more Scrub Jays and Bushtits, Turkey Vultures, a California Quail, and either a Hammondís Flycatcher or a Pacific Slope Flycatcher (this tiny bird would not sit still long enough for us to identify him!)

That was our 3-day northern California birdwatching bonanza in a nutshell.
---
Scout Naturalist Program in NY
Scouts 14 and older and adult leaders can enroll in the two-week "Scout Naturalist Program" this summer at Massawepie Scout Reservation in the New York Adirondack Mountains. Director and MOS member Marty Brazeau is forming a group of Maryland scouts to participate in the program!
Graduates will be able to teach scouts about ecology and conservation during troop meetings and on camping trips that explore natural areas. They will receive a handsome scout naturalist badge. Scouts will sharpen their "self-taught naturalist" skills as we explore forest, lakes, and streams. Instruction on nature hike and conservation project leading will be given. There will be an emphasis on bird study throughout the program. During week two, canoe and backpack through the Cranberry Lakes Wilderness Area.
Ten scholarships are available to Baltimore Area Council scouts, adult leaders and teachers who work in the outdoors with youth. Scholarships will cover $350 of the $450 program fee. These scholarships are available through the generosity of the Maryland Ornithological Society Dorothy Blake Martin Fund. The program fee includes all expenses except travel to camp.
For more information call Marty in the evenings at 410-665-7462. E-mail Marty at to receive a scholarship form. More detailed information about the program is at: http://MassStaffAlumni.org/Naturlst.htm.

Editorial Note: By coincidence, the value and impact of Martyís scouting leadership on future birders and conservationists is illustrated in our portrait of Dave Walbeck above.
---
From the Third Floor of Cylburn
By Joy Wheeler
As you know, Commander Bruce Cotton, when he lived at Cylburn before 1942 wrote a book, From the Third Floor of Cylburn. Weíve never been able to find a copy of that book, so we are producing chapters of our own experiences viewing the world from the third floor of Cylburn. A recent event on the third floor of Cylburn provides this installment for our own column.
One of the large Plexiglas cases containing our birds-on-loan collection the third floor workroom housed a mounted specimen of a flicker given to us by Mrs. Zelda Schuman, a close neighbor and frequent visitor to Cylburn. This flicker was a "Northern flicker", its history beginning in Massachusetts 70 years ago when Mrs. Schumanís father found it freshly dead on the road, admired its beauty, and took it to a taxidermist to preserve it. Mrs. Schuman grew up with the flicker always in the background. When she established her own home in Baltimore, the flicker became part of her background here, too.
But, as we all know, there comes a time when the number of things in a household has to be reduced. Mrs. Schumanís flicker seemed expendable. She hated to put the old bird into the trash herself, and remembering our collection in the Museum of the Birds of Maryland, thought we might be able to use it. The bird arrived in an old blue shoe box one day when the museum was closed. There was a note to identify the donor tucked inside.
The flicker had not aged well. The Museum Committee agreed to consider it for its parts. (Woodpecker heads and feet show adaptations well.) Closer inspection also showed some dermesteds, "museum bugs," well adapted to living in preserved bird skins and carpets. We put it in our freezer for the "cold treatment" while we made up our minds. Mrs. Schuman had given us the option of chucking it out, but like her, we were reluctant to do it immediately. Some time after that, when we were rearranging the salvaged birds in our freezer we must have moved the flicker in its blue shoe box from its cold treatment to the third floor Plexiglas case already holding and arrangement of 3 flickers on a piece of driftwood. No one on the Museum Committee (There are two of us.) thought anything more about it.
One year later, Mrs. Shuman called: Apologizing, she asked whether we still had the flicker. She would like it back. She did remember giving us the option of throwing it away. And she was not surprised when I told her we had indeed decided to discard it, giving its unsteady head and dermesteds as reasons and the fact that we had better specimens. It was her son, she said, who could not accept the fact that she had let the bird get out of the family. He liked the story of his grandfather finding it dead on the road and having it mounted to be a part of his motherís history, and later his own. But, what could she do? It was gone.
Some weeks later as I walked by the third floor bird collection, something I had done hundreds of times since Mrs. Schumanís call, the color blue shone through the golds and reds blacks of the flicker collection. Something clicked. When I investigated, there was the old shoe box still containing the bedraggled bird. The original note with the telephone number was still safe. Mrs. Schuman was ecstatic. The very next day she was leaving for St. Louis to celebrate her sonís birthday. This would be the best possible surprise birthday gift she could give him, she told me. When I called later for a report, Mrs. Schuman said how pleased her son was, though his pleasure was cause for much amusement from the rest of the family. What possible meaning could this frazzled, forlorn, flicker have? The bird was back with the Schuman family where he thought it belonged, and that was all that mattered.
I supposed it was not my responsibility to remind the Schumanís of the Bird Protection Act passed in the early part of the 20th century, which limits the holding of mounted non-game birds to educational institutions like our Museum of the Birds of Maryland. I rather like the story of the grandfather finding the flicker on the road and making it a member of the family all those years. Can we say that this flicker from Massachusetts and now Missouri by way of Maryland qualifies to be "grandfathered in" under the Bird Protection Act?
---
Researcher at Cylburn
By Christopher M. Heckscher
As part of my thesis research at the University of Delaware, I have taken on the task of reconstructing the history of the Veery on the Middle-Atlantic Piedmont of Maryland, the District of Columbia, Pennsylvania, Delaware and New Jersey. This species has a confusing past in this region and understanding its history is important in order to fully understand its current conservation needs.
On 10 June 1890, Arthur Resler collected a Hermit Thrush from Howard County Maryland. As far as I know, this is the only specimen of Hermit Thrush from the Middle-Atlantic Piedmont during the breeding season and is, thus, highly unusual. In my on-going attempt to reconstruct the history of the Veery, I decided to try to track down Reslerís specimen to be absolutely sure this bird was not misidentified. Distinguishing the identity of our local Catharus thrush species can sometimes be difficult even for modern-day ornithologists. During Reslerís time, Veeries were extremely rare breeders in this region. Because many Hermit Thrush move through the Baltimore area during spring and autumn migration, I thought that perhaps Resler might have simply assumed his bird was a Hermit Thrush and not considered the possibility of a Veery.
My search for his specimen eventually led me to Cylburn Arboretum to make one final attempt to locate this bird. Unfortunately, my efforts to locate Reslerís specimen were in vain and after checking all known local collections, including those at Cylburn, I came to the conclusion that his specimen has disappeared forever. However, despite this disappointment, I was indeed quite pleased with what I stumbled into at Cylburn.
Joy Wheeler led me up a winding staircase into the attic of Cylburnís historic mansion. Here she unlocked a metal cabinet and proceeded to show me original field journals from several Baltimore area ornithologists written at the turn of the century. I had recently become quite familiar with the work of Frank C. Kirkwood from reading his 1895 publication on Maryland birds. To my pleasant surprise, I unexpectedly found myself reading Kirkwoodís original notes beautifully scripted on delicate paper. Other naturalistsí journals were shelved here as well: William H. Fisher, Edward J. Cook, William M. Wholey, and John Sommers. While I had not found Reslerís thrush at Cylburn, I returned several times during the winter to compile notes from these historic journals. My primary objective was to peruse the journals for early Veery records from the Baltimore area. While my success was marginal at best, I did find many important observations from a variety of other species.
Joy shared with me the story of how a gentleman called her and told her he was about to throw these journals away but realized Cylburn might be interested in them. The gentleman apparently had no idea how crucially important his journal collection was. These field books provide us with a picture of birdlife in the Baltimore area over one-hundred years ago. Much of the information is unpublished and is a tremendous resource to those of us attempting to understand the history of our birds. A database is currently being populated with important records gleaned from these journals. However, the value of the original field books cannot be overstated. It is important that these journals continue to be taken care of with the best possible care; eventually, they should be placed in fire-proof compartments and possibly climate controlled rooms. If not, they will slowly continue to deteriorate. Already bindings are breaking, ink is fading, and pages are beginning to crumble. It is my hope that eventually they can either be donated to a historical society for proper long-term care, or funds can be raised to ensure their proper care at Cylburn. These journals become more valuable with each passing day.
---
Field Trip Reports
Compiled by Steve Sanford
January 14 Conowingo Dam - Unfortunately gull-watching conditions were poor with virtually no generation all day to stir up food for the gulls, and the catwalk was closed due to ice. Highlights were 10,200 Common Mergansers, 5 Bald Eagles, 2 winter Wrens, and one American Pipit. Lowlight: 10,000 European Starlings completely ignoring the propane cannon firing which was being used to frighten them away. 34 species. 7 participants. Leader: Gene Scarpulla.
February 10 New Design Road & Lily Pons - Temperatures were in the 30's and the fierce winds were approaching the 30's also. That did not stop the group from seeing lots of Horned Larks and getting looks at a Lapland Longspur or two, plus a Snow Bunting for one observer, a Turkey for the leader only, and A Bald Eagle on I-70 near the Beltway. Sadly, the Snowy Owl that had frequented the New Design Road area for some months was last seen about 10 days earlier. 30+ species. 9 participants. Leader: Pete Webb
February 17 Cape Henlopen to Ocean City - The weather was a re-run of the week before: Sunny, in the 30's with fierce west winds 20 - 40 MPH, but once again that did not stop the 15 intrepid, bird-crazed participants from seeing some good to great birds, such as: a Razorbill and a Little Gull amongst the Bonaparte's Gulls at Ocean City Inlet, Red-throated and Common Loons, several Great Cormorants at Indian River Inlet, a wide variety of ducks, Purple Sandpiper, Dunlin, Sanderling, Oystercatcher, and Brown-headed Nuthatch at the Henlopen visitors center. 64 species. Leader Pete Webb.
February 24 Patuxent Naval Air Station - The weather was considerably better than the previous two trips, and the birding was excellent. Highlights were wonderful views of a Northern Shrike and close-ups (within 15 feet) of Horned Larks, Snow Buntings, and Lapland Longspurs. The group also saw all seven Maryland woodpecker species in one hour at Stoakley Road swamp in Calvert County, including four adult Red-headed Woodpeckers and two Pileateds, and spoke with the landowner there who wants to preserve the habitat. Weather: Sunny in the 30's & 40's with light wind. 67 species. 19 participants. Leaders: Kyle Rambo on the base itself, Pete Webb off the base.
---
Smithsonian's Neighborhood Nestwatch
The Smithsonian Environmental Research Center has recently launched Neighborhood Nestwatch, a citizen-based research program conducted during the spring and summer months in the backyards of urban, suburban, and rural backyards of the Washington D.C. metro region. Urban sprawl is destroying wildlife habitat at an unprecedented rate, adversely impacting birds and increasing public isolation from nature. Neighborhood Nestwatch seeks to mitigate these effects as citizens and scientists gather the data necessary to understand how rapid land conversion impacts backyard bird populations. With the help of Nestwatch staff, birds are netted, banded, measured, released, and their nest success and year-to-year survival monitored. Ultimately, Neighborhood Nestwatch will provide scientific data and public awareness to aid in the associated goals of conservation and responsible growth.
If you are interested in participating in this citizen-science project email us at or call 443-482-2344.
Please include your name, address, and phone number.
Check out http://www.nestwatch.si.edu
---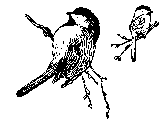 Back Yard Birding and Beyond
By Gail Frantz
Baltimore
Paul Noel Reports An Avian Mugging!
Sometime around 11:00 A.M.on Feb 12, Paul was driving on Northern Parkway near Charles Street when he noticed a flurry of small birds flying low and fast at the side of the road. A fast moving larger bird seemed to be causing the action. Due to being in the middle of traffic, Paul couldnít stop and was only able to get a glimpse of the bird doing the chasing. It seemed to have a bit of rufous color and looked to be the size of a Robin. Paul thought the Robin might be establishing breeding territory. But on second thought it was too early for that sort behavior. Paul reached his turn so he had a few seconds to take a better look. Just as he turned his head he saw the two birds meet in a mass of flying feathers then crash to the ground. Paul was dumbfounded. he realized the "Robin" had turned into a Kestrel and was mantling a small, brown bird while a few feathers floated in the air down to the grass. Was the Kestrelís meal a House Sparrow? One can only hope.
Every winter outside Matilda Weissí kitchen window are a trio of holly trees with multitudes of berries hanging from their boughs. They are the attraction for an assortment of birds throughout the cold months. In mid-February Matilda enjoyed a yard full of Robins and Cedar Waxwings along with a new species - Bluebirds. Due to the dreary, gray weather, Matilda especially enjoyed their lovely, bright colors.
On her daily walk, Matilda sees a variety of birds that include everything from Red-tailed Hawks to White-breasted Nuthatches. The most unexpected bird Matilda has seen in her neighborhood occurred in mid-February. She was astounded when she spied a Merlin soaring, not too high, above a startled flock of Starlings.
The February backyard birds of Barbara Ross: Just wanted to tell you about the Yellow-bellied Sapsuckers in the yew outside my kitchen window. A male was there February 1,2, and 3. This week it was a female's turn. She has been seen the 8th, 9th and 10th. She comes in about 7:30 to 7:45 a.m. and spends perhaps an hour or so drilling away. Unless of course the squirrel shoos her away. The squirrel will lick around the holes she's made and I've even noticed a Chickadee inspecting the holes and pecking at them. This yew has attracted Sapsuckers for several years, both spring and fall.
From Anne Brooks: An especially lucky day for birding in our yard this February! This morning a Sharp-shinned Hawk decided to take a rest on the rock which lies 5 feet in front of our Bay Window. The Red-shouldered Hawk which has been stopping by about every two weeks flew by low and let us have a lovely look at her/his feathers in flight.
Birding In Maryland ...
Eastern Shoreís Terrapin Natural Area
From Pete Lev: This park on Kent Island is about 275 acres and includes a Chesapeake Bay beach (fishing allowed, but not swimming). Habitat here includes meadow, lots of scrubby stuff, young trees, a few stands of mature trees, marsh, two ponds (one is shallow, might be good for shorebirds), and a few hundred yards of beachfront. Should be very good for migrating sparrows and those warblers that like open country. Not so good for birds of mature woodlands.
Bob Ringler adds: It is not a large area but there are trails, fields, ponds with blinds, and a good view of the bay. It is so close to the bridge it is well worth a quick stop if you are traveling that way.
Direction to the Terrapin Natural Area: Cross the Bay Bridge to the Eastern Shore. Take the first exit MD route 8, going north. Turn left at the second street, Schooner Parkway. Bear right at the circle, and in 3/4 mile you come to the Terrapin Natural area, open dawn to dusk.
If you visit Terrapin Natural Area, call, write or email what you saw.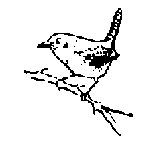 Let us hear about your Back Yard and Maryland Birding too!!!
Call or write to:
Gail Frantz
13955 Old Hanover Rd.
Reisterstown MD 21136

Tel: 410-833-7135
e-mail:
---
To