Leonid Bird Count


By Shireen Gonzaga

November 18, 2001

November 18, 2001 will go down in history (at least for 9 people) as the dawn of a new scientific discipline: astroornithology, the study of birds during meteor showers.

The following is an account of our observations and sporadic insights.

Location: A field behind Gail Frantz's house, in farmland near Reisterstown in Baltimore County, MD.
Time: 3:55 a.m. to 6:15 a.m.
Weather: Foggy, mid-30s Fahrenheit

Observers: Gail Frantz, Harry Frantz, Shireen Gonzaga, Elliot Kirschbaum, Nancy Kirschbaum, Ruth-Ann Scott, Don Scott, Peter Webb, Carolyn Webb.

Observing Protocol: Birds had to be seen or heard between two meteor events.

BIRD OBSERVATIONS (seen or heard)
Canada Goose
Carolina Wren
American Robin
Northern Mockingbird
Song Sparrow
White-throated Sparrow
Dark-eyed Junco
Northern Cardinal
Purple Finch
Total: 9 species

Note: Peter Webb claimed to have seen a Painted Bunting, temporarily illuminated by the light of a particularly large meteor. His observations were unanimously rejected. (It's most likely attributed to a meteor impact event to his head.)

CELESTIAL OBSERVATIONS (seen or heard)

Meteors:
- Elliot Kirschbaum was the only member of the observing party who thought to get a meteor rate. He estimated 900 meteors/hour. Pretty darned good considering the fog and that he was looking in one direction.
- Many meteors were quite bright. Some left lingering trails that had green and/or blue hues. Except for the above- mentioned incident concerning Peter Webb and the Painted Bunting, there were no observed meteor impacts.
- The meteors were clearly seen emanating from its radiant point in the constellation of Leo, coming out from all directions. Meteor trails close to Leo had short tails (due to them being "head-on") whereas those further away had long trails.

We developed the following meteor classification nomenclature:
1) woo!
2) woo-woo!! (two woo's)
3) ahh!
4) wow!
5) there's one!
6) 4 at a time!!!!
7) another one!
8) amazing!
9) you can still see the trail!
10) I missed it!
Other Celestial Objects:
International Space Station
Iridium 32 Telecommunications Satellite
Beehive Open Star Cluster in Cancer (Messier 44)
Hyades Open Star Cluster in Taurus
Pleiades Open Star Cluster in Taurus (M45)
Orion Nebula in Orion's sword (Messier 42)
Jupiter with 2 Galilean moons visible through binoculars
Saturn
Many pretty twinkling stars
It was a delightful morning, filled with the wit and humor of the many comedians in the group. As well as the sounds of howling dogs and howling National Guardsmen (from nearby Camp Fretterd).
---
Veni - Vidi - Sedi


"Big Sit!" 2001 – The Final Tally

By Jim Peters and Gail Frantz

The final results of the "Big Sit" 2001 were announced on December 31 by its sponsor, the New Haven Bird Club, and the statistics were impressive. Twenty-seven states and four foreign countries hosted 116 count circles manned by 460 sitters who observed a total of 609 species in a 24 hour period. The highest circle count was made on a dike near Westplaat, Zuid-Holland, Rotterdam, Netherlands by the "Undutchables" who recorded 107 species, which beat out a California circle by one species.

The "Star Spangled Birders" of the Fort McHenry Wetland did fairly well in their first "Big Sit." We ranked 19th out of 107 circles in the USA with a total of 55 species seen in 16 hours, and we placed 22 out of a total of 116 circles world-wide. We ranked 9th place against 9 circles in 4 foreign countries (Netherlands, England, South Africa, and Mexico). The combined species count of Howard County and Fort McHenry (71) placed Maryland 13th out of 27 participating states of the Continental USA. If you have Internet access, you can get more information about the international "Big Sit" at: http://members.aol.com/nhbirdclub/bigsit.htm

And so, while we didn't finish in the top 10 or win the Golden Bird drawing of $500, we can take pride in the way we scored against tough opponents world-wide. Again, many thanks to all who participated in the "Big Sit" to make it a success, especially Keith Costley and Wendy Taparauskas. BBC's Keith Costley designed, printed and presented colorful certificates to each participant. He included an illustration of the American Flag with the motto: Preserve Fort McHenry. The Big Sit! logo was also included: a chair encircled by the words, Veni - Vidi - Sedi: I came - I saw - I sat.

We are, even now, discussing strategies for improving our score next October, Come join us!
---
Conservation Corner
Logging in State Forests
As long suspected, the public's preference to protect State forests conflicts with current state policies that encourage timbering. Thus, the issue of logging in State forests is likely to arise in the State General Assembly this session, when it meets from January - April. This background information should help you understand developments.
Public Would Protect Forests
In an October 2001 telephone survey commissioned by a coalition of environmental organizations and conducted by Mason-Dixon Polling and Research, a well-respected survey research firm, a representative sample of Maryland voters was asked their opinions toward logging in state forests.
- More than 80% of Maryland voters say it is "very important" for State forests to provide clean air and water, or habitat for wildlife (82% and 89% respectively). Approximately half of voters say it is "very important" to spend additional tax dollars to acquire more forests for these purposes.
- Only 4% of Maryland voters say that logging in State forests is considered "very important." Approximately 80% of voters, in rural as well as metropolitan areas, say it is not important to spend more public funds to acquire forests for the purpose of logging.
State Laws Encourage Logging
Only 10% of all Maryland forest is owned by the public. Unless an area is specifically designated as "Wildlands," the Department of Natural Resources (DNR) allows logging. DNR has been contracting for logging on 50% of publicly owned State forests, on a 50 year cycle, generating $3 million dollars a year. Part of the timbering fee goes to the counties where logging occur.
Most publicly managed land is privately owned -- by individuals or corporations (i.e., lumber companies) who have voluntarily signed agreements with DNR. These agreements provide tax breaks for timbering.
Instead of encouraging the harvesting of trees, our policies could be focused on protecting forested land for human recreation, habitat for wildlife, protecting endangered species, and the forest's ability to improve our air and water quality.
As an important first step, in January 2002 Delegate Dembrow of Montgomery County plans to submit a bill which would ban logging in all State forests, unless the deed which transferred ownership of the forest to the state contains a covenant that requires logging.
So watch for legislation that bans logging on State lands. Consider asking your state delegate to co-sponsor this bill, and to vote for it.
To keep abreast of legislative developments in Annapolis, subscribe to Conservation Report. Weekly issues December - April cost $15 for new subscribers, $30 for others. Send your check, payable to MCC, to Conservation Report, 1825 North Forest Park Ave., Baltimore, MD 21207-6506. Or phone (410) 448-2362.
Conservation Committee
---
Field Trip Reports
Compiled by Steve Sanford
Nov 10 - Horsehead Wetlands - Most of the activity was reserved for the end of the walk in the inlet northeast of the parking area. There were 1000+ Ruddy Ducks, several hundred Lesser Scaup and Buffleheads, 5 Common Loons, and a hovering Bald Eagle. Land-bird highlights included: Yellow-bellied Sapsucker, Hermit Thrush, Red-breasted Nuthatch, and Purple Finch, mostly near the inlet. There was also a heard-only Brown-headed Nuthatch near the headquarters. 11 observers saw 53 species. Weather: 40 to 50 degrees with chilly wind. Leader: Kevin Graff.
December 1 - Southern Maryland - Highlights of the trip were: about half a dozen Gannets passing fairly close to Point Lookout, and several Brown Pelicans; 3 scoter species, mainly Surf Scoters, all of them quite distant however; lots of Common Loons everywhere, with the best being one very close to the fishing pier that we could clearly watch as it swam underwater chasing a school of tiny fish; Brown-headed Nuthatches at Fort Lincoln, seen through a scope by some; scads of chattering Bluebirds at the Point; and six species of woodpeckers within about 10 minutes at Stoakley Road in Calvert County – all the Maryland woodpeckers except Red-headed. Most of the expected waterfowl species were at the Point but almost all were quite distant. Unfortunately, the Harris' Sparrow that had been at Point Lookout for about a week had departed. It was a beautiful late-spring day, even if it was December 1 on the calendar, with the Bay waters as calm as they get. It was mostly sunny, no wind, temps reached the low 70's! 78 species. 17 participants. Leader: Steve Sanford.
---
Southern California Trip
By Joel Martin
In early October I had the opportunity to visit Southern California for the first time. The official purpose of the trip was to attend a job-related conference in Costa Mesa, south of LA, but the prospect of birding some new ground added an extra incentive. After months of negotiating with my bosses the go-ahead was given in late September. By then, "fear of flying" had taken on a new meaning, but this opportunity was not going to come again. So, armed with my ABA/Lane guide, AAA maps and lots of advice from MDOspreyers (including your Chip Notes editor), I swallowed my trepidation and a handful of Advil and took off for The Coast.
My plan was to use early mornings and free time during the three-day conference to bird as many Orange County locations as possible. Then following the conference I took two extra days to travel inland, looping through the San Jacinto Mountains to the desert and back again to the coast. True, this itinerary increased the ratio of hours driving to hours birding and probably cost me some easy target birds. But having never been to California I wanted to experience a variety of habitats and bird life.
There are many great birding locations right in Orange County and they were all very good to me in spite of my limited time. I visited Huntington Central Park, Bolsa Chica, several state beaches, Upper Newport Bay and the San Joaquin Wildlife Sanctuary. I found most of my coastal target birds, including Eared and Western Grebe, White-tailed Kite, Snowy Plover, Wandering Tattler (love that name!), Black Turnstone, Surfbird, Elegant Tern and the expected gulls, as well as Anna's and Costa's Hummingbirds and the ubiquitous Bushtits and California Towhees. On the first full day following the conference I toured the San Jacinto Valley, the San Jacinto Mountains and the Palm Springs area, picking up more goodies including Acorn Woodpecker, Band-tailed Pigeon, Townsend's Warbler and Greater Roadrunner. Horrendous traffic in Palm Springs kept me from reaching the Salton Sea before dark, but the drive did hold one surprise, Lesser Nighthawk. I made the difficult decision to skip the Salton Sea altogether, spending the night in Borrego Springs and starting my last full day at Anza-Borrego Desert State Park at dawn. Good move! This hauntingly beautiful park yielded California Quail, White-winged Dove, Cactus and Rock Wren, Verdin, Phainopepla, and Black-throated Sparrow, among others. An afternoon trip to Lake Hodges near San Diego produced California Gnatcatcher (finally!) as well as Cassin's Kingbird and Wrentit. The day and the trip ended back in Orange County at Crystal Cove State Park, where in a last-ditch effort I stumbled onto a singing California Thrasher.
The final tally was 132 species with 42 life birds. In retrospect I might have done some things differently, spending more time in the foothills and mountains, but overall I was very pleased with the results. A proper birding tour would require several more days at least. Southern California is a land of extremes and contradictions, and the traffic is bad at all times in nearly all places. But the varied habitats and the many specialty birds make it a spectacular destination for a lifelong Easterner.
---
Florida Trip
By Kevin Graff
I arrived at Ft Lauderdale-Hollywood Airport on Friday December 14 around 10:30pm, after several delays at BWI and Philadelphia with rain and fog. Saturday morning started off with several Eurasian Collared-Doves outside my motel. Heading to Everglades National Park on State Road 9336 I saw 1 Mottled Duck at the canal, 2 Anhingas at Canal C-111, 1 Loggerhead Shrike, 2 Western Kingbirds, among other species.
Two miles from the entrance to Everglades National Park, I stopped by the road that leads to Southern Glade Youth Camp (boys' prison) to see some of the good birds reported on the Florida RBA a few days before my trip. I saw a pair of Sandhill Cranes, a Limpkin, a Bell's Vireo, an adult White-tailed Kite, a Brown-crested Flycatcher, several Savannah and Grasshopper Sparrows, and pipits.
I arrived at Everglades National Park by mid morning. Highlights were:
5 Reddish Egrets at the first marshes inside park; a Short-tailed Hawk along the road to Pine Island Maintenance & Residential area; 3 Anhingas and a Short-tailed Hawk on Anhinga Trail; 2 Loggerhead Shrikes, 1 Yellow-rumped Warbler, 5 Pine Warblers, 1 Prairie Warbler on the roadside toward and beyond research center; 2 Least Flycatchers at Pa-hay-okee Overlook; 1 possible White-crowned Pigeon in mangrove trail at West Lake. Snake Bight Trail was the worst of any trails for MOSQUITOES!!!! I had to run 1.8 miles to get to the end of the trail to avoid getting bitten, but saw 5 Greater Flamingoes and several wading birds.
At Joe Kemp Key and Florida Bay behind Flamingo Visitor Center there were: 73 White Ibis, 13 Snowy Egrets, 22 Little Blue Herons, 10 Great Egrets, 1 Roseate Spoonbill, 1 Gull-billed Tern, 3 Common Terns. Eco Pond, the best birding site anywhere in Everglades NP, featured 19 White Ibis, 24 Little Blue Herons, 7 Great Egrets, 5 Snowy Egrets, 4 Tricolored Herons, 16 Common Moorhens, 1 Purple Gallinule, 1 Cattle Egret, 1 American Bittern, 2 White Pelicans (flyby), White-winged Dove, a Painted Bunting, and many passerines along the trail that loops around the pond; behind the pond were 1 Great White Heron, 1 Great Egret, 1 Roseate Spooonbill, 1 Tricolored Heron, 1 Little Blue Heron. On the Coastal Prairie Trail, the longest of any trails I walked on, over two hours from C-Loop Campground to the southwest corner of the Everglades, were: Long-billed Curlew, Whimbrel, and a lot of White and Brown Pelicans. Before dusk, at C-Loop Campground, I saw one Lesser Nighthawk flying by. Many of them were seen by Florida birders this past couple weeks.
On Sunday December 16, 2001 my first stop was at Boynton Beach Inlet south of Palm Beach to search for the Sabine's Gull reported a while ago. I couldn't find it, but saw the major four gulls species, Royal, Sandwich, and Common Terns, 1 Purple Sandpiper, 15 Sanderlings. At Hendricks Isle Drive in Ft Lauderdale were 2 Chestnut-fronted Macaws (not on AOU list) and 2 Canary-winged "White-winged" Parakeets (lifer), many hundred of parakeets and a small macaw was reported in this area over a week ago. At the Fort Lauderdale Executive Airport Observation Area were 45 Cattle Egrets, a Loggerhead Shrike, and one immature Burrowing Owl. (I first checked out other sites for Burrowing Owl in the same area but some of it was empty and other was gobbled up by houses). In front of the National Car Rental building I saw 4 Monk Parakeets building nests in Australian Pine, also 2 Wood Storks soaring and heading west.
This was one of my best birding trips and the weather was great: 82 degrees during the day and 77 at night. I added about 40 new species to my new life-list with a total of 120 species or less for two days of birding. Also plenty of alligators. Took some pictures of them.
Thanks to everybody for giving my tips on birding sites and special thanks to Steve Sanford for letting me borrow his ABA Guide "A Birder's Guide to Florida" . It really helped me a lot for directions. Thanks again to all. Now I plan on to Colorado in summer 2002 and maybe Texas in Dec 2002.
---
Tidbits
On December 27 John Landers saw a Snowy Owl at Garrett Heights Elementary School near his home in Hamilton (NE Baltimore City). He kindly called many BBC birders who saw it the same afternoon. Your hapless Chip Notes Editor, however, could not be reached due to his EICD (Excessive Internet Connection Disorder). Let that be a lesson! Unfortunately the owl was gone by the next day. A search of nearby areas, as well as Fort McHenry failed to locate it. On the other hand, nearby Holy Redeemer Cemetery, with many hundreds of graves topped with white angels and saints, could easily hide the owl all winter. A Snowy Owl could be seen sometimes during December at Bombay Hook NWR, Delaware also
A Harris' Sparrow was in prominent view at the end of Point Lookout in southern Maryland for about a week in late November. You can see some really stunning photos of it by Arlene Ripley of Calvert County at: http://www.nestbox.com/harris.htm
A Western Kingbird was on good view at Eastern Neck NWR off and on during December. Pictures can be seen at: http://www.geocities.com/bfbooby/WKingbird.html . A Western Tanager was seen occasionally for a few days in mid-December in northern Montgomery County. An adult Golden Eagle was seen November 10 and 11 at Cromwell Valley Park, Baltimore County.
Steve Sanford
---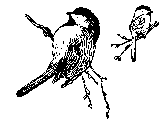 Back Yard Birding and Beyond
By Gail Frantz
Baltimore City,
Elise Kreiss, Oct 29: We had a Red-breasted Nuthatch at the feeder Saturday! It went after the peanuts. I always wonder how much the birds that choose the peanuts actually eat and how much they drop, providing food for other birds, insects, and, I fear, very expensive mulch. I have wondered why the Grackles often seem to dip their peanuts in the water, and wondered if they could possibly be trying to soften them. I often retrieve dropped peanuts from the bird bath. I saw, however, one "dipping" its peanut then raising its head to swallow it whole. (The crows, of course, swallow the peanut halves whole with ease.) It occurred to me that it was using the bath water to "wash down" the peanut. I think that is likely what they are about.

On Thu, Dec 6 2001, Martha Dunn wrote: I have been a member of the Bird Club for years, but I've only been able to come to one meeting. So I realize that I am speaking to you "out of the blue." I work at Johns Hopkins Univ. at the East Baltimore campus. My office is in the Outpatient Center. I retrieved a dead bird from the premises that I am 99 % sure is a Long-billed Dowitcher. It must have flown into the windows. But I am writing to find out if this is a special occurrence or not. I have never seen one before in the city. However, I haven't done much "shore" birding in the city either.
Canton
On November 27, after taking her daughter to have a broken wrist set, Martha Bromberger decided to stop for lunch at The Bay Cafe. While admiring the scene through one of the restaurant=s large picture windows, she was astounded to see a Hummingbird zip in and out of one of the blooming hibiscus outside the window. Martha was unable to get a sense of color but the late bird was most probably a Salasphorus.

From Tim Carney: I was in the woods at my house near the barn near our shed on October 24. I heard Northern Cardinals calling, and I found them right away. I heard another "chip" sound but it was definitely huskier than that of a cardinal, and I knew the bird instantly – Yellow-rumped Warbler. They seemed to be dripping from the trees. It was definitely one of those "fallout" moments. There were also a lot of Carolina Chickadees.
I was enjoying these birds when another bird flew in -a Downy Woodpecker. As I was watching it spiral up a tree trunk, a larger bird flew in behind it — Red-bellied Woodpecker. So I got to enjoy two woodpeckers on two trees right next to each other. I was enjoying the Red-belly when yet ANOTHER larger bird flew behind it — Northern Flicker. It was almost unbelievable - there were three small trees right next to each other, and on each of them was a different woodpecker. What are the odds of THAT happening?

I went deeper in the woods, and the Yellow-rumps seemed to get even tamer. I pished and they came right in front of my face, literally, to see who the source of the pishing was. I also called out some nice Carolina Wrens. In fact, they started singing as I pished. Not only that, but after a while, they began singing a duet. Then a third bird began singing, and one of the "original" ones came about two feet (!!) in front of my face and serenaded me. He cocked his head back, opened his bill all the way up, and let out an explosive song for me to enjoy.

I also managed to pish out White-throated Sparrows, a Blue Jay, and some American Goldfinches. I have also seen (recently) in my yard a large flock of Mourning Doves, and I heard a large flock of Cedar Waxwings lisping high in the trees above, but never did see any of them. Today, I was fortunate to catch a glimpse of a Great Blue Heron in a very odd place - it was in a stream below the Beltway while we were sitting in traffic.
Baltimore County
Rosedale
From Elfriede Carney, Nov 27: Some weeks ago a little bird sat on my porch railing singing. Since this is not spring I was very surprised to see and hear him. When I looked at him I realized it was not a sparrow although it was about that size. Although my lease says I can't put out a feeder, I bought some bird seed and put it on around pizza sized dish. I waited to see what would come to feed, but nothing came. I was very disappointed. Last week I got a quick glimpse of a bird feeding but he flew as soon as I moved. Today I got lucky. He was at the seed but flew as I approach the window. I sat in my chair and waited. In a few minutes two birds flew in. I had my bird book ready! They were Carolina Wrens. What a nice treat for me!
Phoenix
From Anne Brooks: On Dec 6th I saw a Brown Creeper climbing up one of the trees out front, and the next day saw another in the back woods.
Saturday Dec 9: I was doing my Project Feederwatch observations and noticed a female Red-bellied Woodpecker moving down to the base of a tree out front. Once at the bottom she hopped onto the ground and proceeded to peck around in the soil for "what"?, I don't know. She found something a few times and took it over to the tree where she wedged it into the bark to eat. Was it a grub? an acorn? I have no idea. I have never seen a Red-bellied do this; have you?
Timonium
Joy Wheeler had a small flock of Myrtles for several days during the last week in Oct. She made the observation that they only seemed to be interested in her bird bath.

Lester Simon reports: a Black-throated Blue and a Towhee in October. November brought Purple finch, Red-breasted Nuthatch, Brown Thrasher and a Wood Thrush. All the birds are showing a great deal of interest in the Simon=s birdbath.
Owings Mills
Matt & Julie Frantz=s 14 month old son Luke spoke his first spontaneous word in October when some Crows flew over their house making their usual sounds. Little Luke pointed to the birds and called out clear as a bell "caw, caw.@
Arnold
From Sally Rowe, November 11: This morning ( I wouldn't quite say I was treated to the best of back yard birdwatching ) there was an immature Sharp-shinned Hawk sitting on a stump right outside my kitchen window, at first plucking all the feathers off a poor in the wrong place at the wrong time titmouse then shredding it and finally devouring it. Took about a half-hour. At one time I would have been squeamish but in my old age I was fascinated.
Towson
Harriette Burks, November 18: I'm a first-time writer, but I want to share my most unusual (I think) backyard birding activity. My "back yard" is the sports field next to Towson High School (I live in Aigburth Vale, the senior community behind the old Mansion). There is, at the edge of the school property, a broken line of scrub trees, mostly mulberries. During the summer these trees were loaded with berries and birds, mostly of the garden-variety. However, there is at the end closest to the school student parking lot a tall walnut tree. It's been bare since early in the fall. On Saturday, October 27, I thought I saw a dove in the top of that tree. I got my binoculars out, and the dove became a hawk eating its breakfast – a small brown bird. The sun was bright, the wind was brisk, and I had a good long look at it – a Merlin! (Since she was busy with that bird for quite some time, I had ample opportunity to check out her tail banding.) I have seen her (pretty sure, although the light has not always been good for colors) at least once a week since then in that same tree. She usually stops at the tree shortly after sundown, but I have not been able to see where she overnights, nor have I seen her in any other trees in the neighborhood.
Harriette Burks, Merlin Update: The Merlin is still (as of today, December 12) in my neighborhood. It is almost a daily visitor to the walnut tree where I first spotted it. Once in a while I watch it dine. Sometimes a solitary and silent crow pesters it, making it fly to another perch. It is usually bothered when it is eating. Is the crow trying to get the Merlin to drop its catch? I must say the bird has brightened my days. I think it's female, but my eyes are old and slow.
Trouble ID'ing Birds?
Sally Rowe writes: ... a close friend of mine who is a novice birder, saw her first Pine Siskins last week. She described them as "goldfinches in striped pajamas!"
Blackwater
from: Elfreida Carney

I watched a male Red-bellied woodpecker trying to make a home. He eventually attracted a female, who allowed him to chip away while she mosied up and down the trunk looking for meals. My grandson Tim lent me his scope and I watch the 2 of them for several days. One day, as I peered through the scope I saw a head come out of the hole. It was a starling who had taken over the nest. I never saw the 2 woodpeckers there again and the woodpecker tree has unfortunately been cut down.
Cylburn
Paul Noel made an solo walk at Cylburn on October 11. Not many birds but he did get a good look at a late Palm Warbler.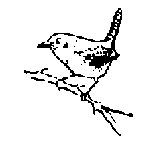 Let us hear about your Back Yard and Maryland Birding too!!!
Call or write to:
Gail Frantz
13955 Old Hanover Rd.
Reisterstown MD 21136

Tel: 410-833-7135

e-mail: guineabird@aol.com