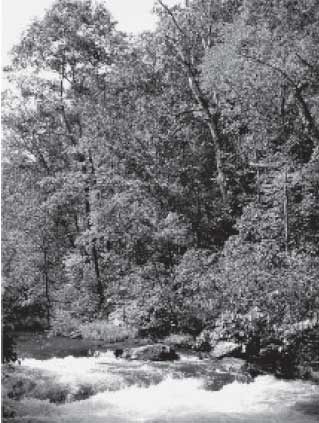 photo: David Curzon
Last summer sixteen volunteers from the Baltimore Bird Club took part in a series of Bird Blitz surveys in the Prettyboy Reservoir watershed and Gunpowder Falls State Park. The objective was to help determine whether this area qualifies as an Important Bird Area (IBA). 2007 was the first statewide season of IBA Bird Blitz and was a great success with 50 volunteers completing 46 bird counts at 11 sites across Maryland.

Baltimore Bird Club members can be proud that their effort was the greatest of any bird club in the state, with 14 different surveys completed and 74.5 km of survey transect walked.

Bird Blitz surveys are done during the breeding season, within Atlas "safe dates", and the goal is to obtain a breeding count of the at-risk bird species for which Important Bird Areas are identified. If a site supports a population of one or more at-risk species that exceeds a species-specific threshold number (listed in the IBA criteria, available at http://www.audubonmddc.org/SciCon_IBAs.html) then it likely qualifies as an IBA.

The results of the Prettyboy-Gunpowder Bird Blitz found that two at-risk species exceeded their respective IBA thresholds. These were Louisiana Waterthrush, which thrive along the gushing, unpolluted waters of the Gunpowder Falls River and its tributaries, and Worm-eating Warbler, which was found in impressive numbers along the steep slopes just above the river, especially where mountain laurel forms an understory.

Using the Bird Blitz results, the Maryland-DC IBA Technical Review Committee identified this area as an IBA (Prettyboy IBA) at its last meeting in February. This name was chosen because much of the Gunpowder Falls State park is not included in the IBA - only the Hereford section of the state park is included. Prettyboy qualifies as an IBA not only for the 2 at-risk species mentioned above but also for the species assemblage of Forest-Interior Dwelling Species (FIDS), birds that require large intact blocks of forest to maintain healthy populations. 20 FIDS breed regularly at the site, although some such as Broadwinged Hawk and Cerulean Warbler seem to be on the way out -- none of these species were found by last year's Bird Blitz.

Thanks to all who took part in the Bird Blitz effort last year, and thanks in particular to Paul Kreiss who coordinated the surveys. Participants included: Paul Kreiss, Georgia McDonald, Dan McDonald, Wendy Olsson, Rob Olsson, Kevin Graff, Carol Schreter, Peter Webb, Keith Costley, Nancy Grace, Bryce Butler, Tekla Ayers, Steve Ayers, Andrew Ayers, David Curson.
At risk species
Grand total
Bird Blitz 2007
Threshold
Breeding Pairs
Bald Eagle
2
10
Black-billed Cuckoo
1
10
Red-headed Woodpecker
1
10
Wood Thrush
43
160
Prairie Warbler
11
30
Prothonotary Warbler
1
30
Worm-eating Warbler
51
20
Louisiana Waterthrush
29
20
Kentuckey Warbler
3
30